Published February 10, 2023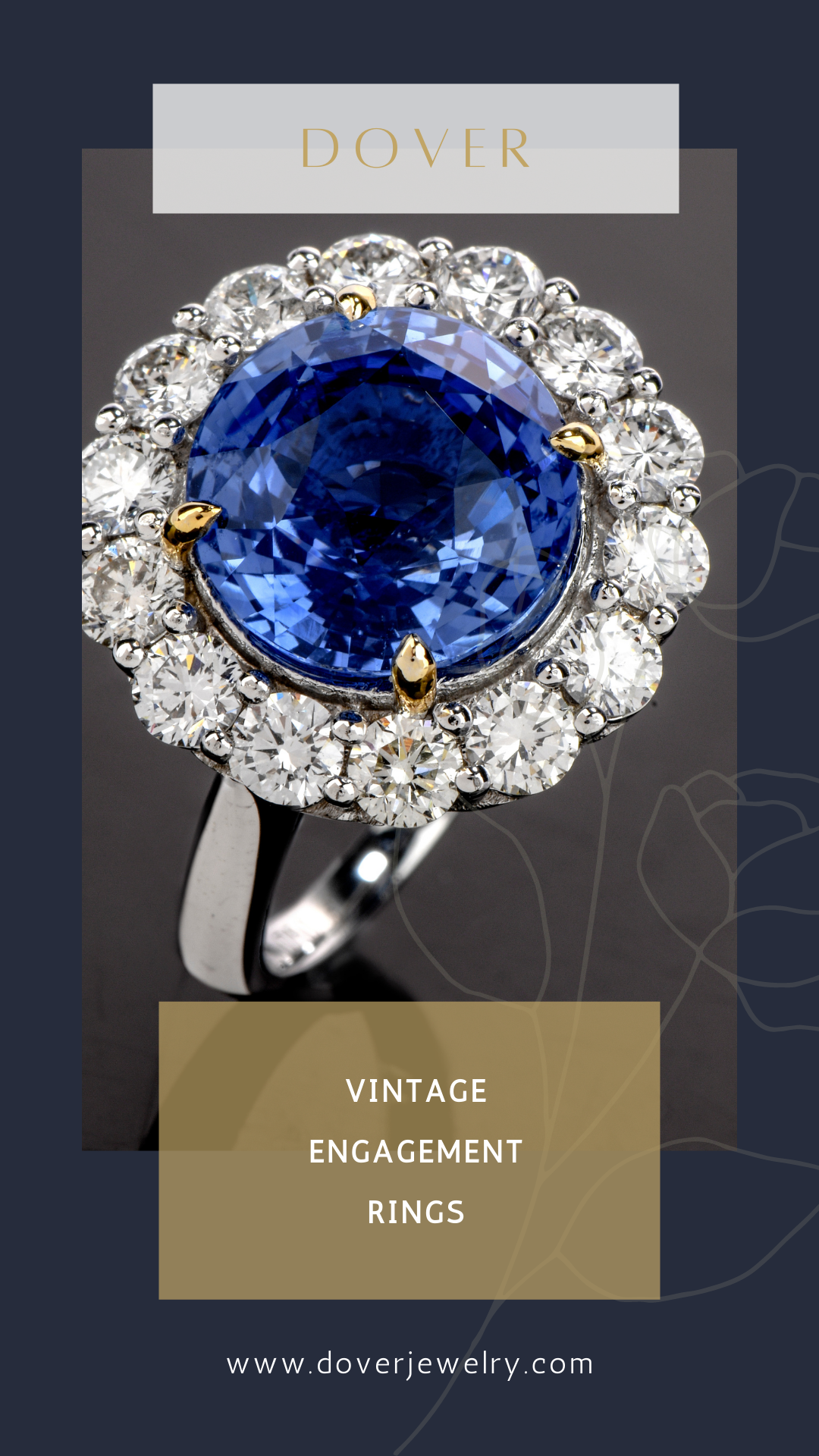 You have met the love of your life, and you are ready to make a lifetime commitment. The next step is choosing an engagement ring that is as unique and special as she is. Vintage engagement rings are beautiful and distinctive pieces that can be passed down through many generations. Whether your bride is a hopeless romantic obsessed with times gone by or she just wants to have a ring that no one else has, vintage engagement rings are highly popular with couples today.

What Makes a Ring Vintage?
The term "vintage" has a few different interpretations. Vintage engagement rings may refer to those that have been created in specific time periods or styled to look like those created in a previous era. Some say that a piece becomes vintage when it is old enough to come back into style, about every 20-25 years. This would include any ring that was pre-owned from 1920 through 1980. Jewelry is considered "antique" once it reaches 100 years old.
Vintage engagement rings are truly luxurious and one of a kind. They offer a style and sophistication not found in modern engagement ring styles. Vintage engagement rings are characterized by distinct features such as unique center stones, period craftsmanship, and particular setting or techniques. Vintage jewelry periods include Georgian Victorian, Edwardian and Art Deco.

A recent wedding jewelry survey revealed that over 86 percent of brides rated the overall design of their engagement ring as one of the most important features, while over 58 percent of brides rated the sentimental nature of the ring as an important feature.
When looking at vintage engagement rings, there are both real vintage pieces, which were created in their respective period, and masterful reproductions which are created to look like their older counterparts. While it may seem confusing to navigate through all of the vintage periods and features, the process of buying a vintage engagement ring can be quite painless when you know the things for which to look.
Finding a reputable jeweler who is experienced with vintage and antique jewelry is essential to ensuring a positive vintage engagement ring buying experience. You want to be sure that you're dealing with a jeweler who not only offers appraisal service for each piece of jewelry but also offers exceptional service and a one of a kind selection. Once you have found a trustworthy jeweler, you're on your way to finding the distinguished vintage engagement ring of her dreams.
Vintage Jewelry Styles and Periods
Vintage engagement rings can encompass the style of a specific era or have been created during that period. Specific years are approximate, and many vintage styles can contain elements from different eras at the same time. Each era has distinct characteristics that show in both the details and the craftsmanship of the piece.
Georgian Period — (1747-1837)
During the Georgian Period, each piece of jewelry was completely handmade by master craftsmen. Each piece was completely one of a kind. Georgian rings are often:
Influenced by nature
Often in shapes of leaves, birds, flowers and insects
Gold and unpolished silver on gold were popular metals
Victorian Period — (1835-1900)
In the Victorian Period, the classically romantic themes of hearts, bows and birds were incorporated into the jewelry. These rings are:
Often set in yellow or rose gold
Frequently contain pearls or opals
Usually have faceted diamonds
Solitaire diamonds became popular during this time
Edwardian Period — (1900-1920)
Jewelry from the Edwardian Period showed a high level of craftsmanship. Designs were graceful, elegant and delicate. Some notable features include:
Often made of platinum
Usually feature intricate scrollwork or filigree designs
Often include rose cut diamonds
Frequently contain sapphires
Art Deco Period — (1920-1930)
The Art Deco Period encompassed the fun, free time of the jazz age. The jewelry was loud, bold and edgy. Art Deco rings commonly feature:
Contrasting brightly colored gemstones
Geometric shapes and sleek straight lines
Sleek looking settings with all diamonds were popular
Platinum and white gold were popular metals
Emeralds, diamonds and rubies were popular stones for engagement rings
When referring to vintage engagement rings, you may see the terms "Rose Cut," "Old European Cut" and "Old Mine Cut." This relates to the shape of the diamond. Rose cut diamonds became popular in the Georgian through Edwardian periods and are known for their rounded shape, flat bottom and domed top. Old European Cut diamonds can be seen in rings from the Victorian through Art Deco periods and are recognized for their rounded shape and thick cut facets. Old Mine Cut stones are curved into a rounded square shape. They were often cut by hand and can be found in rings from the Georgian through Edwardian periods.
Since features of vintage engagement rings can cross the different periods, you may fall in love with the characteristics from a few different eras. When looking at vintage engagement rings, be open to choosing a style that may not be from the period you originally intended. While you and your future fiancée may have your heart set on a specific style or era, you may end up choosing an entirely different ring once you start looking.
The Basic 4Cs of Diamonds and Gemstones
While diamonds are still a very popular choice of gemstone for engagement rings, colored gemstones are also a favorite choice and are frequently found on vintage engagement rings.

The 4Cs stand for Carat, Color, Clarity and Cut and are the scale that determines the quality or grade of diamonds and other colored gemstones. The combination of the 4Cs is what determines the stone's value.
Carat: The stone's weight and size as measured in metric carats. The higher the carat weight, the larger the stone. Diamond prices also increase as the carat weight increases.
Color: The color of the stone as graded by a letter scale ranging from D-Z. In diamonds, colorless stones (in the D-F range) are the most valuable with light yellow ones (in the S-Z range) being the least valuable. However, yellow and even brown diamonds are popular and beautiful gemstone choices for vintage engagement rings. These are called fancy colored. In gemstones, the tone, saturation and hue of the stone also determine its value. Gemstones that have the purest colors are the most valuable.
Cut: The proportion and symmetry of the stone in coordination with its shape. The cut of the stone affects its brilliance and is graded on a scale from Excellent to Poor. Cut does not represent the shape of the stone, but rather how its facets interact with light. The stone's cut determines how sparkly it is.
Clarity: The position and appearance of a stone's internal flaws, called inclusions, and outer flaws, called blemishes, as graded by a scale ranging from Flawless to Included, with 11 possible grades of clarity. Flawless diamonds are the most valuable and extremely rare.
While you want to make sure that you have a quality stone, keep in mind that the stone's appearance is also affected by the setting. In many vintage rings, many smaller stones are pieced together to look like one larger stone. You may also find a smaller center stone surrounded by a channel of smaller diamonds can make the center stone look larger.

Although the 4Cs are important to consider when looking for a vintage engagement ring, they aren't the only things to consider. Choosing the metal, such as white, yellow or rose gold or platinum is another factor that may be determined by aesthetic preference or other factors such as durability.
Characteristics of gold and platinum include:
Gold
Most traditionally associated with weddings
Naturally yellow in color
White gold will eventually tarnish, turning a yellowish color
Rose gold has a rosy pink hue
Platinum
Superior strength and durability
Naturally white, will maintain its color for a lifetime
More prone to scratches
Gold has been the traditional metal of choice for wedding jewelry for many centuries, and can be seen in yellow, white and rose colors. While introduced in the late Victorian period, platinum became increasingly popular in the Edwardian and Art Deco periods. Silver was also a popular metal, so it can be found in vintage rings from the Georgian through Art Deco periods. Chrome, steel and pinchbeck were other metals that were used in vintage engagement ring settings.
The Difference Between Real Vintage Pieces and Reproductions
Vintage engagement rings can be either authentic pieces or reproductions. A reproduction is a new ring that has been created to look like it was created in a specific period. Although these pieces are beautiful, reproductions can never truly replicate the detail and craftsmanship of rings that were created during that era. Reproductions also don't carry the same value as authentic vintage engagement rings. Reproductions are usually made from a mold — meaning there may be many other versions of the same ring. Also, modern attempts at vintage craftsmanship often result in the ring having a less refined look.
It may be more expensive to replicate a ring from a vintage era, as the details and workmanship reflect the types of tools and materials that were available and popular at the time. Vintage engagement rings often have craftsmanship that is difficult to replicate in newly created rings. The artisans who created these beautiful pieces of jewelry in the original era were extremely skilled at their work. Rings often included filigree, milgrain and scrollwork. While today's jewelry artisans are also extremely skilled at their craft, they may not be as familiar with the techniques honed in bygone eras.
An authentic vintage engagement ring will have been created in the respective era and contain all the historical details and craftsmanship of the era. Vintage engagement rings must be sourced from around the world, so while the price of a vintage engagement ring may be higher than a newly produced ring, the value will grow significantly over time. Above all is the advantage of having an exclusive one-of-a-kind ring. Since there are a finite number of these vintage pieces in existence, their scarcity alone is enough to increase their value greatly.
Vintage engagement rings are an instant heirloom that can be passed down from generation to generation. Many brides adore the romance of a ring that already has a story, while others simply want a ring that has the old-fashioned charm of their great grandmother's engagement ring. Whether you choose to purchase an authentic vintage engagement ring, created in the era from which it is styled, or a masterfully designed reproduction, the ring should speak to your emotions.
Finding a Reputable Appraiser and Professional Vintage Jewelry Dealer
Once you've decided to search for a one-of-a-kind vintage engagement ring, you then need to find a reputable jewelry store with a knowledgeable appraiser. While many couples choose to shop in local jewelry stores, shopping online for vintage and modern engagement rings has become quite popular.

A recent survey revealed that almost 60 percent of brides utilize the internet as their primary source of engagement ring information, while two-thirds of their partners also choose online research as their primary information source when looking at engagement rings. Like most of the other wedding planning details, selecting the engagement ring has also become an internet-based task.
Fortunately, at Dover Jewelry & Diamonds, in addition to our showroom in Miami, FL we publish and update our stock of jewelry, including vintage engagement rings on our website. Here, you can locate rings and other vintage jewelry pieces in the periods or styles for which you are looking. If you find a specific ring that you like, you can contact and even chat with our team of gemologist about your prospective purchase.
A reputable dealer should be able to provide you with written information about the ring such as the age, size and condition, along with gemologist information such as color, cut, clarity and carat. Before exchanging any money, always check the store's return policy. This is especially important when dealing with online transactions. When shopping for a vintage engagement ring online, be sure to thoroughly review the ring's product description and contact the dealer with any questions.
Be sure to choose a jeweler and appraiser who are GIA certified and can give you an appraisal to guarantee quality and authenticity. They should also have extensive experience in vintage jewelry. This knowledge not only helps you to choose the best ring but also comes in handy when insuring your vintage jewelry.
Shop Dover Jewelry
At Dover Jewelry & Diamonds, we offer unique antique engagement rings that are truly one-of-a-kind. Each engagement ring we sell has been inspected by our expert team, which includes certified gemologists, and most vintage rings and antique engagement rings come with a certificate of authenticity. You can browse our current collection of luxurious antique engagement rings online.
Schedule your appointment today via email at contact@doverjewelry.com, or text at 786.218.0777.  If you have questions about any of our antique or vintage engagement rings or other fine jewelry, please contact us at (877) 777-6111 for a private consultation.
Visit the Dover Jewelry Brickell Showroom
Our team of experts at Dover Jewelry & Diamonds is available from Monday to Friday during office hours of 10:30 a.m. – 5:30 p.m. to assist you with any questions regarding appointments, buying jewelry, selling jewelry or fine jewelry appraisals. We invite you to contact us with any questions via phone or email.