Published August 4, 2023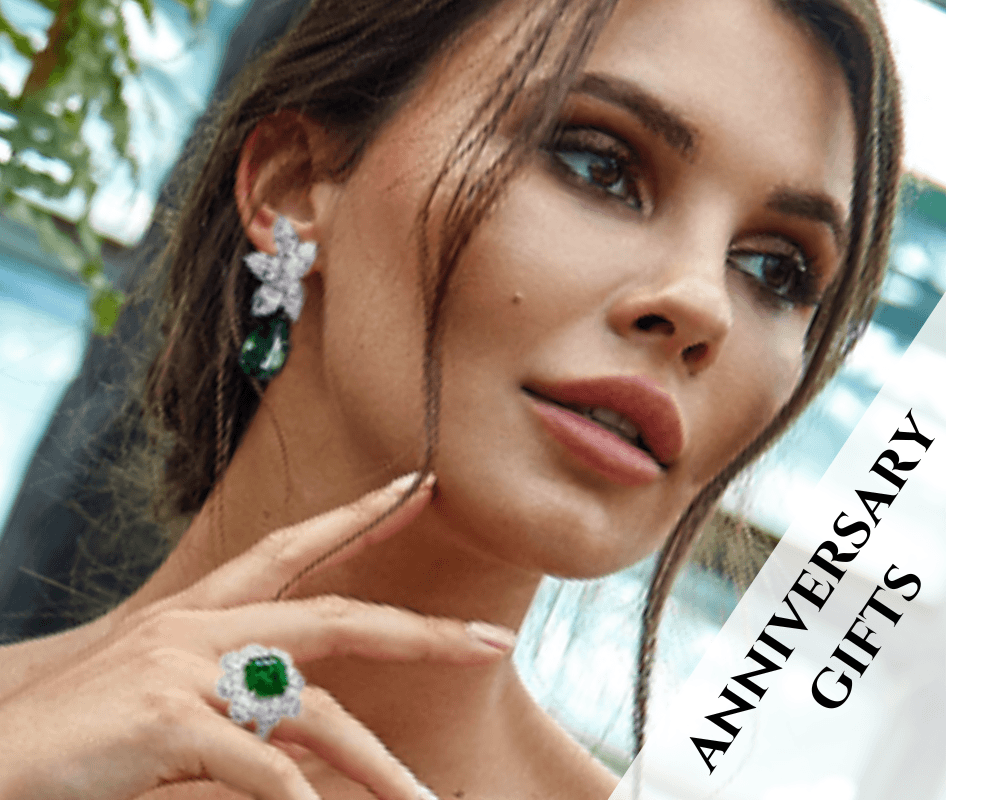 What are the best diamond and Jewelry anniversary gifts for couples celebrating their many years of togetherness? and what is a Diamond Jubilee?
Wedding anniversaries are a beautiful opportunity to celebrate the enduring love and commitment between two individuals. Each anniversary holds a special significance and is traditionally associated with specific gifting materials. When it comes to commemorating 60 years of togetherness, the 60th wedding anniversary, often referred to as the diamond jubilee, is a momentous occasion. Diamonds are the chosen symbol of this milestone, representing the strength, brilliance, and eternal love that has flourished over six decades. In this blog, we'll take a journey through the perfect jewelry gifts for various wedding anniversaries and discover the significance of diamonds for the remarkable 60th celebration.
1st Anniversary: Gold or Pearl
To mark the completion of the first year of marriage, gold and pearls are traditional gifts. A timeless piece of jewelry, such as a gold necklace or pearl earrings, symbolizes the purity and preciousness of the initial year together.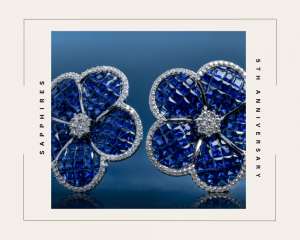 5th Anniversary: Sapphire
The 5th anniversary is associated with sapphires, which are known for their deep blue color and symbolism of loyalty and trust. A sapphire bracelet or pendant makes for a meaningful and elegant gift to cherish the half-decade milestone.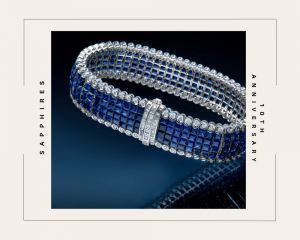 10th Anniversary: Diamond or Blue Sapphire
A decade of love is celebrated with diamonds or blue sapphires. The brilliance of diamonds represents the enduring strength of love, while blue sapphires continue the tradition of loyalty and fidelity. Consider a diamond-studded eternity band or a sapphire and diamond ring to celebrate a decade of happiness.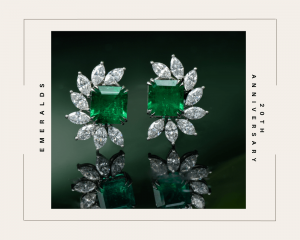 20th Anniversary: Emerald
Twenty years of love call for emeralds, symbolizing growth, hope, and harmony. A pair of emerald stud earrings or an emerald pendant will make a treasured gift for this joyous occasion.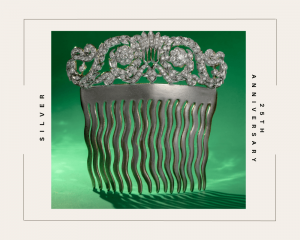 25th Anniversary: Silver
The silver anniversary is celebrated with silver jewelry. A silver bracelet, necklace, or a pair of cufflinks makes for a thoughtful and stylish gift to honor 25 years of cherished memories.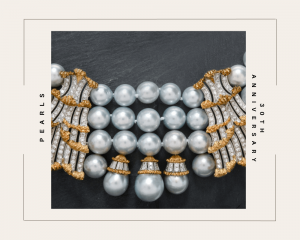 30th Anniversary: Pearl
Thirty years of marriage are associated with pearls, which signify wisdom and beauty. A stunning pearl necklace or a set of pearl earrings and a matching bracelet will be a delightful gift for this milestone.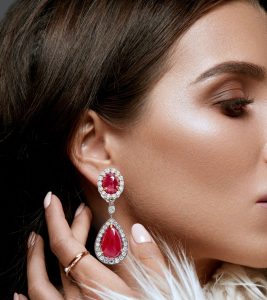 40th Anniversary: Ruby
Forty years together is commemorated with rubies, symbolizing love and passion. A ruby-encrusted brooch, ring, or pendant will add a touch of elegance and warmth to the celebrations.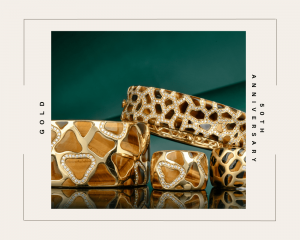 50th Anniversary: Gold
The golden jubilee marks an incredible 50 years of love and commitment. Gold is the traditional and modern gift material for this milestone, and a gold watch, necklace, or bracelet will be a cherished token of love for this special day.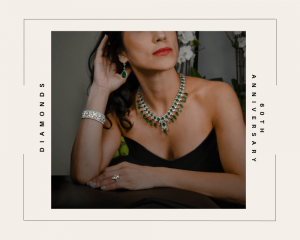 60th Anniversary: Diamonds
Reaching the remarkable 60-year milestone, the diamond jubilee celebrates a love that has endured and shone brightly through the years. Diamonds, with their unparalleled brilliance and eternal beauty, symbolize the unbreakable bond between two souls. A diamond anniversary band, a pair of diamond stud earrings, or a pendant with a significant number of diamonds are all perfect ways to celebrate this extraordinary occasion.
Wedding anniversary gifts hold a special place in commemorating wedding anniversaries, symbolizing the everlasting love and commitment between partners. As couples journey through the years of marriage, each milestone offers an opportunity to celebrate with unique and meaningful gemstones. However, the pinnacle of all anniversaries is the 60th, the diamond jubilee, where diamonds take center stage, symbolizing a love that has withstood the test of time and continues to shine brilliantly. Whether it's the first anniversary or the diamond jubilee, the right jewelry gift will encapsulate the cherished memories and love shared throughout the journey of marriage.
The Dover Jewelry August Love Affair Sale
August is a month of warmth and celebration, where love is in the air and couples come together to commemorate their weddings and anniversaries. It's the perfect time to reaffirm the bonds of affection and create lasting memories. To make this special occasion even more remarkable, we are thrilled to announce our August Love Affair sale, where you can find unmissable deals on exquisite diamond wedding and anniversary jewelry items, as well as rare gems that are sure to dazzle your loved one.
The Timeless Beauty of Diamond Wedding & Anniversary Jewelry
Diamonds have been revered for centuries as symbols of love, commitment, and eternity. Their breathtaking sparkle and enduring beauty make them the perfect choice for wedding and anniversary jewelry. Whether you're searching for a stunning engagement ring, a classic diamond band, or a dazzling necklace to mark a milestone anniversary, our collection has something to suit every taste and style.
Keep in mind that some cultures or regions may have variations in the traditional and modern anniversary gift lists. Additionally, contemporary couples often choose gifts that are meaningful to them personally, regardless of the traditional or modern themes.
The Allure of Rare Gemstones
In addition to diamonds, our August Love Affair sale also features an exclusive collection of rare gemstones. These exquisite gems, each possessing its unique allure and significance, add a touch of individuality and color to your cherished jewelry.
Sapphires, with their deep blue hues, are a symbol of wisdom and loyalty. Rubies, with their passionate red tones, signify love and vitality. Emeralds, with their lush green shades, represent harmony and new beginnings. Our rare gemstone collection offers you the opportunity to express your love in a truly exceptional way, making your gift a true reflection of your loved one's personality and preferences.
Shop with Confidence at www.DoverJewelry.com and Dover Jewelry Brickell Miami Showroom
Contact Us  – Our team of experienced gemologists and jewelry experts is available to assist you in finding the perfect piece that captures the essence of your love story. With our commitment to quality and customer satisfaction, you can be assured that you are receiving only the finest jewelry items and rare gemstones.
Visit our store at 1000 Brickell Ave Miami and experience the magic of our August Love Affair: Diamond Wedding & Anniversary Jewelry Items and Rare Gems. Celebrate love, celebrate life, and create unforgettable memories together.