Dover Jewelry & Diamonds proudly guarantees the authenticity of our Fine Gem Jewelry & Luxury Timepieces providing our customers with
Premier Collections and 100% Risk-Free Satisfaction.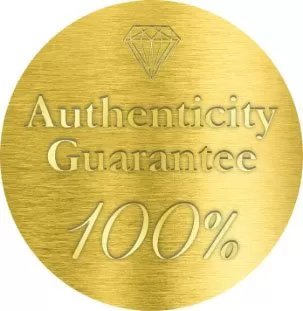 Every aspect of "attention to detail grooming" is provided on all of our rare jewelry and watches prior to sale. Complete inspection and careful evaluation by our team of certified GIA gemology specialists guarantees the restoration of any flaws or repairs required for showcasing. Our watch collections as well receive an extensive inspection and overhaul prior to sale, resulting in working mechanisms and condition.
With each item, Dover Jewelry provides our Certified Appraisal outlining the intrinsic and specific attributes of your purchase to include type of metal, quality cut, age and appraised insurance value.
For more than three decades, Dover Jewelry has maintained the philosophy that with proper care and careful expertise, our luxury jewels will bring our customers a lifetime heirloom to be admired and cherished by generations to follow.
Warranty coverage exclusions: items that have been altered or damaged by another jeweler, normal wear and tear, and/ or accidental damage/abuse to setting or stones. Due to the nature of antique, estate and vintage jewelry and unless otherwise noted, all diamond and gemstone weights, colors and clarity grades where stated in our descriptions, are determined in mounting and thus approximate. Laboratory gemological certificates are provided on some items, particularly those with larger diamonds and gemstones. In addition, please note that colored stones, pearls and other gemstones may have been treated to enhance color, stability or clarity. In the rare event of a typographical error on the information listed within our website to include gem descriptions and item pricing, Dover Jewelry & Diamonds has the sole discretion of cancelling or modifying the product information either before or after its sale. If the item has been sold in error, Dover Jewelry will provide a full refund to the buyer of all monies paid by the buyer and adjust the product information correctly and accordingly.