Selling My Jewelry
Many individuals and families have jewelry they think might be authentically vintage or antique, but they are unaware of where to go to sell antique jewels and unsure of jewelry stores that buy jewelry in Miami. This is where the expertise of Dover Jewelry comes into the picture.
Our team of Certified GIA Gemologists and appraisers, Master Jewelers and Customer Service Liaisons have helped thousands in the evaluation and selling of their unwanted Vintage & Contemporary Jewelry, Diamonds, Gemstones and Luxury Watches.
Our goal is to offer our discerning clientele the most individualistic, beautiful, stylish high-end vintage and antique jewelry on the market. In that regard, we regularly examine and purchase fine jewelry from individuals as well as estates. The Gem Team at Dover understands that when you choose to sell my jewelry in Miami or sell my jewelry online, it can be a very confusing process.
If you have been seeking an antique jeweler or searching for the best place to sell my jewelry, please contact us today. We buy Diamonds, we buy Rolex Watches, we buy Gold Jewelry and will evaluate your merchandise with the highest level of Privacy and Security. An Appointment with our Fine Jewelry Appraisal Team provides One-on-One evaluations with a GIA Certified Gemologist providing an undeniable understanding to you of your Fine Jewelry Items.
Necesitas Información en Español?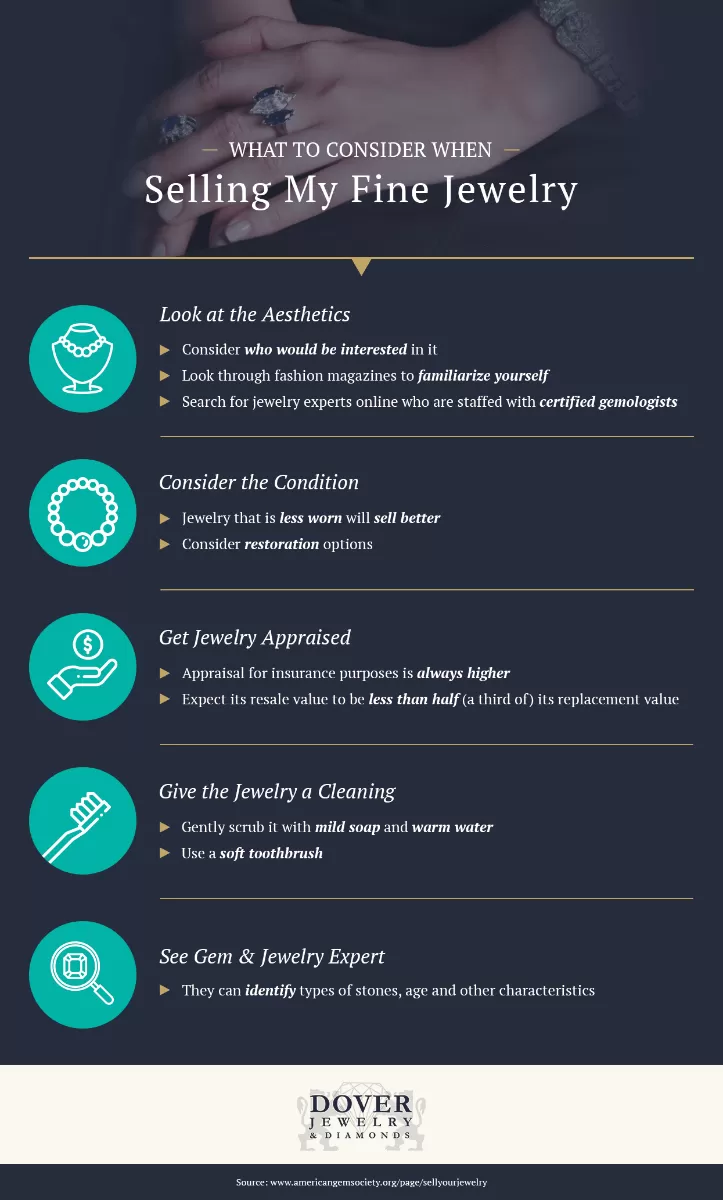 Selling Your Jewelry
Dover Jewelry & Diamonds Is One of the Largest Fine Jewelry Resalers Helping Thousands Sell Their Vintage & Contemporary Fine Jewelry & Watches.
TRUST • TRANSPARENCY • TIMELY
It's Easy — Contact our gem specialist today for a free & confidential evaluation. Call 877.777.6111 or email us
We Buy Diamonds, We Buy Gold Jewelry, We Buy Rolex Watches.
Dover Jewelry purchases directly from you & payment is immediate.
We market your pieces on our Global Online Platforms selling to over 1.6 million customers.
Brokerage Sale
We market your pieces privately & obtain competitive bids on your behalf.
Complimentary Jewelry Evaluation Services
Risk-Free Guarantee.
Whether you're a Collector, Dealer or Jewelry Lover, Trust our 30 years of Expertise to navigate you through the Most Important aspects of selling your Fine Jewelry.

Why People Trust Dover Jewelry
With over three decades of Integrity and Excellence, Dover Jewelry has become one of the Largest Authenticated Fine Jewelry Resalers in Florida. We provide a variety of gem services to help you cultivate and refine your jewelry collections. Protecting the legacy of your investments.
Finding a Reputable Jewelry Buyer begins with the search for a Trusted Diamond and Gold Jewelry Professional with years of Gem Experience and Integrity in an ever-evolving Jewelry Selling industry.
Creating a connection of trust with our clients by guaranteeing the importance of fair and ethical evaluations, has been the core of Dover Jewelry & Diamonds' Global Success.
From the first introductory Complimentary conversation, Dover Jewelry's team provides a general layout of the selling options available to our clients, tailor-made for their specific requirements and ultimate discrete selling experience. After careful evaluation, our certified GIA gemologists test and evaluate the characteristics of your semi-precious and precious gemstones, determining their authenticity as well as their quality and other attributes.
Where to Sell Vintage Jewelry and Antique Jewelry
It can be difficult to sell antique jewels and jewelry on your own. Without the right venue, you may not be able to get top dollar for your items. Similarly, you may face a challenge evaluating the origins of your pieces.
The team of antique jewelry buyers at Dover Jewelry is accustomed to seeing many types of antique and vintage jewelry. Intricate details that indicate a particular era, such as The Victorian Period, Edwardian Period, Art Deco Era or Art Nouveau are our specialty. The faster we can pinpoint the decade your pieces came from, the more specific we can be about how they were probably made and perhaps who made them.
Additionally, you may not be familiar with all the jewelry houses and unique designers, especially for those Vintage and Estate Jewelry items dating back over the past hundred years. As a high-end jewelry identifier, our business gives us insider knowledge we can use to evaluate and make an offer on your estate or other fine jewelry items like necklaces, bracelets, brooches, earrings and more.
Clients trust Dover Jewelry to bring them incredible and exquisite fine jewelry they simply cannot get anywhere else.
Call Dover Jewelry for an Appointment
Dover Jewelry procures an extensive collection of unique antique and estate jewelry items, and watches, by our globally sourced team of experts in the diamond industry. Recognized as one of America's premier and most reputable estate buyers, we maintain the highest standards and integrity ensuring transparency during every step of the process.
The Dover Jewelry team has been purchasing estates from Private Clients, Attorneys, Liquidators, Charities and Bank Trusts for over 25 years and provides immediate payment in the form most convenient to you. No matter where you are located, we encourage you to reach out to us Monday to Friday during the hours of 11:00 a.m. - 4:30 p.m. to assist you with any questions regarding appointments, buying jewelry or selling jewelry.
Contact our jewelry experts today or visit us in our New Brickell Showroom located at 1000 Brickell Ave Suite 100 Miami Florida. Estate evaluations are provided in our Miami offices or on-site at the location of your choosing free of charge. We welcome your inquiries either via email, telephone or by private appointment in our Brickell Miami Offices.