Published January 27, 2018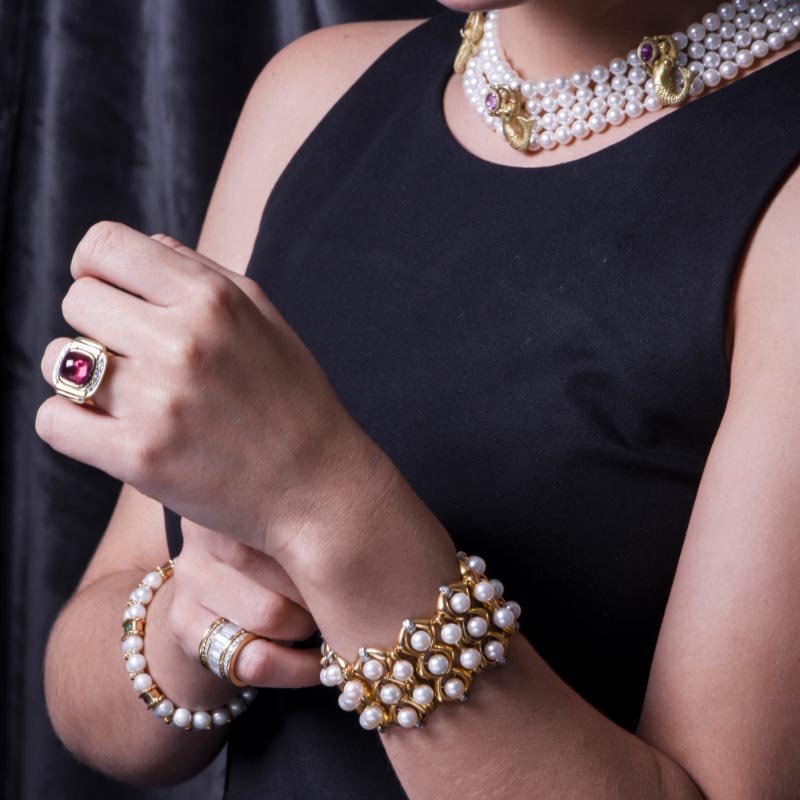 When it comes to collectibles and wearable items with valuable flair and features that are as one-of-a-kind as your vision or taste, nothing compares to antique and vintage jewelry. Compiling your own exclusive antique jewelry collection is now a popular and rewarding hobby as people turn to unique Edwardian, Victorian or Art Deco antique jewelry as both fashionable status symbols and smart long-term investments.
Online antique jewelry stores are always fun outlets for new antique jewelry collectors. As you educate yourself on different antique jewelry styles and designs, including estate and vintage jewelry collections, you will know how to select great new additions to your jewelry wardrobe.
Why should you buy antique jewelry and where should you begin? To start an antique jewelry collection or add some exciting antique pieces to your wedding jewelry, follow these simple guidelines to make the best possible purchases.
Difference Between Vintage and Antique
If you're relatively new to the world of designer jewelry styles, you might be wondering what differences influence the classification of an item as "vintage" or "antique." The terms are typically used to differentiate between their periods and origins.
Jewelry is considered as antique when made
Jewelry considered to be antique was made more than 100 years ago in either Victorian, Georgian, Edwardian or Art Deco Eras. Antique jewelry can also be estate jewelry, which means the piece was part of a previous collection or owned by another person with a fondness for elegance. The term vintage often describes items from an earlier generation, and when it comes to jewelry, it typically means pieces made between 1930 and 1970s.

Whether you're searching for vintage additions to your collection or historical, antique beauties to bring you pride, the jewelry options are vast and varied — and if you approach the search process with a discerning eye and the expertise we offer, you're bound to discover the perfect piece for your style.
What Is the Value of Buying Antique Jewelry?
So why should you invest in antique jewelry? Buying antique and vintage pieces offers benefits not only for your purse and style but also for historical and environmental preservation, as well as value and quality. The following are some of the most significant reasons why you should consider antique jewelry for your collection:
Pricing
Buying pre-owned, antique pieces will often save you a significant amount of money in comparison to purchasing new items of the same value.Discounts on antique jewelry — as opposed to modern pieces — can reach up to 30 to 50 percent. Antique jewelry is also an investment. The longer it's preserved, the more it will increase in value. So, if you ever choose to part with your prized pieces, it's possible they'll provide you with profitable returns.
Value
In addition to monetary value, antique jewelry has a unique aspect which is impossible for newly-made pieces to match — its history. Every pre-owned piece was individually hand-crafted in an era with techniques now impossible to recreate authentically, and each piece carries a personal story.
In short, your vintage or antique rings, brooches, necklaces and bracelets are your small claim to a fraction of a fascinating history. Prominent historical figures may have even owned your pieces — the thrill of origin is often part of the pleasure of purchasing antique jewelry.
Quality
Another benefit of buying antique jewelry is their quality. While brand-new pieces may come with claims of being long-lasting, vintage and antique items are guarantees in themselves — after all, they've withstood decades of use and remain in remarkable selling and wearing condition. When you invest in antique jewelry, you can be confident you're wearing a high-quality item with the potential to outlast any other modern jewelry.
Eco-Friendliness
You might not be thinking about eco-friendliness when you're searching for additions to your jewelry collection, but purchasing previously-owned pieces benefits the planet in multiple ways. Antique jewelry creates a re-circulating jewelry market that decreases the demand for new items, meaning less mining and air pollution, as well as fewer manufacturing byproducts. Less production also preserves resources, forests, fuel, water and wildlife habitats.
Style
What better way to express your style than by selecting and wearing antique jewelry items? Compared to today's modern jewelry, antique necklaces, brooches, rings, bracelets and earrings possess their own styles and characteristics representative of a past era, and it is likely that every piece was individually made, making it the only item of its kind.

Preservation
The tradition of buying and selling vintage, antique and estate jewelry ensures that history, cultures and artifacts stay alive and represent the style of every jewelry era. By purchasing antique jewelry, you're participating in the preservation of craftsmanship, quality and historical value for the generations to come. Perhaps you're even investing in an item that will become a treasured family heirloom.
Develop Your Eye for Antique Jewelry
Antique jewelry comprises several periods marked by social, economic and political events that influenced the usage of different materials, designs and craftsmanship. Learn how to recognize the common themes and symbolism present in antique jewelry, such as:
Animal motifs like enameled serpents, snakes, dragons and birds.
Love knots, clasped hands, Mizpah and miniatures
Nature-inspired motifs and flowers
Flowers and nature motifs are often striking, and quite meaningful, as the chosen flowers are often symbols. Some of the most common flowers you may discover when researching brooches, necklaces, rings, bracelets and earrings include:
Forget-Me-Nots: A representation of true love.
Ivy: A sign of fidelity.
Lily-Of-The-Valley: An indicator of sweetness.
Acorns: A mark of life and immortality.
If you're purchasing antique jewelry for someone special, look for these symbols to offer an even more meaningful gift.
Distinguish between Antique Jewelry Periods
Each antique jewelry period has its own style and it can be easily detected if you have familiarized yourself with its shape and form. Here is a basic breakdown of all the jewelry periods that comprise what is known as antique jewelry:
Georgian Antique Jewelry: 1714 – 1830
This era is named after the four English King Georges and represents some of the earliest antique jewelry collections you can purchase. Georgian antique jewelry is extremely rare as most gemstones and materials have since been converted into newer, modern jewelry pieces. Pieces from the Georgian era are also unique as each item was expertly hand-crafted by a jewelry maker before mass production techniques emerged.
Typical features of Georgian jewelry include floral and scroll motifs — Georgian engagement rings are particularly nature-oriented. Common stones include topaz, garnets and diamonds set in silver.
Victorian Antique Jewelry: 1837- 1901
A Victorian jewelry collection comes from the time of Queen Victoria in England and features romantic themes with birds and flowers, as well as hearts and bows. Serpent themes were common and many pieces featured corals, amethysts, turquoise and seed pearls. The middle of this era marked the discovery of vast reserves of diamond, platinum and gold, which are prominent in some Victorian pieces.
Art Nouveau Antique Jewelry: 1880 – 1914
This period celebrates the 19th century's conclusion and beginning of the 20th century, a time when the feminine form was praised and embellished by natural motifs and asymmetrical lines. Art Nouveau pioneers established the motto 'femininity and its relation to Nature' which became their guideline in many of the jewelry items they designed and produced. Excellent craftsmanship and unique design were more valuable in this period than the gemstones and material used, so every Art Nouveau piece carries singular character and intricacy. Art Nouveau jewelry collections can include bracelets, necklaces, pendants and rings featuring the popular serpent, which symbolizes life and eternity. Their unique specialty was the excellent enameling technique of Champleve introduced by their renown artist Lalique, whose works have increased to very great extent and are in possession of private collectors.
Edwardian Antique Jewelry: 1880 – 1914

This jewelry period brought platinum and diamonds, adding a cosmopolitan flair to fashion and creating sophisticated and refined, yet delicate filigree patterns. Diamonds are an essential component of antique Edwardian jewelry collections. If you're looking for delicacy and elegance in your pieces, this is a period you'll adore.
Art Deco Antique Jewelry: 1920 – 1930's
Art Deco pieces emerged after the First World War, a period when most jewelry production was put on hold, and this period was heavily influenced by the new role of women in culture. This jewelry features geometric designs and bright, diverse color combinations, plus abstract patterns. An Art Deco jewelry collection would include antique bracelets, diamond-encrusted watches and long strands of pearls. Rubies, emeralds and sapphires are the most prominently featured gems, especially for engagement rings.
Find Popular Antique Gold and Gemstone Jewelry
Due to the advancement of commerce and intercommunications, advancements, gemstones from every corner of the planet were used in many antique jewelry collections. Some gemstones were more popular in certain antique jewelry periods than others. The most popular were blue zircons, pink topaz, amethysts, peridot, citrines, aquamarines, rubies and emeralds. With a less regulated international trade, gold and platinum techniques. became regular in jewelry craftsmanship over the years.
How Ancient Culture Influenced Antique Jewelry Design
By the end of the 19th century, ancient civilizations were emerging in cultural knowledge. What followed was a restoration of Egyptian, Classical and Etruscan styles, as well as Renaissance and Architectural designs. Many of the most talented jewelers of the era studied, practiced and mastered the Etruscan practice of granulation, which allowed these exceptional craftsmen in Europe to produce enameled pieces in the Holbeinesque and Renaissance styles.
What to Consider When Adding Pieces to Your Antique Collection
If you're beginning your journey into the world of antique jewelry, you'll have a few common concerns. How can you be confident the pieces you purchase are authentic, for example? Or, how can you discern whether you're paying an appropriate price for the value of each item? Where should you look for the best jewelry, and how can you preserve pieces once they're yours?
Here's some advice on what to consider when choosing antique jewelry:
Conduct Your Research
Before you begin buying, make sure to educate yourself on the basics of the jewelry you're trying to obtain. Investigate different jewelry eras and decide what style you're searching for, then make sure you know the history of the designs you desire so you can more easily spot valuable and authentic pieces.
When looking at individual pieces, it's also important to look into accompanying documentation and authentication. The sellers of some items might offer verification through original purchase receipts, photos, notes or other historical documentation. An authentication certification from a professional is also a valid proof of value.
Know Your Jewelry Houses and Signature Markings

Be aware of the brands or jewelry types from the era you're interested in before deciding on a particular piece. If you're looking for designer vintage or antique jewelry, some jewelry houses or makers correspond with specific time periods, and their items come with signature designs, details and markers that indicate their validity. These features can include brand logos, manufacturing locations or stylistic signatures exclusive to each piece.
Check Your Jewelry's Details
Authenticity, as well as condition, influence the value of your antique jewelry. When you inspect the piece you're interested in adding to your collection, look for telltale signs of wear and tear. Is the plating worn or are there parts missing? Are there chips, cracks or scratches on the stone or enamel? You should look for bumps and holes, as well as discoloration or corrosion in gold or silver surfaces as these can be irreparable flaws.
Inspect Your Purchases
When it's time to start shopping, be careful of where you search. While it can be convenient to find your ideal antique jewelry online, being unable to inspect the piece in person can mean you'll have more trouble making sure the sources and jewelry are legitimate. If you do choose to search online, it's best to shop from certified sources with expert knowledge in antique jewelry and gems.
Clean Your Jewelry
When you add authentic antique jewelry pieces to your collection, care is essential to preserve the beauty and value of your items, so be sure to clean and care for your jewelry. Handle jewelry pieces with care, store them at room temperature in soft pouches or cotton-lined boxes and research the appropriate way to clean your brooch, necklace, bracelet, ring or earrings — you may also want to use a jewelry-polishing cloth to be safe.
Always avoid exposing your antique jewelry to running water, sweat or household cleaning chemicals. It's also an excellent idea to have your pieces checked periodically by a professional jeweler.
Taking these steps should ensure you invest in high-quality antique jewelry pieces, as well as provide them the necessary care to maintain their authentic value. Here are a few simple tips for your last-minute antique considerations:
Watch out for corroded or worn plating, cracks, blisters or holes that cannot be restored.
Know that scratches in silver and gold antique jewelry collection pieces can be repaired.
Watch out for cloudy rhinestones, missing stones, cracked stones or chipped enamel.
Double check that the fastening still works correctly.
Know how to verify true antique jewelry designer pieces, such as a Tiffany antique ring, and differentiate between antique jewelry reproductions.
Check any piece of antique jewelry for obvious soldering, which indicates it has likely been repaired.
Find an antique jewelry dealer that you trust, such as Dover Jewelry in Miami

Trust Dover Jewelry for Classic Antique Pieces
At Dover Jewelry, our certified gemologists share your passion for classic antique jewelry. As one of the most reputable and trusted online jewelry boutiques in the world, we understand your desire for not only striking pieces but also confirmation of their history, which we provide through our professional appraisal documents.  We welcome your visit in our New Brickell Showroom (1000 Brickell Ave, Suite 100 Miami) where you can meet with our Certified GIA Gemologists and Antique jewelry experts to evaluate your treasured gem or assist you in finding the gem of your dreams.
If you are looking to start or enhance your antique jewelry collection, get the advice of our professional antique jewelry experts at Dover Jewelry. Contact us online or call Dover Jewelry toll free at 1.877.777.6111 and let us help you find the perfect piece today.