Published June 9, 2023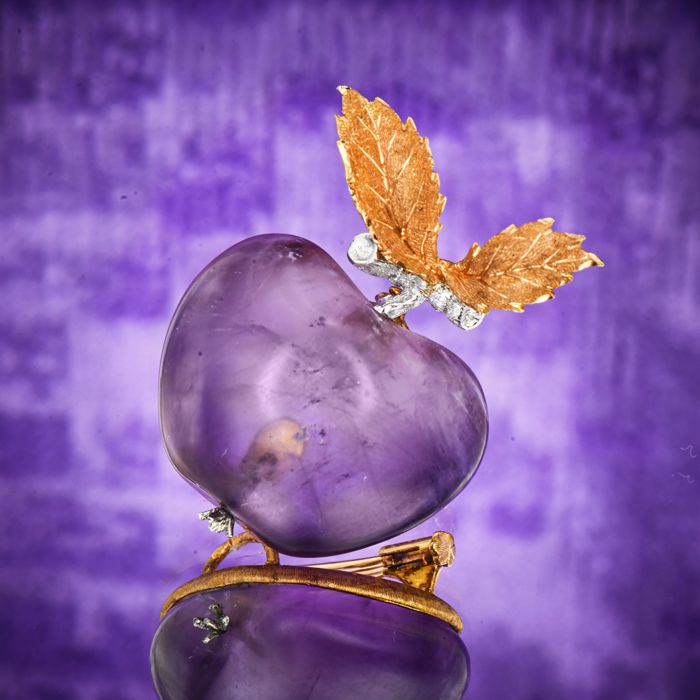 History of Buccellati
The house of Buccellati was founded by Mario Buccellati (1891-1965), nicknamed the Prince of Goldsmiths. The family business dates back to the mid-eighteenth century when Contardo Buccellati worked as a goldsmith in Milan.
Following in the family footsteps, Mario became involved in making jewelry in his early years and he started as an apprentice at Beltrami & Beltrami. He became obsessed with the precious metals and gemstones used in the Renaissance and Roman times, so you will see this echoed in Buccellati's designs.
Mario opened his first store on Via degli Orefici in Milan in 1919. He went on to open more stores across Italy, eventually launching in New York in 1951 and on Worth Avenue in Palm Beach in 1958. His sons took over the business when Mario passed away, with new locations quickly appearing in Hong King, Paris and Monte Carlo.
Mario gained special fame in 1949 when Pope Pius XII commissioned Buccellati to design an icon for Princess Margaret, representing the first time a member of the British Royal Family had visited the Vatican City for centuries. It is currently on display at the Chianciano Art Museum in Tuscany. The Pope, Cardinals and aristocratic families across Europe soon became his first customers.
Today, Buccellati is still considered one of Italy's most exclusive luxury jewelry brand. The company was purchased by Richemont in 2019.
The exquisite limited edition gold watch is finely crafted in 18k yellow gold with a gold leather top strap. Signed by Buccellati,
Quartz movement Circa 2000.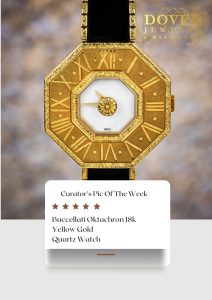 Design Expertise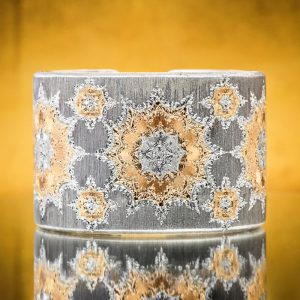 What is so special about Buccellati's pieces? Faithful to the unique manufacturing techniques developed by Mario, Buccellati's craftsmanship shows intricate gold detailing, textures inspired by Venetian lace, Etruscan patterns and designs from the natural world of flowers, insects and animals. Buccellati jewelry is made from the highest quality precious metals and gemstones.
Trafato or Tylle Creations
This is a pierced gold effect used a setting for precious stones, such as large cabochons, emeralds, rubies and rose-cut diamonds. It gives the piece the look of a honeycomb or fine lace, tulle or fabric as if the surface has been engraved.
This is a typical design feature of Buccellati. It involves carving parallel lines into the precious metal surface to produce a shiny, almost silky look.
Buccellati made some extraordinary make-up compacts with the same level of craftsmanship and detail given to the jewelry. Compacts made by Marion and Gianmaria Buccellati, particularly between the 1920s and 1950s, are highly desirable as investment pieces. This Mario Buccellati vintage diamond 18K yellow gold compact box from the 1940s, features a diamond accent closure in 18K white gold with rose-cut diamonds. The case itself is made with 18K yellow gold in Buccellati's traditional lattice style design.
You will often find flowers, animals, and insects from the natural world in Buccellati jewelry. These are vintage thistle flower gold and silver clip-back earrings, along with our newest arrival, this outstanding Mario Buccellati 18K Yellow Gold Maple Leaf Pendant Necklace  – the level of craftsmanship and attention to detail in these pieces is what made Buccellati world famous.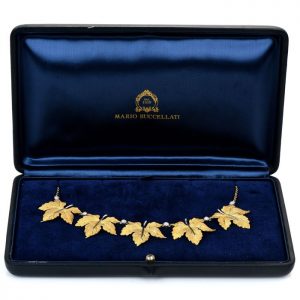 Mixing Gold & Silver Precious Metals
Another feature of Buccellati's design is mixing gold and silver precious metals in one piece. There are many examples of mixed metals in Buccellati jewelry.
The Morgana or cuff bracelet was inspired by the Italian Renaissance period. This one shows the Rigato effect in 18k white gold and diamonds. It is part of the Opera Collection which Buccellati introduced in 2015.
Why Buy Buccellati?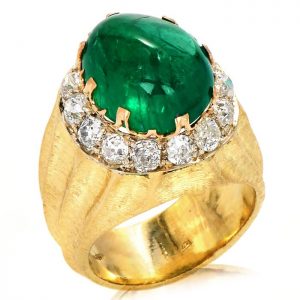 The answer is simply one of recognition for masterful design work. Buccellati jewelry is timeless, recognizable and represents a good investment. The large signature pieces such as intricate necklaces, Morgana bracelets and jewelry sets will fetch the highest prices, but any Buccellati piece will get a collector's attention.
WWD reported on the most expensive items on all fashion-related product listing advertisements in 2019. Jewelry dominated the list, and Buccellati took high honors with a sixth-place listing of a collier priced at $106,575, a Buccellati collar at $106, 500 and a ring at $78,517.
No doubt these prices will only increase.
We invite you to explore our entire collection of coveted Buccellati pieces – Estate, Antique and Vintage Beauties with singular elegance.  Even better, schedule your visit today in our Brickell Miami Showroom and celebrate these items in person. We look forward to seeing you. 1.877.777.6111 contact@doverjewelry.com