Published March 3, 2021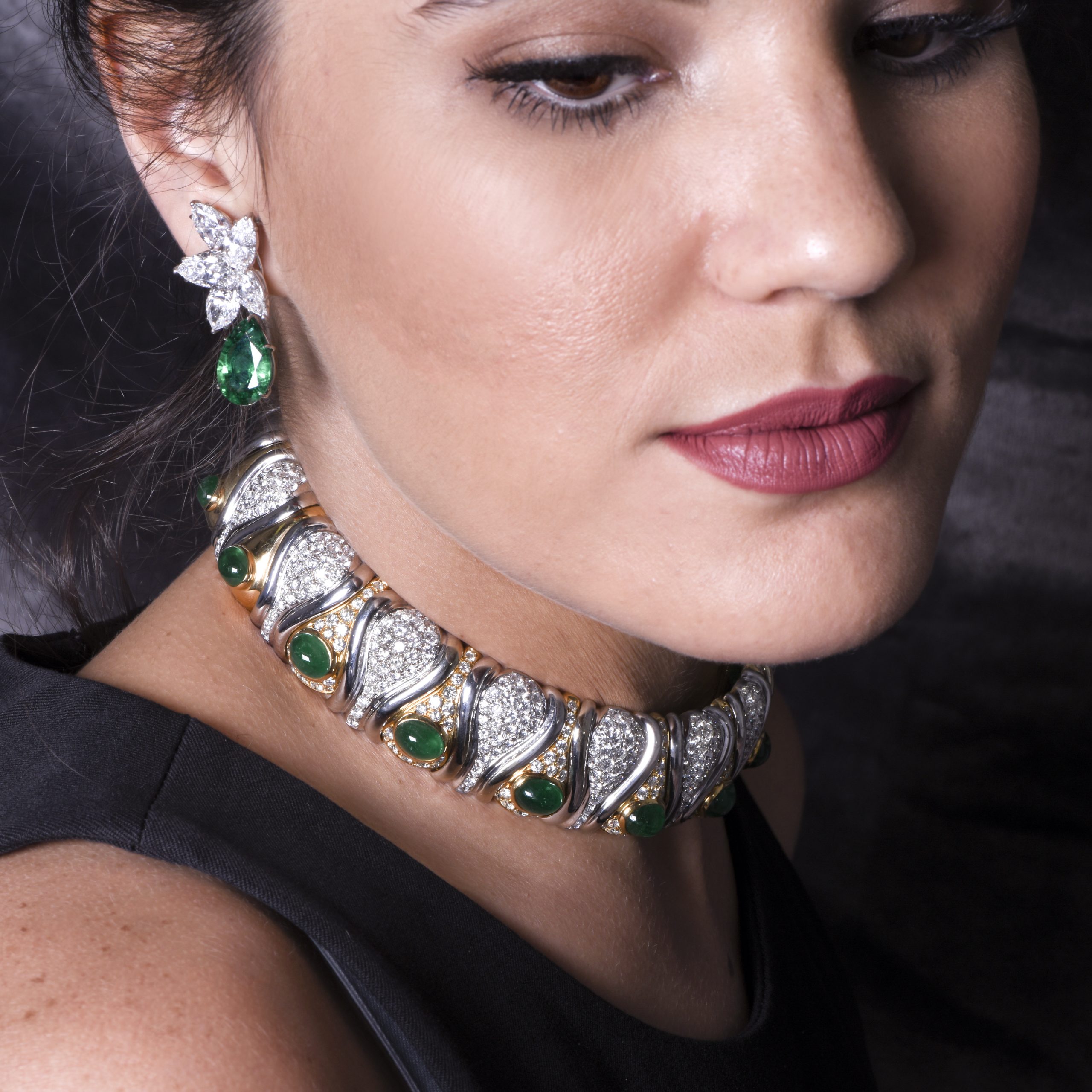 Emeralds – The Jewel of Kings
"Emeralds make a lovely gift" – Maurice Sendak
Emeralds have always been considered among the royalty of gemstones. With their glorious, deep green, quasi-mystical color and their superior beauty and rarity, they have been prized throughout the centuries by the rich, the famous and the powerful. Emeralds are also the birthstone of May. 
Prized Across the Ages
It was said that the Roman Emperor Nero watched the gladiator games through flat emerald crystals, possibly as a soothing color for his eyes to counteract the glaring rays of the sun. The Incas and Aztecs ascribed huge value to emeralds when they were discovered in Colombia. Spanish conquistadors looted thousands of emeralds from the mines in South America, which led royalty across the world to begin to import supplies of emeralds from South American mines to decorate their crowns, necklaces and rings for centuries to come.
Seen plentifully in the Russian crown jewels, the Iranian State Treasure, and as favorite of Indian Shahs, emeralds have long been associated with royalty and status. They are also said to represent peace, healing, abundance, love and fertility. 
What Are Emeralds?
Emeralds are part of the beryl family of minerals, and they can grow up to a foot in length, typically forming with six sides as a hexagonal. Their color, which comes from the presence of chromium, can vary from the palest of green up to a deep, dark, rich green. The deeper the color green, the more expensive the stone is likely to be. The rarest, and therefore most expensive emeralds will be deepest blue green. Emerald mines are found in many different countries around the world, including in South America, Zambia and Afghanistan. 
Value & Durability
Emeralds are priced according to the same color, clarity, cut and color factors that measure other gemstones, however, it is the color and clarity of emeralds that are the most important factors in assessing their value. This is because all emeralds have imperfections or inclusions, which are characteristics that develop as the stones form under the earth. Because emerald color is highly prized, many are typically color-treated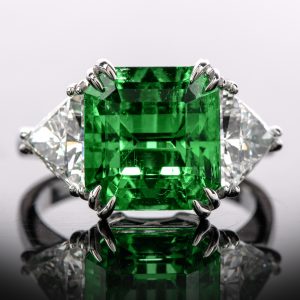 , so when purchasing your emerald jewelry, you can ask if it has been artificially enhanced or not. Natural emeralds are the most valuable, of course.   
Emeralds rank 7.5 to 8 on the Mohs Hardness Scale, so although they are not as durable as other gemstones, they are used in all types of jewelry, including engagement rings, and with proper care they will last a lifetime. Jackie Kennedy's Van Cleef & Arpels engagement ring was given to her in 1953 and featured an unusual bypass design featuring a 2.84 carat emerald cut emerald and a 2.88 emerald cut diamond, which she later had re-designed. Victoria Beckham, similarly, owns a stunning cushion- cut emerald 're-engagement' ring given to her in 2007 by her husband, British football legend David Beckham. 
Timeless Emerald Engagement Rings
Among our collection of opulent engagement rings is this rare natural 6.44 carat emerald and diamond stunner set in platinum. The stone is of outstanding quality, is very transparent and boasts a dark rich green color.
On a slightly less flamboyant scale, we also carry this 3-stone emerald and diamond engagement ring, which features a GIA certified 4.91 carat emerald, flanked by two modified step cut diamonds. 
Or we also carry this 19.98 carat emerald 3-stone engagement or cocktail ring. 
This one is affordable, simple yet beautiful – emerald ring. 
May Birthstone Emerald Gifts
Emeralds can make unforgettable gifts and represent an important investment. Perhaps you are looking for a gift for a loved one born in May, or for that next perfect addition to your collection of antique or estate jewelry to be worn on special occasions.

Here are some suggestions for a May birthstone gift: 
https://www.doverjewelry.com/vintage-deco-diamond-emerald-platinum-flower-stud-earrings.html
https://www.doverjewelry.com/estate-diamond-emerald-snake-head-18k-gold-cuff-tennis-bracelet.html
This estate diamond and emerald pendant makes a perfect May birthstone gift at a modest price. 
https://www.doverjewelry.com/estate-diamond-emerald-onyx-18k-gold-drop-pendant.html
Emerald Cocktail & Statement Jewelry 
You will also find many examples of fine, emerald 'high jewelry' in our collection, guaranteed to make you stand out on any formal occasion. These extraordinary emerald and diamond clip-on earrings are similar to those given to Jennifer Lopez by Alex Rodriguez, and they contain 14.04 carats of natural GIA graded emeralds.
This unusual Oscar Heyman diamond and frog pin brooch is on trend with the current craze for eclectic brooch collections 
Our estate 44.2 carat Columbian emerald and diamond bracelet makes a decadent statement  
We carry a selection of antique and vintage emerald pieces such as this art deco era diamond, emerald and onyx bracelet.
Your taste might also run to a retro 1980's Pear shaped emerald drop necklace set in solid 18K white gold. The pendant is detachable, allowing you to were this exquisitely designed masterpiece in two distinct styles. 
Please check out Dover Jewelry & Diamond's collection of other superb emerald antique, vintage and estate jewelry.  From engagement rings to gifts, collectibles to cocktail, our pieces are painstakingly sourced to provide you with the finest choices in unique and rare additions to begin, or add to, any distinguished collection.