Published March 2, 2023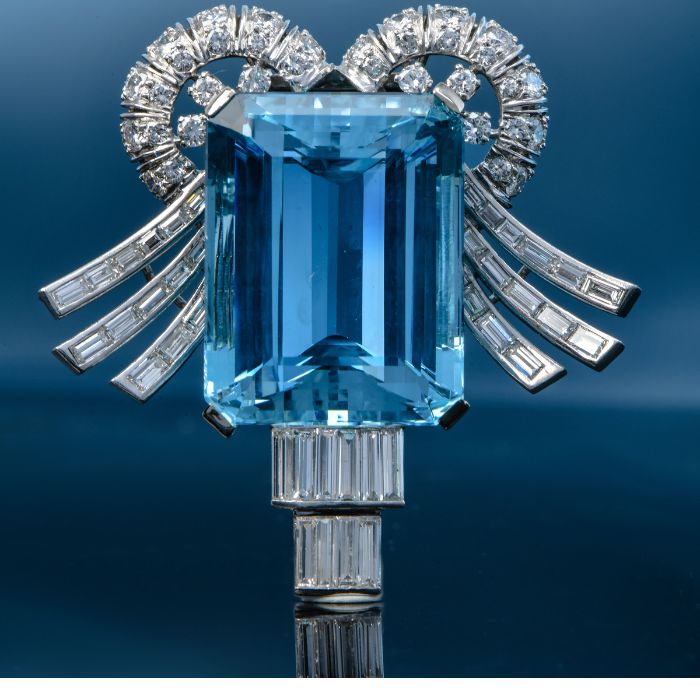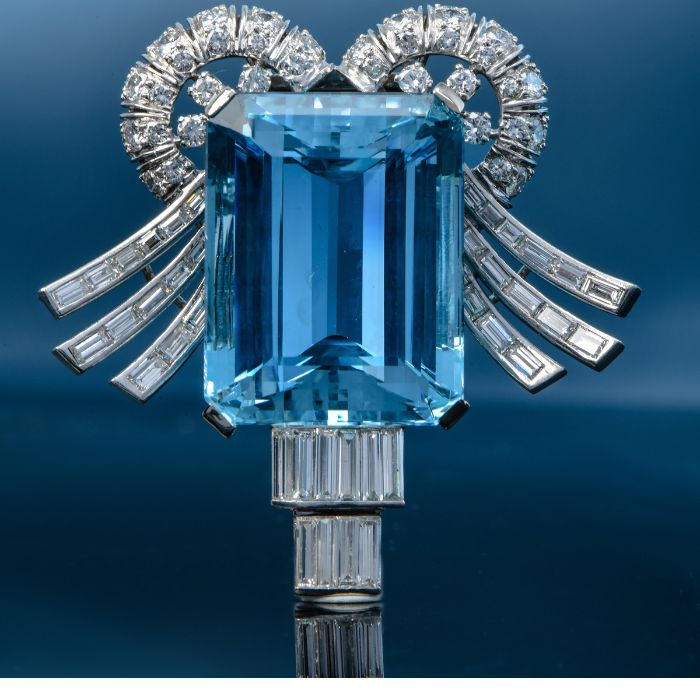 Step into the serene world of Aquamarines, March's dazzling birthstone. Revered for centuries, this gem not only celebrates March-born souls but stands as a timeless symbol of tranquility and beauty
March birthstone with its enchanting nuances of mostly pastel blue color derives its name from Latin words 'aqua' and 'marine' meaning 'water' and 'of the sea' respectively.
It is a member of the Beryl family, of which emerald gemstone jewelry is also a member. The aquamarine raw crystal has a beautiful turquoise blue color making it ideal for incorporating into jewelry designs and found in many vintage jewelry collections. The gracious March birthstone is also the gemstone for the 19th wedding anniversary and a classic inspiration featured in authentic Art Deco Aquamarine Vintage  Jewelry.
Aquamarine: A Gemstone with Special Healing Powers
Classified among the 'healing crystals' and called by many 'a stone of courage and protection' aquamarine is believed to encourage the clarity of thought, assist in the assimilation of new knowledge, help with reasoning and promote logic. As for its protecting power, aquamarine was once known as the seamen's gemstone, who wore it to be protected during their sea voyage and to calm fears and anxieties. It is said to harness the naturally soothing spirit of the ocean and to capture the healing powers of what the ancient folklore once termed as 'the treasure of Mermaids'. It helps to reconnect us to the water which is the origin of life on our Planet Earth.
Sources of Aquamarine
The widely popular gemstone aquamarine is mined in Brazil, Kenya, Madagascar, Zambia Sri Lanka, and the United States. The most valuable stones come from Brazil which is the world's major source of fine aquamarine gems, the more widely known localities include Minas Gerais, Rio Grande do Norte, and others. The state of Minas Graes is where the well-known Santa Maria aquamarine was mined in the 1950s. This category of aquamarine is of incomparable beauty and amongst the most valuable categories of aquamarine with unique color and transparency. Madagascar has more than 50 localities producing fine blue aquamarine, followed by the United States (San Diego County, California, Colorado, Connecticut, and North Carolina).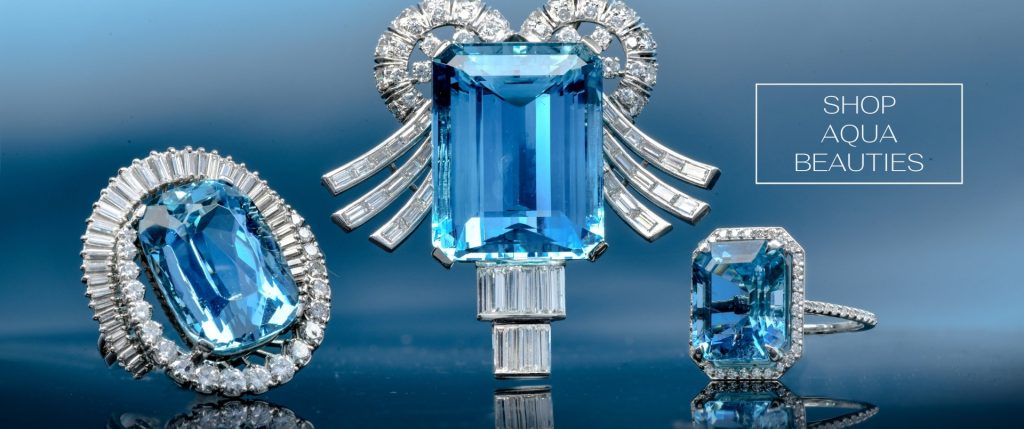 Value & Buying Tips for Aquamarine
Aquamarine can be cut and is available in relatively large sizes therefore there is no incremental increase of value based on the gemstone's carat weight. In other words, a large 20-carat aquamarine will be priced per carat the same as for example a 2-carat aquamarine of the same quality. Other factors on How to choose an aquamarine ring, particularly the translucence, and the depth of color usually determine the price of aquamarine. Many unique diamond cocktail ring designs include the exquisite blue gemstone making a stunning statement for every occasion.
The aquamarine jewelry collection offered by Dover Jewelry & Diamonds Miami encompasses a variety of styles and gemstone cuts from different eras. These include
The entire Aquamarine collection of Dover Jewelry & Diamonds, including unique designer diamond jewelry items, is currently on promotion in celebration of March birthdays, and we welcome you to visit our site to learn more about this promotion event.
Contact our jewelry experts today or visit us in our New Brickell Showroom located at 1000 Brickell Ave Suite 100 Miami Florida. Estate evaluations are provided in our Miami offices or on-site at the location of your choosing free of charge. We welcome your inquiries either via email, telephone or by private appointment in our Brickell Miami Offices.