Published April 29, 2014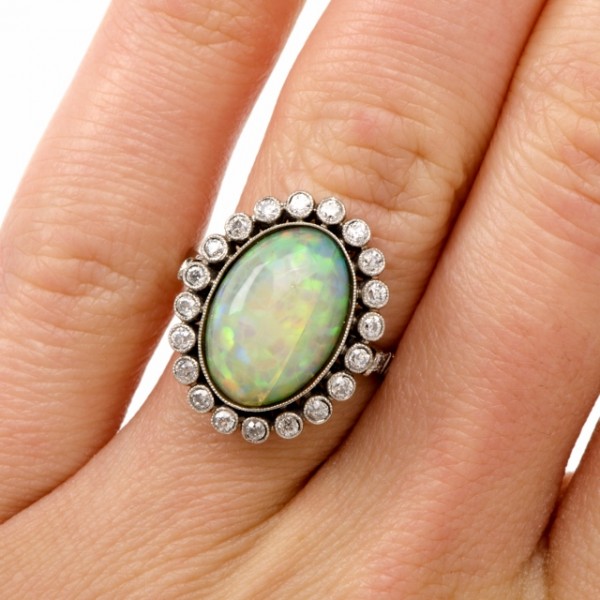 Often underestimated, vintage jewelry online stores are witnessing an Art Deco jewelry come-back amongst serious collectors and investors who see it as an interesting option in the current market, as well as high profile devotees that, along with unique and exclusive antique jewelry pieces, consider it everything jewelry was always meant to be– beautiful, glamorous, and romantic.
"Art Deco jewelry has steadily been rising in value since the 1980's, especially when it combines rare stones, such as natural pearls, rubies, sapphires and emeralds and pieces like engagement rings, stud earrings and pendant necklaces" says Virginia Salem, director of the jewelry department at Sotheby's.
One reason Art Deco pieces are highly regarded among collectors and selling so well in vintage jewelry online stores is because stones in art deco jewelry were never enhanced by heating, as opposed to many gems mined today that are run through a heating process to cover up any flaws that exist in it, therefore making them more valuable in today's market.
How can you identify an Art Deco jewelry piece?
Art Deco jewelry is easily identifiable by its architectural patterns, straight lines and swirls within rectangles; the finest stones and materials, usually set in platinum; the enamel work, often in black, white, red or green, or a combination of the colors; and the high quality of its craftsmanship. Unlike jewelry from other design periods, Art Deco works showcase the jewels with such artful crafting of the metal, that the artifice is often barely detectable.
Can we expect this Art Deco comeback to continue?
According to jewelry experts and auction houses, bien sur. Although jewelers on both sides of the Atlantic designed and made investment-worthy Art Deco pieces during the roaring 1920s, it is the work of the French masters that is most coveted. Jewelers at Parisian ateliers – such as Cartier,Boucheron, Mauboussin, and Van Cleef & Arpels – "went the extra mile" with their handiwork, explains Salem, in that "they finished the backside of a piece the same as the front."
An example of this extra effort is millegraining, tiny metal beading over the entire piece that gives the jewelry a delicate finish and allows for extra-fine designs, perfectly showcased in this art-deco 7.50 ct. diamond platinum line bracelet, with glittering precious stones mounted within finely millegrained quadrangular settings. French Art Deco jewelry is also stamped with a dog's head—of a German shepherd or Alsatian, as the breed is sometimes called in Europe—to indicate that it's made with platinum.
What should I consider when buying Art Deco pieces?
Pay attention to the quality of the workmanship and the materials, the provenience, the item's rarity and whether it's signed. Also, educate yourself about importation restrictions on items made with ivory and certain gemstones, like Burmese rubies and jadeite from Myanmar. Lastly, become familiar with the time period. When you understand the context, you have a greater appreciation for the jewelry

.