Published October 5, 2021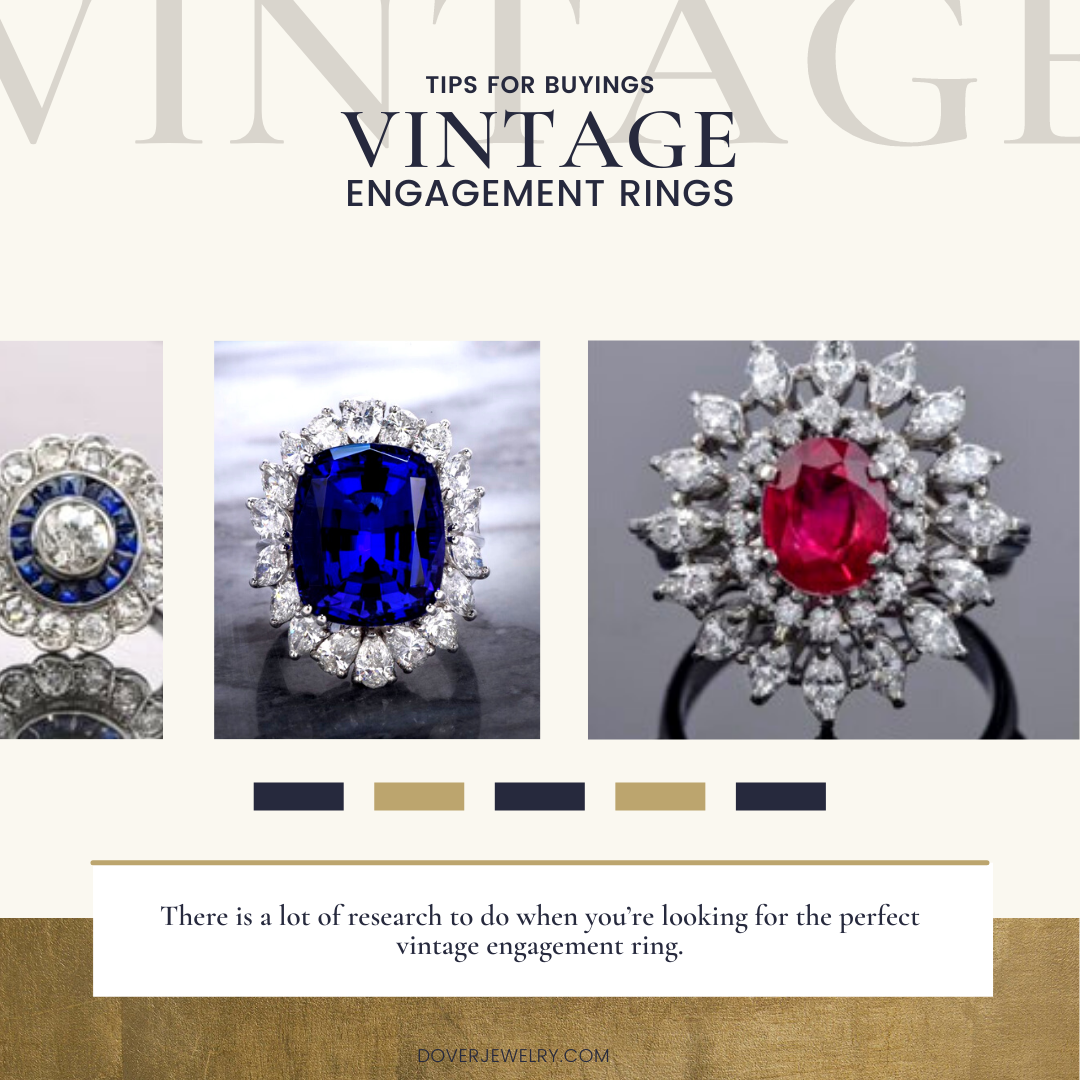 Buying an engagement ring is one of the most exciting purchases many couples make in their lifetimes. But choosing your engagement ring can be a daunting process, considering ALL the different types of rings, jewelers, and options out there!
If you're looking for a spectacular and unique engagement ring, a vintage ring might be a perfect choice. Vintage engagement rings can be designed to fit your exact style and show your uniqueness.
Why Buy Vintage Jewelry?
Vintage jewelry is known for its exceptional beauty and incredible value. These pieces can have both rarity and history that can span generations. And, you won't see anyone else in your circle wearing the same ring. A vintage engagement ring makes a timeless and beautiful choice.
There are many reasons to buy a vintage engagement ring. Genuine vintage rings are rare and have been appreciating steadily over the years. Vintage rings (especially rings from before 1950) were usually handcrafted at a superior level to machine-made rings. Buying a genuine vintage engagement ring is an obvious choice if you want a ring of a higher caliber.
However, buying a vintage engagement ring is NOT the same as buying a new ring from a local or national jeweler. Truly one-of-a-kind vintage and antique engagement rings are also previously owned and loved and therefore require a much different process than purchasing or designing a new ring. So to help you buy vintage successfully, we've put together some key recommendations to find the perfect vintage engagement ring.
Do Your Homework
There is a LOT of research to do when you're looking for the perfect vintage engagement ring. The first thing to do is educate yourself. Narrow down your search by learning about:
Know What "Vintage" Actually Means
The "vintage" trend has really escalated in recent years, but there is still some confusion over what the term "vintage" actually means. Three main ring categories appear to be from a past era: Antique, Vintage, and Vintage Inspired. The difference between the three is important to understand while shopping vintage, so you know exactly what you are purchasing.
When a ring was previously owned and was made over 100 years ago, we refer to it as "antique." When a ring was previously owned but was made any time in the last 100 years, we refer to it as "vintage." The rules are a bit fuzzy in this category, but vintage typically refers to rings at least 20-30 years old but less than 100 years old and were previously owned.
Make Sure the Ring Is In Good Condition
Vintage rings have been cherished throughout generations and sometimes show some signs of wear. Ensure the jeweler you're purchasing from knows how to care for and prepare a vintage ring before it finds a new home.
Choose a ring you LOVE and ask questions whenever you have them. We're available by phone or e-mail to answer any questions about buying vintage jewelry, and we're more than happy to help.
Our most important recommendation for purchasing a vintage engagement ring is to buy one from a highly reputable jeweler. You must work with an expert to ensure the quality and authenticity of the ring you're buying.
Get the quality and value you deserve by choosing Dover Jewelry. As one of the leading fine jewelry re-sellers and consigners of antique, vintage, and unique jewelry, we constantly work with individuals and estates, providing Trust and Transparency in a timely manner.
Dover Jewelry is Relocating!
After 25 years in the heart of downtown Miami's Diamond District, we are excited to announce our move to Brickell, the heart of the banking and business district.
The convenient Financial District is a safe and secure walking and driving area, bustling with new restaurants, hotels, and boutique shops. Other customer conveniences include Mary Brickell Village, Brickell Flatiron luxury condos, SLS Brickell Miami, and Miami's exploding metropolis.
Adjacent to the new City Centre, Miami's hottest neighborhood, our long-awaited relocation to 1000 Brickell Avenue will officially open by 10/1/21.
With our continued commitment to the highest standards of privacy, safety, and personal attention to our clients, our on-site GIA Gemologists and Master Jewelers look forward to providing world-class gem services from our Brickell Avenue location. Dover Jewelry's valet white-glove services are easily accessible to everything in the heart of Miami!