Published December 7, 2020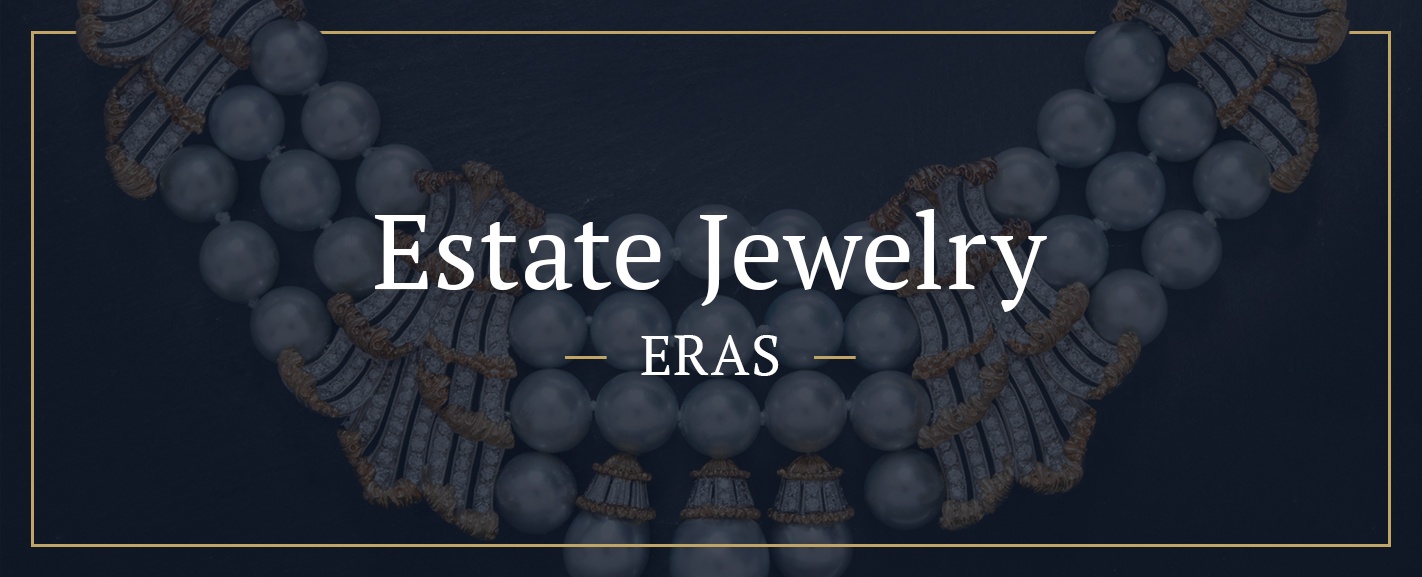 Estate jewelry enhances your collection with sophisticated and stylish accessories. If you've searched for vintage or antique pieces before, you know there are many design periods throughout history to admire. You may prefer one style or select items across eras for your collection. Either way, purchasing vintage and antique accessories can be simpler when you understand different estate jewelry eras. Discover how to tell what era vintage jewelry is from in the following guide.
Estate Jewelry Eras
Every jewelry era has something that makes it unique and gives its pieces a distinct appearance. Once you learn how to differentiate jewelry eras, you'll understand what gems, metals and motifs to search for. Learn more about your favorite vintage jewelry era or find a new one to appreciate: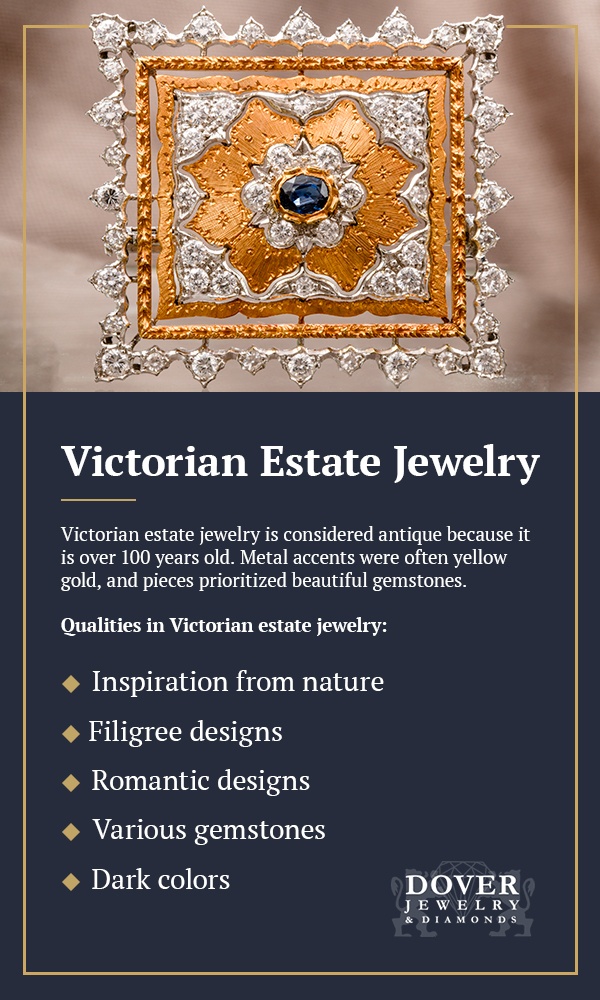 1. Victorian Estate Jewelry
Victorian estate jewelry is considered antique because it is over 100 years old. This period spans from 1837 to 1901, the time of Queen Victoria's reign. The craftsmanship is highly detailed and skillful, giving this era its air of royalty. The popular materials of this era contribute toward the royal feel. Metal accents were often yellow gold, and pieces prioritized beautiful gemstones. You'll also find these qualities in Victorian estate jewelry:
Inspiration from nature: Victorian jewelry often featured elements of nature for beautiful designs. You may find floral or foliage motifs and patterns. Natural inspiration also came in the form of serpents, birds and the moon.
Filigree designs: As more gold became available, Victorian jewelers experimented with new techniques. One such technique was the filigree design. This pattern features open, ornamental details similar to lace.
Romantic designs: Pieces from this era are feminine and romantic. This feel stems from the natural inspiration and soft shapes that detail Victorian jewelry. While some designs are more literal with heart shapes, the romantic appearance also comes from intricate features.
Various gemstones: Diamonds were not as widely available during this era. Instead, Victorian estate jewelry used the precious stones rubies, sapphires and emeralds. You will sometimes find Victorian pieces, especially engagement rings, that feature a halo of diamonds. These gemstones are small additions that encircle the center stone for an elegant and opulent touch.
Dark colors: Mourning marks part of this era. After 1861, Queen Victoria lived the rest of her life in mourning after her husband Albert's death. Because of that mourning period, dark stones and colors appeared in some Victorian-era jewelry.
A Victorian-era accessory is rich with history. It has likely been passed down throughout the decades, and it may have been around for almost two centuries. Shop for this period with trusted and knowledgeable experts. Victorian jewelry experts understand how to inspect and repair these pieces if necessary. With their expertise, you can end up with a beautiful piece that's over a century old.
If you're wondering what vintage jewelry era you should select, think about what you'd like to wear. The Victorian era is well-known for rings, brooches and collar or choker necklaces.
2. Art Nouveau Estate Jewelry
This jewelry era followed the Industrial Revolution and a growing connection to the world. The Art Nouveau era spans between 1890 and 1914, making it another entrant into the antique category. As it somewhat overlaps with the Victorian era, this design features similar motifs. You'll find Art Nouveau estate jewelry that is natural and feminine. To distinguish the two periods, note that Art Nouveau estate jewelry often features:
Unique pieces: During this era, jewelers became known as artists. One-of-a-kind styles and pieces were common during this time. Select Art Nouveau jewelry if you desire accessories that are unique to you.
Japanese influences: As the world became more connected, jewelers took inspiration from new places. Japanese art was a particular influence during this time, lending a focus on intricate details and natural designs.
A focus on settings: While the Victorian era prioritized gemstones, Art Nouveau focused on metal and settings. Jewelers commonly worked with metals like silver and steel to emphasize the settings. They also cut gemstones "en cabochon," where they had flat backs to sit flush with detailed metal surroundings.
A mix of materials: Jewelers experimented with more than gemstones during this era. You may find materials such as carved glass, seashells, copper, ivory and other natural items. The result is jewelry that is truly unique.
Trust an Art Nouveau jewelry expert to take care of these decades-old pieces. The intricate designs need special care and attention, which an expert can advise you on. If you'd like Art Nouveau estate jewelry, you'll most often find long pearl necklaces and pendant necklaces.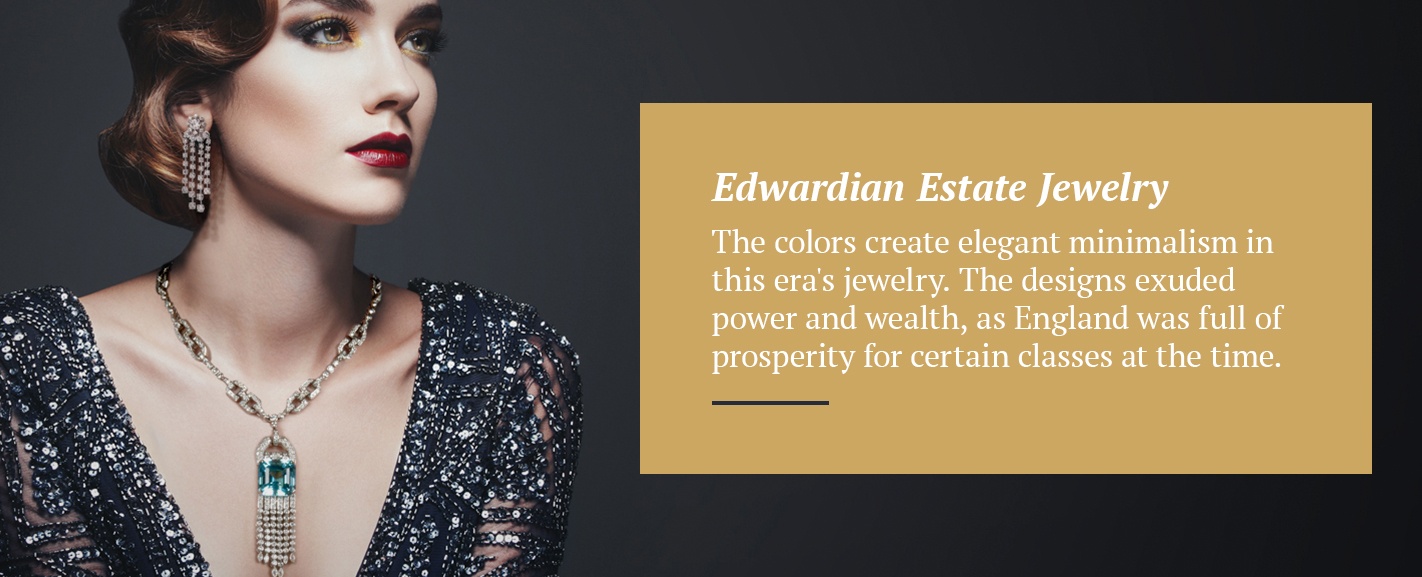 3. Edwardian Estate Jewelry
Edwardian estate jewelry is more minimalistic than the past two eras, though it still contains intricate and beautiful details. The colors create elegant minimalism in this era's jewelry. The designs exuded power and wealth, as England was full of prosperity for certain classes at the time. Individuals used accessories to show rank, so it is easy to find opulence in Edwardian estate jewelry. Select pieces from 1900 to 1915 for antique accessories that feature:
Filigree designs: The lace-like design became popular again during this era. Platinum rose as a popular jewelry material, and its strength made it easier for jewelers to create intricate designs.
Lightweight pieces: Accessories during this era had to match the fabrics women started to wear. Lightweight fabrics in light colors became popular, and jewelry was made to suit these delicate materials.
White-on-white designs: Colors contributed toward the lightweight feel of Edwardian jewelry. White-on-white was a popular option, with pearls and diamonds being common gemstones during this era. Diamonds backed by platinum or white gold settings created a sophisticated look that is still worn today.
Ancient influences: With motifs such as wreaths, bows and garlands, inspiration for the Edwardian era spanned centuries, even over a millennium. French Baroque, Roman and Greek details made their way into Edwardian estate jewelry for a sophisticated and historical feel.
Chokers, tiaras and earrings were popular accessories during this time. Those pieces emphasized the sophisticated and royal feel of the era. Because this period includes antique pieces, consult Edwardian jewelry experts when searching for a quality piece from this time.
4. Art Deco Estate Jewelry
This time begins the transition from antique to vintage jewelry periods as it spans 1915 to 1935. Coming after World War I, the Art Deco era felt celebratory and emphasized fun jewelry designs. Art Deco-era estate jewelry comes from a well-known design period, and you can recognize pieces by characteristics like these:
Geometric designs: This era stepped away from the nature-inspired, romantic and feminine elements of past designs. Art Deco favored geometric forms for modern and futuristic details. Straight designs and lines created anything from angular features to the sunburst patterns that characterize this iconic era.
White jewelry: While Art Deco interior design featured yellow gold, the jewelry leaned white. Taking influence from this aspect of Edwardian pieces, Art Deco estate jewelry featured white gold and platinum. Pieces from the 1930s, in particular, used this color scheme, putting round brilliant diamonds in engagement rings.
Bright colors: Some pieces of Art Deco jewelry were all white, but others added color with gemstones. Rubies, sapphires and emeralds are characteristic of this era's fun styles.
Short hair, short dresses and low necklines meant individuals desired jewelry that complemented their style. Popular accessories during this time included long pendants, long earrings, layered bracelets, cocktail rings and brooches. If you're looking for vintage statement jewelry, the Art Deco era may be for you. Seek help from Art Deco jewelry experts to discover the right pieces for your style.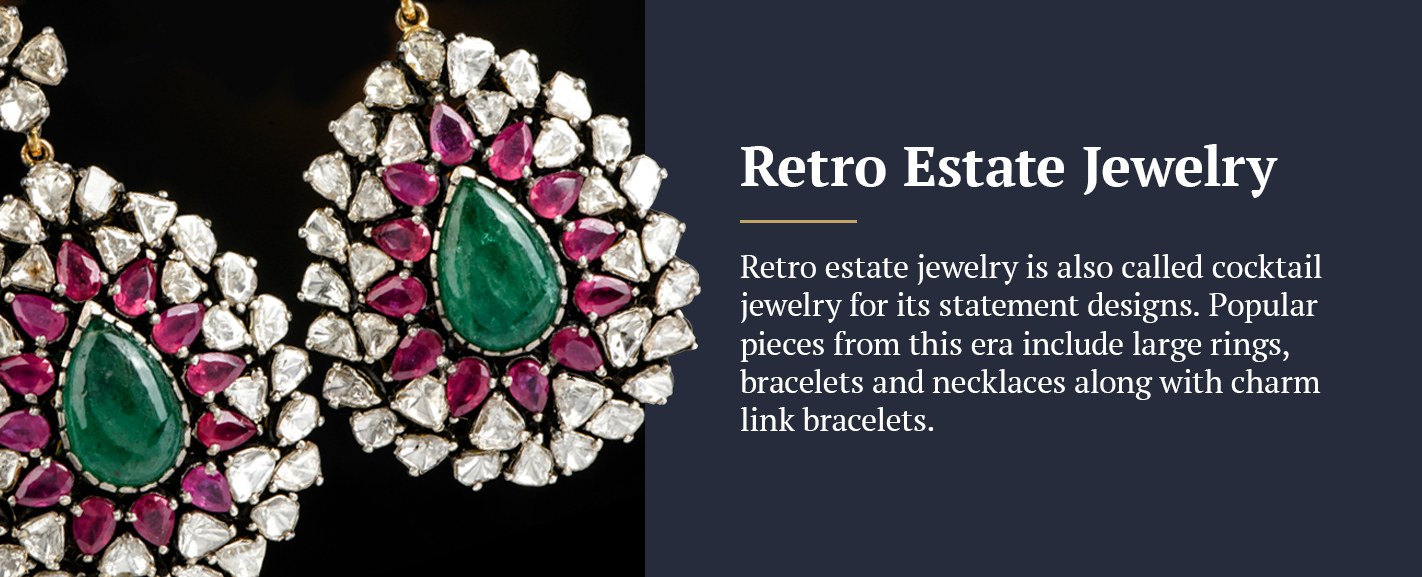 5. Retro Estate Jewelry
While the word "retro" may bring to mind styles of the '60s and '70s, it actually describes jewelry from 1935 to 1950. As movie stars rose within the public eye, jewelry became whimsical and bolder. Everyone desired designs that were larger than life during this vintage jewelry time period, just as Hollywood presented life on the big screen. Retro estate jewelry took that influence and used these characteristics to create dazzling accessories:
Grand designs: Bigger and bolder was the style during this era. Retro estate jewelry featured feminine motifs we've seen before, including bows and florals, but on a grander scale to suit the times.
Unique metals: As World War II occurred during this era, it meant jewelers couldn't use platinum. Instead, they experimented with yellow, rose and green gold. The result was colorful, unique pieces that stood out from other periods.
Elaborate settings: While this era saw many fall on hard times, the desire for impressive jewelry prevailed. To compromise, jewelers used illusion settings in rings to make the center stone look larger. Patterned metal would surround the diamond and give it a more impressive look and shine.
Retro estate jewelry is also called cocktail jewelry for its statement designs. Popular pieces from this era include large rings, bracelets and necklaces along with charm link bracelets.
6. Modern Estate Jewelry
Though this category may sound like items you'd find today, it actually includes vintage pieces from the 1950s to the 1990s. Because vintage jewelry includes pieces from between 20 years and 100 years ago, more recent decades can fall into this category and still be vintage. Trends changed throughout the decades at this point, meaning this era encapsulates various styles. Depending on which decade you select, you could find:
Colorful pieces: To express individuality and fun, jewelry during these decades was colorful. Jewelers selected stones like amethyst and turquoise based on the color rather than a precious status.
Animal motifs: Elaborate details and colors appeared in animal motifs throughout these decades. Brooches and pendants included crafted creatures like birds with jewel eyes or fish with gemstone scales.
Abstract designs: When pieces weren't taking inspiration from wildlife, they leaned toward abstract details. Starbursts reflected an interest in space exploration, and geometric shapes made their return by the 1960s.
Textured metal: While filigree added details to metal in past eras, modern jewelry favored textured gold. The 1950s loved this trend, and it resulted in detailed accessories that caught the light and the eye.
While costume accessories became popular during this era, you'll still find quality jewelry with genuine gemstones and precious materials. Fine pieces were made for either day or nighttime wear. Daytime jewelry included more subtle and sophisticated styles, such as plain gold accessories. At night, gemstones and diamonds dazzled more decorated items. The result is a selection of refined and show-stopping jewelry from the modern era.
Where to Shop for Your Favorite Era
If you dream of adding pieces from these eras to your collection, you should know where to shop for your favorite estate jewelry era. At Dover Jewelry, it's our pleasure to share our rare collection of exquisite antique and vintage items with you. Whether you're not sure what era for vintage jewelry suits you or you have a few in mind, we'd be delighted to assist you.
At Dover Jewelry, we have decades of experience helping our clientele enhance their collections. Our knowledge, combined with an array of estate accessories from around the world, ensure you'll find the pieces you desire. Browse our vintage jewelry and discover accessories like: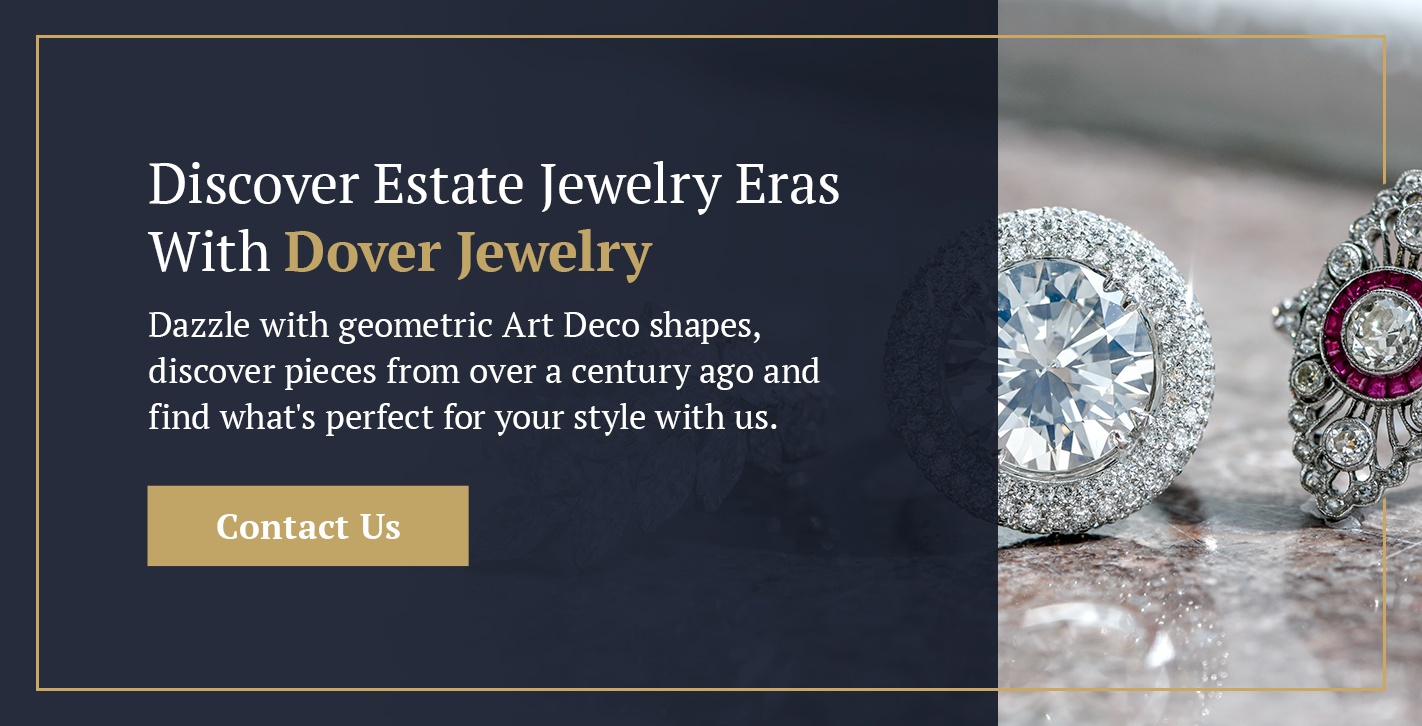 Discover Estate Jewelry Eras With Dover Jewelry
Find the estate jewelry eras you desire with the ever-evolving selection at Dover Jewelry. We welcome clients from around the globe to browse the timeless styles of history we offer. Our experts will help you realize the era or eras you dream of owning in your jewelry collection. Dazzle with geometric Art Deco shapes, discover pieces from over a century ago and find what's perfect for your style with us.
Visit our Miami locations or browse our vintage and antique jewelry selection online. Contact us with any questions about our jewelry collections, and we'd be delighted to assist you.