Published March 14, 2021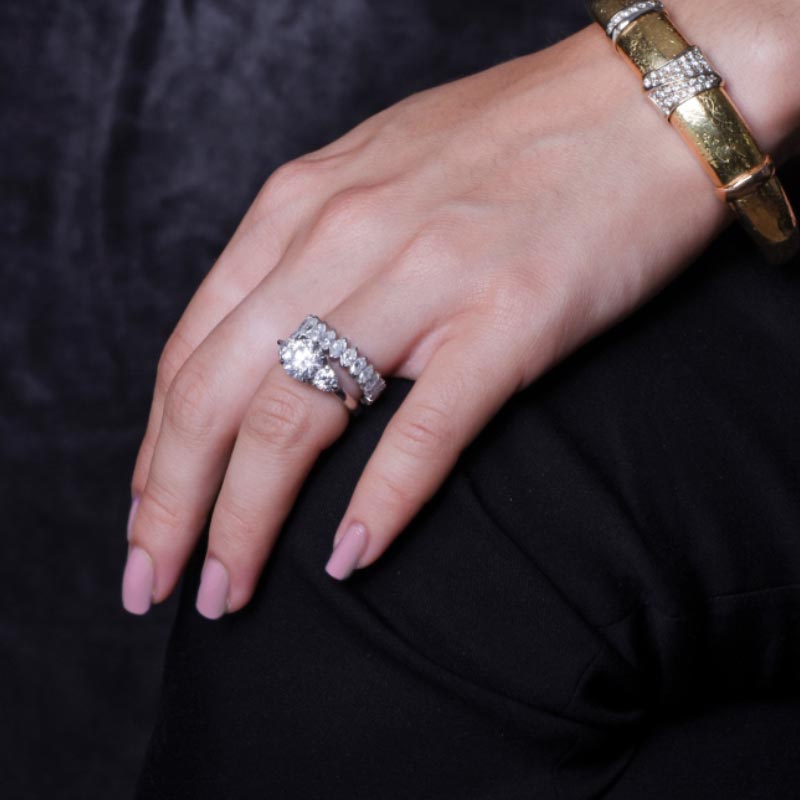 What Are Your Choices? Should They Match?
The wedding season is underway.  The engagement ring might be the center of your attention right now, but first and second time-around couples also need also to decide the style and precious metal for their wedding bands. 
Should the bride's wedding band match her engagement ring? Should both wedding bands match each other?
So many questions to answer. 
Style and Fit
A good place to start is with the style of the engagement ring. You may want to wear your wedding ring on its own after the big day but give yourself the opportunity to wear it with your engagement ring. It gives you more options. Make sure both rings complement each other from a design standpoint, that they fit well together. They should feel comfortable worn one on top of the other on your ring finger. If you choose an extra wide band for one of the rings, choose something narrower for the other one, so you will be able to bend your finger.
Precious Metals
You will find there are many choices for wedding bands, but the most popular are white gold, platinum, rose gold and yellow gold. Some couples opt for tungsten, which is scratch-resistant and exceptionally durable. It is more brittle than gold and can crack when dropped. 
      Gold
24k gold consists of 100% gold. It is pure, but too soft for most jewelry, and should not be worn every day.

18K gold is 18 parts pure gold mixed with 6 parts other metals. Depending upon its desired color (which could be white, yellow, or rose gold), this may include silver, copper, zinc, and palladium. As a percentage, 18K gold is 75% pure gold, and is a much better choice than 24k gold for everyday jewelry.

14K gold consists of 14 parts pure gold mixed with 10 parts other metal, with the other metals varying based on the gold's color. As a percentage, the pure gold in a piece of 14K gold jewelry accounts for 58.3% of the total. This is a good choice for engagement and wedding jewelry as it can withstand everyday wear.
      Platinum 
More durable than white, yellow or rose gold, as it is a denser, heavier metal.

Platinum can scratch more easily than gold; in doing so, the metal moves from one place to another, strangely. It can also develop a patina finish over time, which many people like. 
Gemstones Add Sophistication
You may opt for the classic simple look of plain wedding bands, especially if your engagement ring is intricate. However, many couples with sophisticated tastes like the look of additional gemstones to make their wedding bands unique. 
One of our most dazzling pieces is a wide set platinum wedding or eternity band. It features round-cut diamonds, pave-set along the top and bottom, channel-set and high bezel-set, collectively weighing approximately 5.29 carats, graded G-H color and VS1-VS2 clarity.
For a more contemporary look, here is a channel set, estate 3-36ct square princess cut diamond wedding ring in 18K yellow gold. 
Finishes Demystified
There are several different types of wedding band finishes, which have become popular for the groom in recent years. The most popular are polished, satin finished, brushed, hammered, wire brushed and sandblasted. 
Polished gives your ring a reflective, shiny look. 
Satin is smooth to the touch however it does not give a mirror-like reflection.
Brushed has a texture, with tiny brush-like marks, as if made with a wire brush.  
Hammered has small, dimpled indentations in the metal. 
Wire has deeper, noticeable brush-like marks. 
Sandblasted feels grainy and course to the touch. 
Do Wedding Bands Need to Match?
His and her wedding bands are highly personal. They should reflect your own personal styles together. You may want to choose different looks; there is no hard and fast rule.  If you do want to have matching bands, consider choosing a style that is unisex, perhaps with the same finish or same gemstones. 
Matching Sets
A matching set of engagement and wedding rings makes it an easy decision for the bride-to-be. This set features an estate pear cut diamond engagement ring which has been designed to fit perfectly into the matching wedding band. 
Matching the engagement ring with a wedding ring can be easier if you go Cartier all the way. Our Cartier diamond and platinum wedding band has the gemstone sparkle, in a secure channel setting for everyday wear.
Here is a complementary engagement ring to go with it. They are not an exact match, yet they work together.  
This could be another match made in heaven. This time it is in yellow gold.
Contemporary or classic. White gold, rose gold, yellow gold, or platinum. Vintage or contemporary. Wedding bands can match or not. They can be as unique or as traditional as you are. 
Dover Jewelry & Diamonds can help you make the choice to last a lifetime.