Published October 26, 2020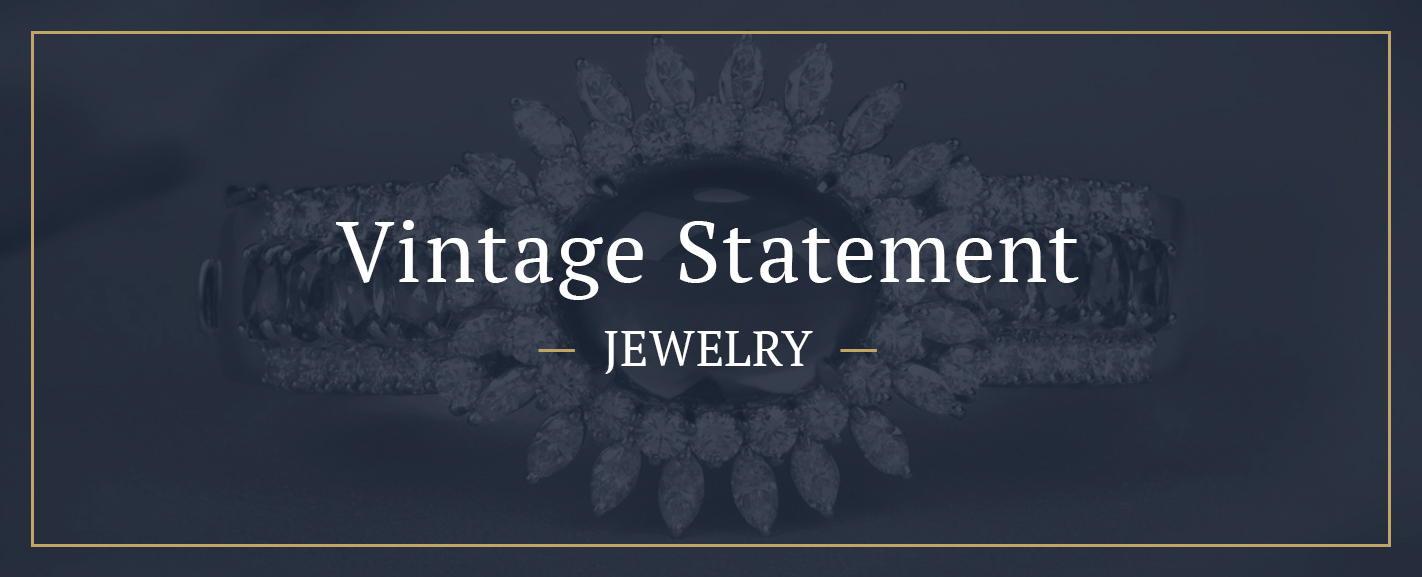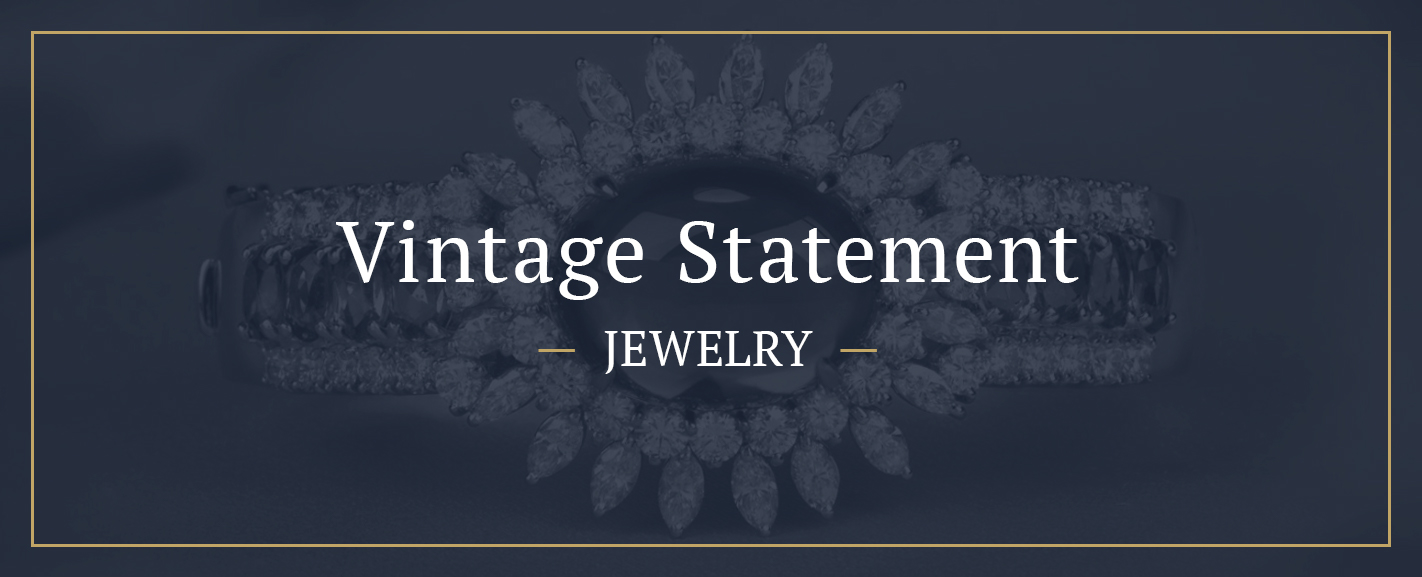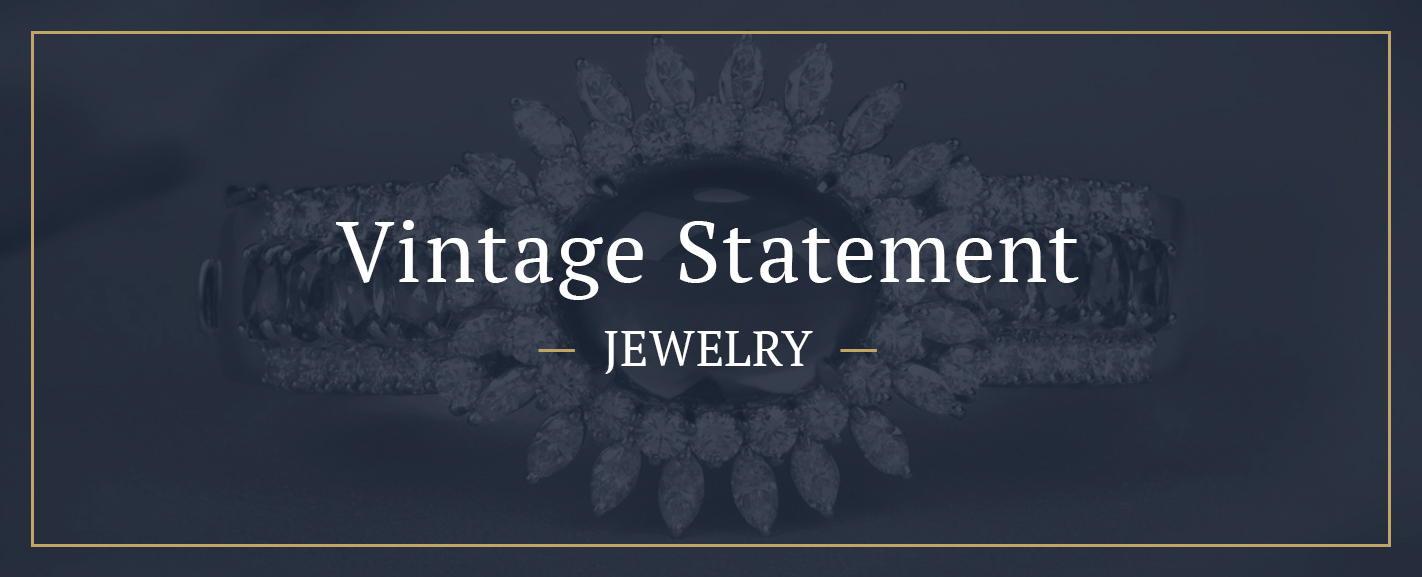 Imagine holding a beautiful part of history in your hands. With vintage jewelry, you do just that. Picture past owners and the outfits these pieces accented. When you select vintage statement jewelry, you add a whole new layer to your accessories. Large gemstones, unique shapes, intriguing motifs and diamond-studded surfaces are only the beginning of vintage statement styles.
Perhaps you've already started a collection of vintage statement jewelry, or you're looking to begin, but are not quite sure how to do so. Consult the following guide to discover how to find and wear the perfect statement accessories from the past.
Why Go for a Large Gemstone Statement Piece?
You could add any assortment of jewelry to your collection. With endless possibilities, you'll likely wonder why you should choose statement jewelry. A quality statement piece comes with many benefits to you, your jewelry collection and your style. Consider these reasons for picking statement jewelry.
Display your unique style: Vintage statement jewelry is often one of a kind. Your tastes are specific, too, and wearing a statement piece lets you show off your unique preferences.
Add effortless elegance to your style: Transforming your outfit into a sophisticated look is as straightforward as picking a piece of statement jewelry to wear. Large, impressive gemstones exude luxury and grace. They flaunt your style and elegance in a noticeable way that's still refined and beautiful.
Enhance simple outfits: Combine your refined looks with dazzling statement jewelry. Simple silhouettes and effortless neutrals create a flawless canvas for large accessories. A black dress on its own is lovely, but add a gemstone statement necklace, and you've transformed your outfit into something dazzling.
Create intrigue in your outfit: We use the term "statement piece" for a reason. When you wear large diamond jewelry or other gemstones, you add an eye-catching addition to your ensemble. Everyone will wonder where to get a piece like that for their collection, but you have a unique item no one else can find.
Wear sustainable fashion: Buying vintage items lets you give new life to something from the past. Authentic, quality jewelry will also last a lifetime, often longer. With that lifespan, you add sustainable style to your collection. You won't need to buy new items anymore with a dependable piece of statement jewelry.
Wear something you enjoy: Accessorizing with vintage jewelry should not only make you feel elegant, but it should also make you feel happy. When you carefully choose estate statement jewelry, you end up with an accessory you'll love to wear. It'll make you feel elated every time you see it in your jewelry collection and whenever you wear it out.
What to Consider When Picking Your Vintage Statement Piece
As you browse collections in search of the perfect vintage statement accessory, you'll uncover an abundance of pieces. With an array of elegant styles to select from, knowing what to consider as you pick your jewelry will assist you. Evaluate these qualities when buying large stone jewelry.
Timelessness: If your goal is to select pieces that will always be in style, consider statement diamond jewelry. Diamonds are indeed forever, in both longevity and trends. You'll be able to wear large diamond jewelry well into the future without it ever going out of style. You can then pass pieces down to loved ones, continuing the items' legacy. That's not to suggest you can't consider buying large stone jewelry, though. If you like, incorporate gemstones into your collection for a variety to select from.
Your tastes: When you purchase statement jewelry for yourself, keep your style in mind. If you buy a piece because of its appearance or history, it may not suit what you like to wear. Select pieces based on your preferences for jewelry and clothing. That will give you a guideline for your selection and ensure the item fits in with your wardrobe and accessories.
Your sizes: It isn't always easy to resize vintage jewelry, especially rings. It's best to begin shopping with your sizes in mind. Know the circumference of your wrist for bracelets, your desired length for necklaces and your ring size to help you explore vintage collections. It would be a shame to find a piece that perfectly suits your style, only to discover it doesn't fit properly. A visit to a jeweler will help you determine these sizes.
The era: You may desire a jewelry style from a particular period instead of selecting a design based on your preferences. The 1950s featured jewelry with textured gold and transparent, yet colorful, gemstones. The Mod influences of the 1960s added geometric shapes to statement jewelry, and items from the 1970s were glittering and dramatic. Any of those decades may interest you, or you may prefer Art Deco accents from the years between 1915 and 1935. Let those characteristics help you decide how to pick vintage jewelry.
The jeweler: When you invest in estate statement jewelry, it's essential to consider where to buy big diamond jewelry and gemstone pieces. Remember to shop with a dependable jeweler. They should offer certified items and provide details about the piece in a certificate, such as materials in it and its approximate age. Select a trusted location like Dover Jewelry that carefully inspects every piece and makes repairs if necessary. That ensures you receive a quality item in the best possible condition.
How to Select Statement Gemstones
Another consideration for your vintage statement piece is whether you desire diamonds or other gems. If you decide to have vivid gemstones in your statement jewelry, you have a wide selection to consider. Dozens of stones appear in vintage statement jewelry for sale, and it can be challenging to select the right one for you. Remember the tips above for picking statement jewelry, and consider details about the gemstones.
Ruby: This vivid red stone brings to mind power, royalty and passion. Known as the king of precious gemstones, it's also the most valuable stone in the corundum mineral category.
Sapphire: Another member of the corundum mineral family, sapphire is best known for being a vivid blue color. Sapphires are also available in purple, pink, orange, yellow and green, but blue is the most common, and it carries an association with wisdom.
Emerald: As it's a green gemstone, it is unsurprising that an emerald symbolizes luck. Along with good fortune, emeralds supposedly bring youthfulness to those who wear them. Emerald is the most valued variety of beryl.
Those options are precious gemstones most often found in vintage pieces. You may also find semi-precious stones in vintage jewelry. Search for the elegant and lustrous pearl, vivid turquoise and colorful, shifting opal. What you select for your large stone jewelry will depend on what's available, but you should remember your tastes.
How to Style Your Statement Jewelry Accessory
Having vintage statement accessories is special enough already, but now it's time to let the world see them in your outfits. Styling your vintage items lets you add sophistication to almost any look, so follow this advice to do so.
Wear subtle accessories or no other accessories at all: The most crucial tip for styling your statement jewelry is to let it be a statement. You may have several impressive pieces in your collection. If they are all large items, select one focal point to maintain a sophisticated look. It is still a stylish option to combine your vintage pieces, but ensure one is a statement, while others are subtle.
Mix metals: Combining silver and various kinds of gold at the same time is a modern way to accessorize. Feel free to mix metals if you wish and wear a statement piece in one color that contrasts with minimalistic items in other metals.
Consider the weather: The season impacts how you dress, and your clothing will influence your accessories. Bulky sweater sleeves could get caught on rings or bracelets, so avoid those accessories in cold weather. In warm weather, sleeveless dresses and lower necklines create a canvas for a statement necklace.
From there, you will face a few more considerations based on the type of big statement jewelry you choose.
Vintage Earrings
Statement earrings add a noticeable touch of elegance and style in an array of options. Your statement earrings might dangle dramatically from your earlobes. If that's the case, wear your hair up or have a short hairstyle. For statement studs, you can either wear your hair up or down. Select other jewelry options, such as a necklace, that complement the earrings without overshadowing them.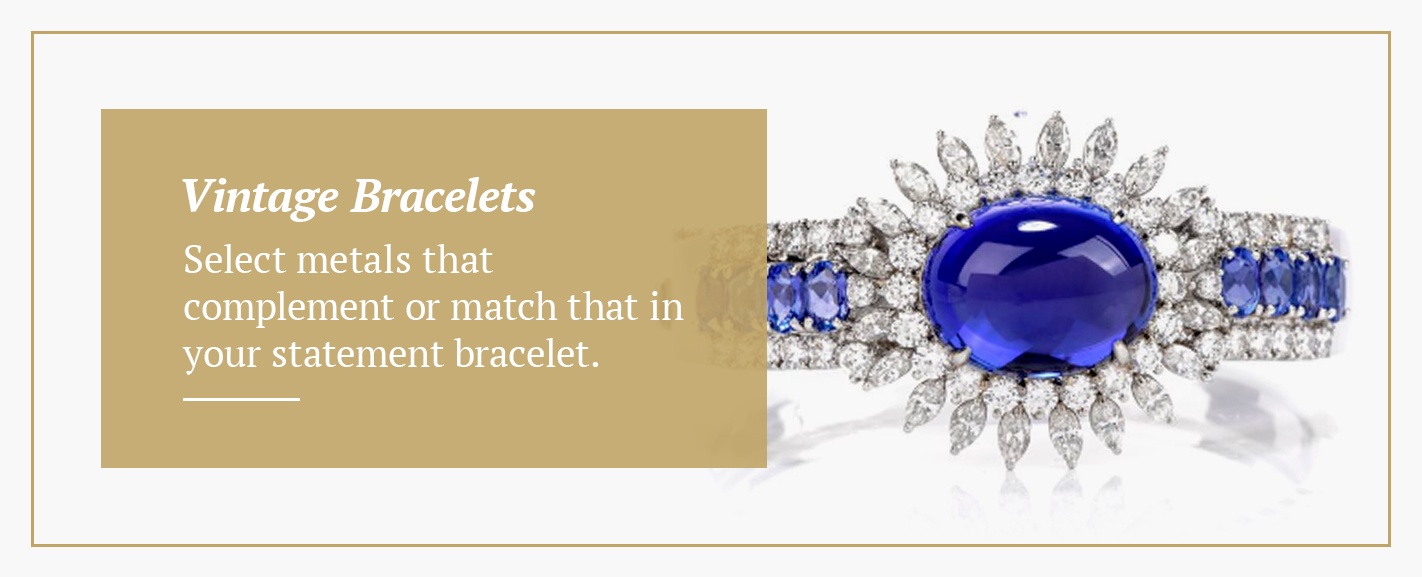 Vintage Bracelets
For an elegant look, stack bracelets. When you're wearing big statement jewelry on your wrist, stack two or four subtle bracelets with one statement piece, so it stands out. Select metals that complement or match that in your statement bracelet. Be sure to keep your sleeve length in mind, as well, when styling large statement jewelry. Longer sleeves will hide the bracelet, so it's best to wear this style with shorter sleeves.
Vintage Rings
When styling a ring, put thought into which finger you wear it on. A vintage large diamond ring on your left hand's ring finger will appear to be an engagement or wedding band. Instead, wear your gemstone statement ring on either your left index finger, middle finger or thumb. Because those digits have no symbolism behind them, you're free to wear your vintage ring on those fingers. If you wear a wedding or engagement band, you should create balance and wear your statement ring on digits that don't adjoin your ring finger.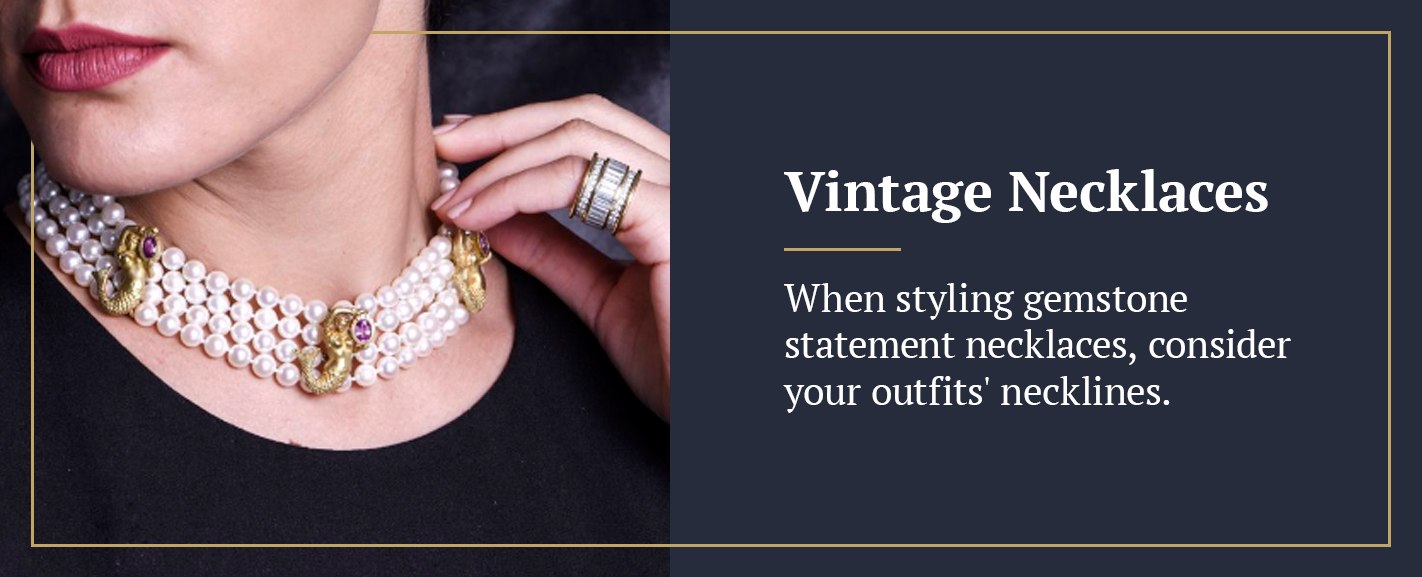 Vintage Necklaces
When styling gemstone statement necklaces, consider your outfits' necklines. Your large statement jewelry shouldn't compete with the neckline of your dress or blouse. Lower necklines and V-neck shapes suit longer necklaces. Sweetheart necklines and other short varieties suit collar necklaces and similar options. For versatile statement necklaces, select a knotted or lariat style, which is compatible with different necklines.
Vintage Brooches
Brooches range from whimsical displays of personality to elegant statement touches. Wear your vintage brooch on the left side of your clothing for a sophisticated, traditional look. You may also wear a brooch on your lapels or collars, around the neckline or on a hat. Ensure that attaching a brooch won't ruin the fabric of your clothing. The garment should be sturdy enough to support the weight of a heavier statement brooch.
Explore Dover Jewelry's Collection
As you discover more about these large accessories, you'll need to know where to buy vintage statement jewelry. At Dover Jewelry, we specialize in helping people find statement jewelry for their collections. Trust our experience in diamond and gemstone jewelry to inform our suggestions for the best vintage pieces for you. We've been sourcing the highest-quality jewelry worldwide for over 25 years and have gathered an extensive variety of items. Our collection of vintage jewelry includes the following.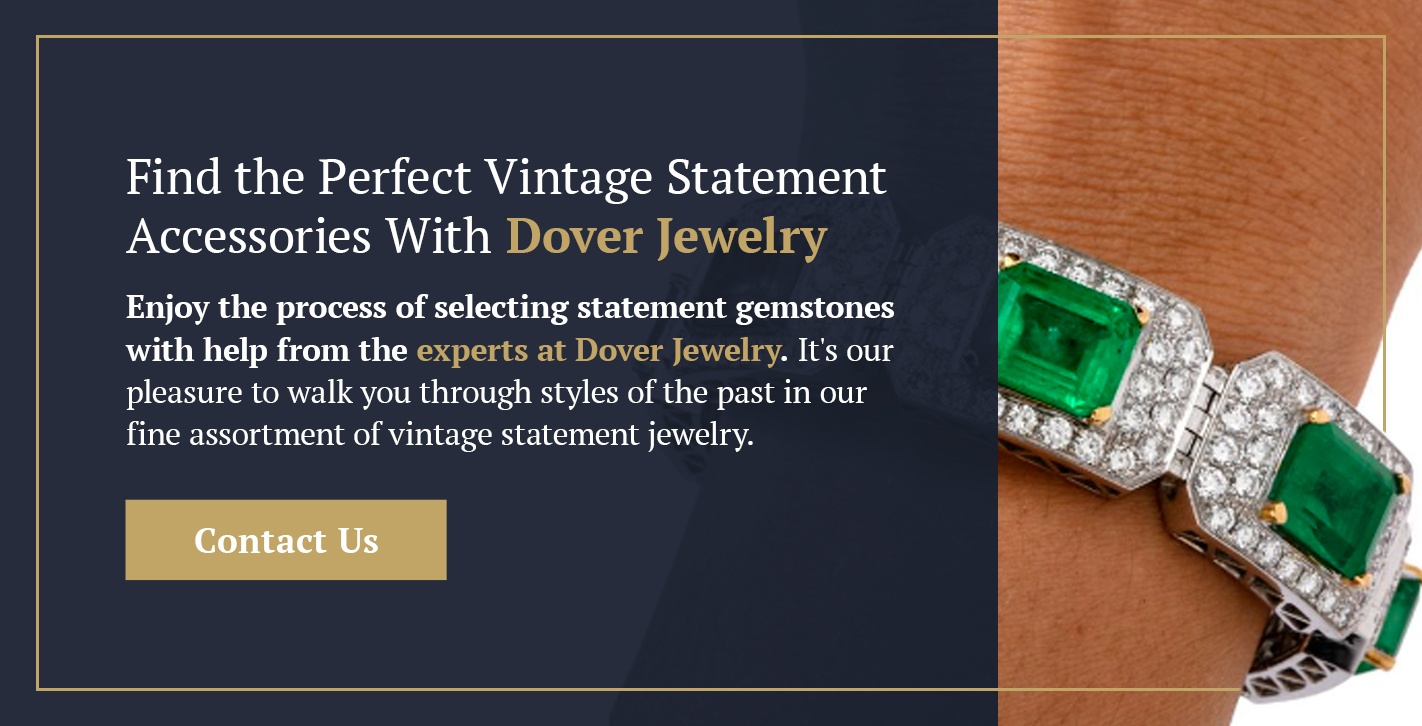 Find the Perfect Vintage Statement Accessories With Dover Jewelry
Enjoy the process of selecting statement gemstones with help from the experts at Dover Jewelry. It's our pleasure to walk you through styles of the past in our fine assortment of vintage statement jewelry. You're sure to find a little piece of history that would be an ideal fit for your collection. Discover rare and unique pieces at exceptional values, all with our best offers and exclusive deals for our clientele.
Contact our jewelry experts for more information or visit us at our Miami location. We welcome you to schedule a private appointment and discover the perfect vintage jewelry among our collection.