Published July 24, 2019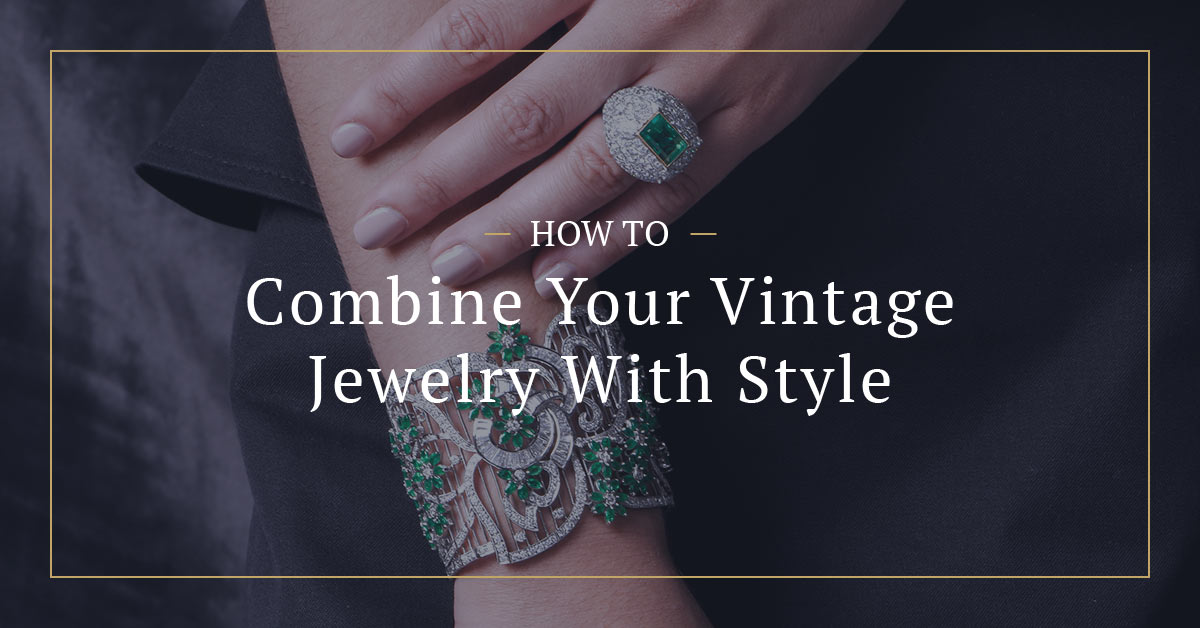 Looking stylish is not only about your clothes and shoes. You can have the most refined outfit, right down to your footwear, but that doesn't mean much when you don't compliment your look with the right jewelry.
Wearing vintage jewelry can elevate your appearance if done correctly. Enhance your formal wear, add elegance to evening attire and improve your look by merely knowing how to style vintage jewelry.
At Dover Jewelry, we know how empowering it is to look your best, and we are here to help. Below you will find ideas, style rules and tips on how to best style or combine your vintage jewelry for a sophisticated look.
Styling Vintage Jewelry
When you don a piece of vintage jewelry, you desire to feel as classy as the era of your accessories. Before learning how to combine vintage jewelry, it's wise to know how to use a single style. We have some general tips when it comes to wearing specific types of jewelry.
Bracelets: You should almost always wear multiple bracelets, making sure to stack an odd number. If you are not familiar with wearing vintage bracelets, start with three comfortable pieces. As you will see more of in this article, your outfit has an impact on what jewelry you should and shouldn't wear. Consider your sleeves when it comes to choosing these accessories. Longer sleeves mean avoiding bracelets, or if necessary, selecting slimmer pieces to go under your sleeve.

Rings: When wearing a ring, keep symbolism in mind. Wear wedding and engagement rings on your left ring finger, though some cultures choose the right index finger for marriage bands. For one-of-a-kind vintage rings that have no marital connection, wear them on a middle finger, thumb or your left index finger. These fingers have no symbolic meaning, and choosing the index finger can help show off your ring more.
Necklaces: The neckline of your outfit factors into choosing a necklace. Deep necklines allow for longer necklaces while something like a sweetheart neckline requires shorter pieces. If you're ever unsure when choosing a vintage necklace to wear, a lariat — or knotted — necklace and small pendants go well with any neckline.
Earrings: The color, length and shape of your earrings influence whether or not they work with a particular look. You can wear longer and larger earrings if you have shorter hair or if your hair is styled back. According to luxury jewelry etiquette, if you choose statement vintage earrings for an evening, avoid other statement pieces. You may desire not to wear different jewelry at all depending on the occasion and your outfit, which will capture attention for your statement earrings.
Radiate confidence and elegance with jewelry selections that follow luxury etiquette. Remember the above points when wearing specific pieces, and, in general, evaluate these factors when choosing which vintage jewelry to wear:
Occasion
Outfit
Neckline
Jewelry material
Hairstyle
You will likely save older pieces of fine jewelry for formal and evening events. While high-end jewelry is perfect for either refined or glamorous evening looks, keep the above tips in mind to avoid any missteps.
Combining High-End Jewelry
Now that you know the proper way to wear individual pieces, you must know how to combine vintage jewelry in the best way. When accessorizing with radiant necklaces, bracelets, rings or brooches for an evening out, we recommend these practices:
Mixing metals: In the past, proper jewelry etiquette involved never mixing silver and gold. The rules have changed recently, though. Today, you are free to mix gold, silver and other metals to create new and unique jewelry combinations. Wear many of your bracelets at a time or several smaller rings you have never mixed simply because of their material. Be careful when combining luxury jewelry, however. Because older pieces of fine jewelry can be fragile, use caution when wearing different metals. Pure gold can easily scratch when in contact with harder metals or gems, such as diamonds, so consider the material of each piece before combining.

Layer several necklaces: We understand that sometimes more is better. You take pride in your sophisticated collection of vintage jewelry and hate to leave pieces behind when you go out. Try layering multiple necklaces. You can use various types of pieces with different colors, designs and even lengths. The more layers you use, the more eye-catching your look will be. Your necklaces will influence the type of style your outfit evokes, as well. Pearls inspire a feeling of vintage elegance, while you will achieve a more modern look with pendants and chains. Try different combinations from your collection to find your refined look, remembering that simple pieces pair together better than several statement necklaces. However, if you dream of being a bit adventurous with your vintage necklaces, experiment with layering statement pieces for a boldly extravagant appearance.
Play with jewelry colors: Variety with your accessories creates an attention-getting look that shows you carefully curated your appearance for the evening. Mix metals as we explained above, and incorporate pieces with a variety of gemstones. The color of gemstones you choose can elevate a look from subtle to daring. Use colors in the same family — reds and oranges together or blues and greens — for an understated appearance. If you're looking to capture attention with your vintage pieces, pops of contrasting color gemstones create a bold look. Red rubies and green emeralds are one set of contrasting colors that stand out when worn together. Mix different gemstones with different metals for unique combinations, but do so delicately. Too much color can overwhelm a look, making you appear less sophisticated.
Incorporate different textures: Similar to experimenting with color, you can combine jewelry with different shapes and textures for intriguing styles. When combining bracelets or necklaces, use different sizes and style chains for dimensional texture. Add variety throughout your entire look by wearing earrings studded with gemstones to contrast those chain necklaces and bracelets. Stack simple rings with a larger statement piece to highlight the different qualities of your precious jewelry. The more varied your accessories, the more striking your style will appear.
Avoid mixing big rings: A statement piece shouldn't compete with other statements. Vintage rings are quite striking pieces, so you don't need to use more than one at a time. Layering rings that have large and multiple gems can make your outfit look tacky, however expensive the rings may be. When in doubt, go minimal with rings and choose to wear multiple necklaces or bracelets instead.

Consider your outfit: When combining high-end jewelry, it's equally as essential not to clash pieces to your outfit as it is not to clash different accessories. Focus on sleeves and necklines as we mentioned before, but also consider the material and color of your clothes. Dazzling dresses and other glittering, embellished attire require no additional sparkle. If your outfit makes a shining statement, it may be best to leave your vintage jewelry at home. Black or other solid color outfits become a canvas for layering and combining high-end accessories. If you desire a refined look with jewelry, choose a simple outfit as your base.
Consider the weather: Similar to matching jewelry to your outfit, you must keep in mind what you need to wear throughout the seasons. Winter can be the trickiest season since you will bundle up to head outside but remove those layers once you reach your destination for the evening. When combining vintage jewelry during the colder months, choose a brooch as your staple piece. Vintage brooches are versatile pieces. Place them on winter scarves, hats and coats then move them to your outfit once inside. With a striking statement brooch, you can combine simpler high-end pieces that will not bulk under winter wear.
Pull from different eras: You cultivated your collection to match your tastes, and in doing so, you probably acquired pieces from different periods and decades. Do not feel as if you must separate your antiques — items from over 100 years ago — from other vintage jewelry. Combine pieces for a unique and eye-catching look that shows off your varied and sophisticated style.
Don't prioritize matching sets: You may be tempted to wear a set of jewelry with the same metals or gemstones. While you can opt for that look, jewelry etiquette today favors mixing luxury pieces. Show off the variety of your impressive vintage jewelry collection while keeping the above rules in mind.
Let your imagination and creativity flow: Don't limit yourself with the original purposes and appearance of your jewelry. If you have a ring you don't use because its size or weight, you can put it on a chain to create a pendant. You can tie a necklace to make it shorter or use it as a bracelet. Dare to combine your jewelry in different ways to get use out of all your pieces and put your high-end tastes on display.
With the 10 tips above, you can cultivate sophisticated, elegant and daring looks with your vintage jewelry collection. If your collection mostly contains diamonds and not as much gemstone variety, you may wonder how to wear your diamond pieces. While the advice is similar to the above, there are some specifics we recommend.
How Best to Wear Diamond Jewelry

When considering how to wear diamond pieces, especially older jewelry, focus on similar details as you would with other vintage pieces. Don't wear diamond pieces if your outfit features sparkling material already. The refined look of diamonds shouldn't compete with your outfit. Because of their formal and sophisticated style, leave vintage diamonds at home during the day. Don your diamond earrings, necklaces or bracelets for special events. Since it's such an elegant gemstone, a diamond doesn't require a lot of experimentation either, but you can incorporate different styles with these pieces.
Just because you prefer the same gem for your collection, it doesn't mean you can't have a variety of styles. Vary the diamond pieces in your collection by searching for:
Different cuts and shapes of diamond
Articles with multiple diamonds
Gold, platinum or silver diamond jewelry
Colored diamonds
A mix of diamonds and other gems in one piece
In finding different colors and textures, you can use the above tips for combining vintage jewelry with your diamond pieces, or you can combine only diamond pieces for a look that still intrigues. For more styling tips, we found Tom Ford's Forever Love photo-set in Vogue to be refined inspiration.
Forever Love and Styling High-End Jewelry
The Forever Love photo-set in Vogue is a celebration of age, showing a mature couple passionately in love with themselves, life and fine jewelry. The Tom Ford set effortlessly demonstrates how to wear diamond pieces and combine vintage jewelry for a stunning look.
We curated our own take on the Forever Love sets. Inspired by the sophisticated pieces in this photo-set, we carefully found similar currently listed jewelry in our distinguished collection. Evoke the Tom Ford looks with items such as:
This photo-set includes inspiration for selecting a statement piece — blue sapphire earrings in this case — and pairing them with timeless and understated diamond pieces. Emulate this style with varying sizes of bracelets and a necklace with a similar texture to the larger bracelet.
Despite being mostly platinum pieces, this set shows an acceptable way to mix metals with a white gold necklace and platinum pieces. You could choose not to mix metals, though, and select all platinum or all white gold jewelry, especially when every piece is as remarkable as the Tom Ford set.
Notice, as well, the simplistic clothing that allows the jewelry to stand out. All black outfits create a canvas for styling diamond jewelry and a pop of blue sapphire. Additionally, keep the shape and style of your clothing in mind. The Vogue photo-set shows how to pair a necklace with your outfit. If you do wish to wear a necklace on an evening out, follow the example of wearing a choker-style with a higher neckline.
We find the balance of combining vintage jewelry in this photo-set to be a standard to follow. A large statement brooch worn near your neck can take the place of a necklace. Simple diamond pieces — like those in the photo-set and the similar ones we curated — combine to create a stand-out style while remaining sophisticated. You, too, can take your vintage jewelry collection and elevate pieces to a look as timeless as Tom Ford's set.
Ready to Style Vintage Jewelry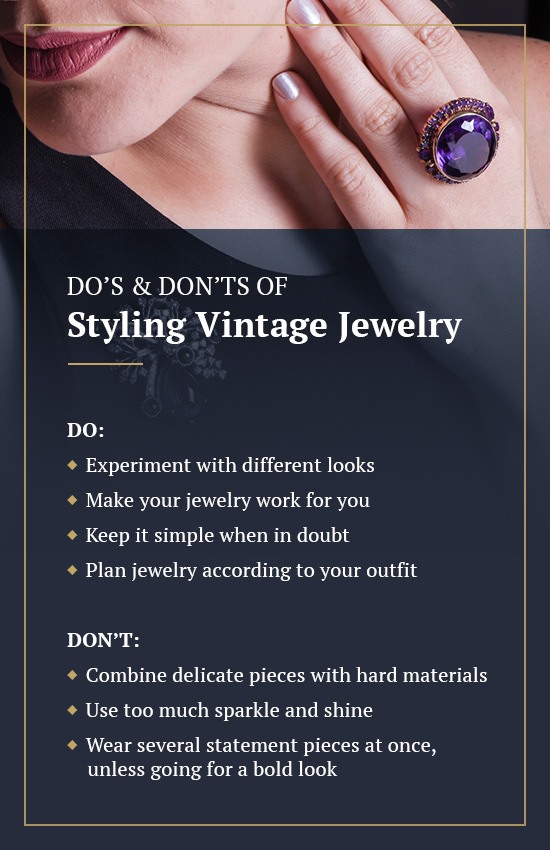 Now you know how to take older pieces of fine jewelry and wear them appropriately or in combination. Make a note of the advice above, but simply put, there are some do's and do not's. We recommend the following when styling your high-end jewelry:
Experiment with different looks
Make your jewelry work for you
Keep it simple when in doubt
Plan jewelry according to your outfit
When it comes to wearing vintage jewelry, do not:
Combine delicate pieces with hard materials
Use too much sparkle and shine
Wear several statement pieces at once, unless going for a bold look
Remember our tips and you will have an elegant mastery of combining and styling antique jewelry as well as vintage pieces. If learning how to combine vintage jewelry has you ready to expand your collection, we at Dover Jewelry are prepared to help. Contact us today with any questions you have about fine jewelry, and our experts will assist you.