Published May 13, 2023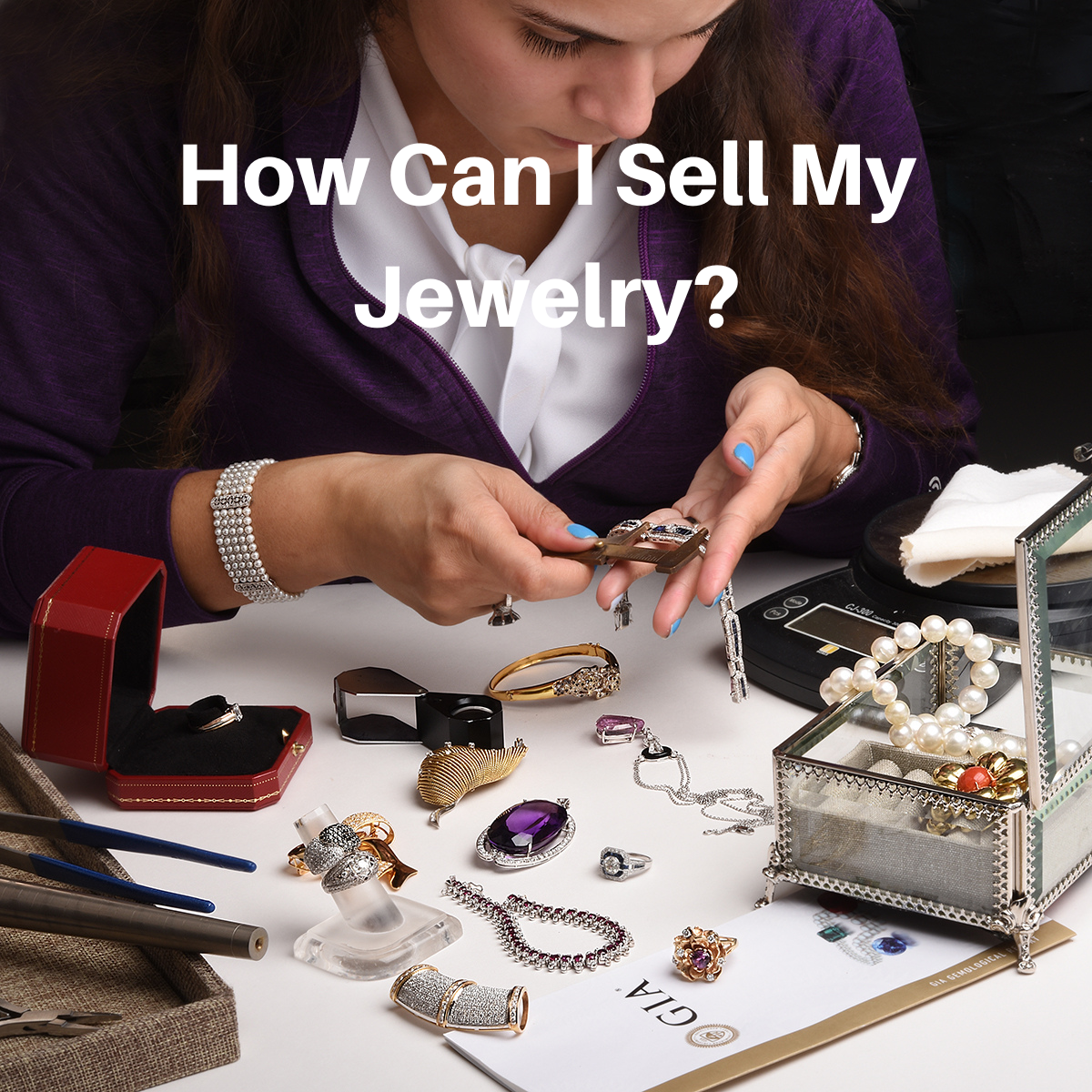 …. or looking for online jewelry sales platforms can be a great way to earn money while avoiding the upfront costs of selling it yourself. By following these steps, you can successfully sell your jewelry on consignment and earn money from your valuable items. Learn More about Selling your Jewelry.
Find an Online Consignment Platform: There are many online consignment sellers that specialize in selling items on consignment. There are many popular consignment sellers and do-it-yourself resources, but best to do your research on these platforms to determine which one is the best fit for your needs and will help you obtain a  high resale value. Remember – Fine Jewelry, Diamonds, Gold and Fine Watches require the expertise of a Speciaized Jewelry Consignment Team who have a trusted ONLINE reputation and presence, GIA Gemologists, Appraisers and Master Repair Jewelers. A team of experts that can Prepare, Showcase, and Make your Jewelry Shine On-Line.
Choose Your Jewelry: Decide which pieces of jewelry you want to sell on consignment. Be sure to choose items that are in good condition and have a high resale value. If you have recently inherited an estate that includes some nice pieces of antique or vintage jewelry, you may be wondering what to do with it?
Set Your Price: Determine a realistic Re-sale price you want to sell your jewelry for, and its jewelry resale value. You can research the current market value of similar items to help you determine a fair price. Food for thought, setting the bar too high on the price you hope to receive can limit the actual sale of your jewelry. Online Auctions allow a global community of jewelry buyers to view your Gold, Diamonds and Watches and participate in the excitement and journey of bidding on fine jewelry at a terrific value.
Sign a Consignment Agreement: Once you have chosen a platform to sell your jewelry on consignment, you will need to sign a consignment agreement with them. This agreement will outline the terms and conditions of the consignment, such as the commission rate, payment terms, and return policy.
Ship Your Jewelry: Once you have signed the consignment agreement, you will need to ship your jewelry to the platform. Be sure to package your jewelry securely and purchase shipping insurance to protect your items during transit.
Monitor Your Sales: Keep track of your sales and make sure you are receiving payment on time. If your items are not selling, you may want to consider lowering the price or removing them from consignment. Transparency is KEY to selling your jewelry Online. The ability to follow your item's sale in real time is the most credible way to sell your jewelry.
Retrieve Unsold Items: At the end of the consignment period, you can retrieve any unsold items. Be sure to follow the platform's instructions for retrieving your jewelry. But keep in mind – the goal is to Sell as soon as possible and retrieve your needed funds, not take the items back after months of sitting on some online platform. With Dover Jewelry's consignment program – Everything Sells. They prepare and photograph all of your items (1 or 100) for sale, showcase – launch – ship to their new home and pay their consignors all within a 4- 5 week time frame. Trusted, Transparent and Timely.
Let Dover Jewelry Help you sell your jewelry!  Dover Jewelry is eBay's Only Exclusive Consignment Partner for Fine Jewelry & Watches.   eBay selected Dover Jewelry as their only consignment partner in the Fine Jewelry & Luxury Watch Departments because of the reputation earned as a Titanium Seller over the past 25 years.
Collect coveted pieces from Tiffany & Co, Cartier, and more with Doverjewelry
This family-owned, high-end jewelry company will be our featured seller for this live event. Collect coveted pieces from designers like Tiffany & Co., Cartier, and more. Tune in at 11am PT.    Collect coveted pieces from Tiffany & Co, Cartier, and more with Doverjewelry.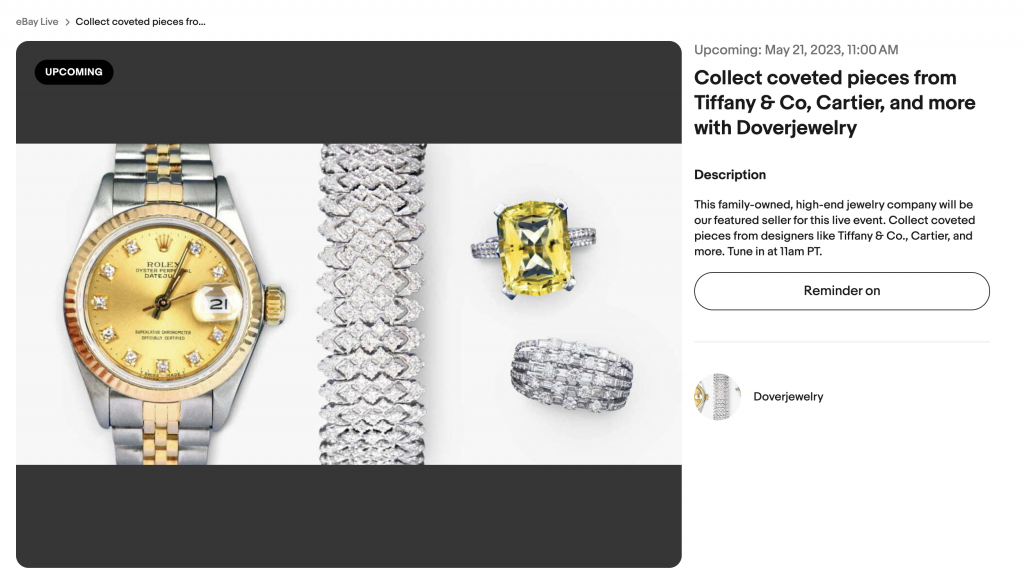 Trusted, Transparent and Timely selling of your Fine Jewelry, has made Dover Jewelry the Best Company To sell your jewelry online with the lowest selling fees. It's Easy — Contact our gem specialist today for a free & confidential evaluation. Call 877.777.6111 or email us
Contact Dover Jewelry & Diamonds Today and ask us about our Exclusive eBay Partnership, and our Fine Jewelry and Diamond Consignment Program, Including Luxury Fine Watches.
Whether you're a collector, dealer or jewelry lover, put the expertise of Dover's consignment team to work for you today. For more questions about consigning fine jewelry, contact us at consign@doverjewelry.com.