Published August 26, 2023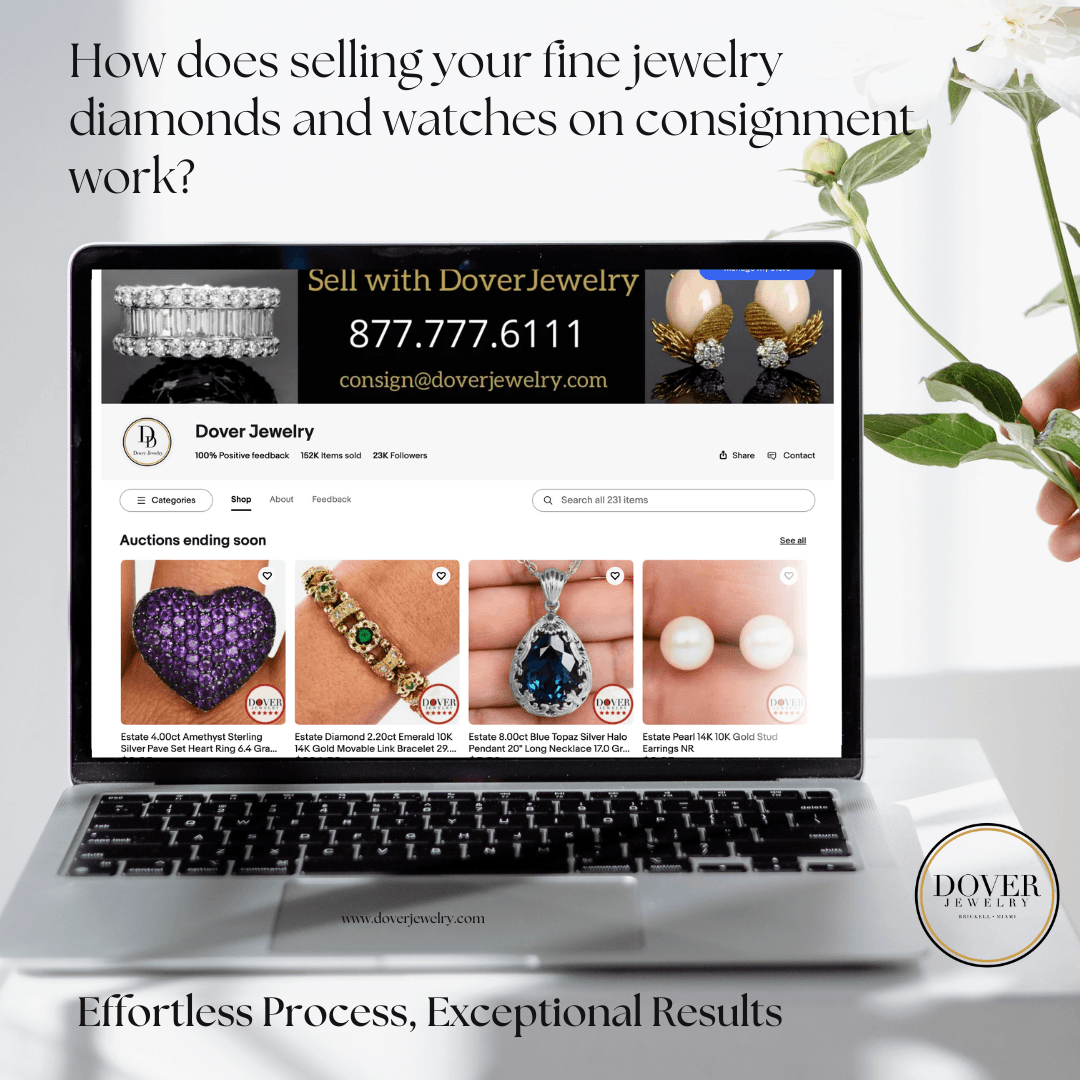 Elevate Your Jewelry Selling Experience with Dover Specialists:
Sell Safely and Seamlessly from Home
When the time comes to part ways with your cherished jewelry, diamonds, and watches, entrusting the process to experts is paramount. Dover Specialists are here to ensure that your selling journey is not only hassle-free but also maximizes the value of your precious pieces. With Dover Jewelry, you're not just selling; you're embarking on a personalized and professional consignment experience that sets a new industry standard.
The Modern Approach: Selling Jewelry on Consignment
Dover Jewelry redefines the art of selling jewelry, diamonds, and watches. No more settling for less or navigating complex selling platforms. With Dover's tailored consignment approach, you have a team of specialists at your side, managing every aspect of the sale.
Shining the Spotlight on Your Jewelry
Dover goes above and beyond to present your jewelry in the best light possible. Their specialists meticulously authenticate your jewelry and diamonds, instilling confidence in potential buyers. Next, they capture the true essence of your pieces through professional photography. These images don't just showcase your jewelry; they tell its unique story, making it more compelling to buyers and ultimately fetching you a higher price.
Effortless Process, Exceptional Results
Seamless Consignment: When you choose Dover, you're opting for a hassle-free process. Simply send in your items, and their experts take it from there. No need to worry about descriptions, pricing, or negotiations.
Expert Valuation: Leveraging their team's expertise, Dover ensures your jewelry is accurately valued. This precision is the cornerstone of getting the best price for your piece.
Stunning Presentation: Professional photography is the key to capturing the attention of potential buyers. Dover's images accentuate the intricate details and beauty of your jewelry, making it more appealing to a discerning audience.
Industry-Leading Selling Fees: Dover believes in fair and transparent pricing. They offer some of the lowest selling fees in the industry, ensuring that you keep more of the value your jewelry deserves.
Secure Transactions: With Dover, you're shielded from the risks of in-person sales. Their online platform provides a secure environment for both sellers and buyers.
Effortless Shipping and Payment: Once a piece finds its new home, Dover handles the shipping, ensuring a safe and swift transfer. You receive your payment promptly, bringing your selling journey to a satisfying close.
Your Partner in Jewelry Success – Meet the Dover Gem Team
When you're ready to sell your jewelry, diamonds, and watches, Dover Specialists are by your side. As The Leader in Fine Jewelry Consignments and the ONY Authorized eBay Consignment Partner, With an industry-leading approach to jewelry consignments, their focus on expertise, professionalism, and personalized service ensures you receive the value your pieces truly deserve. Say goodbye to uncertainties and hello to a new era of selling jewelry from the comfort of your home. Elevate your selling experience with Dover Jewelry and discover the difference for yourself.
Sell with Dover: Your Jewelry Deserves It.