Published February 9, 2023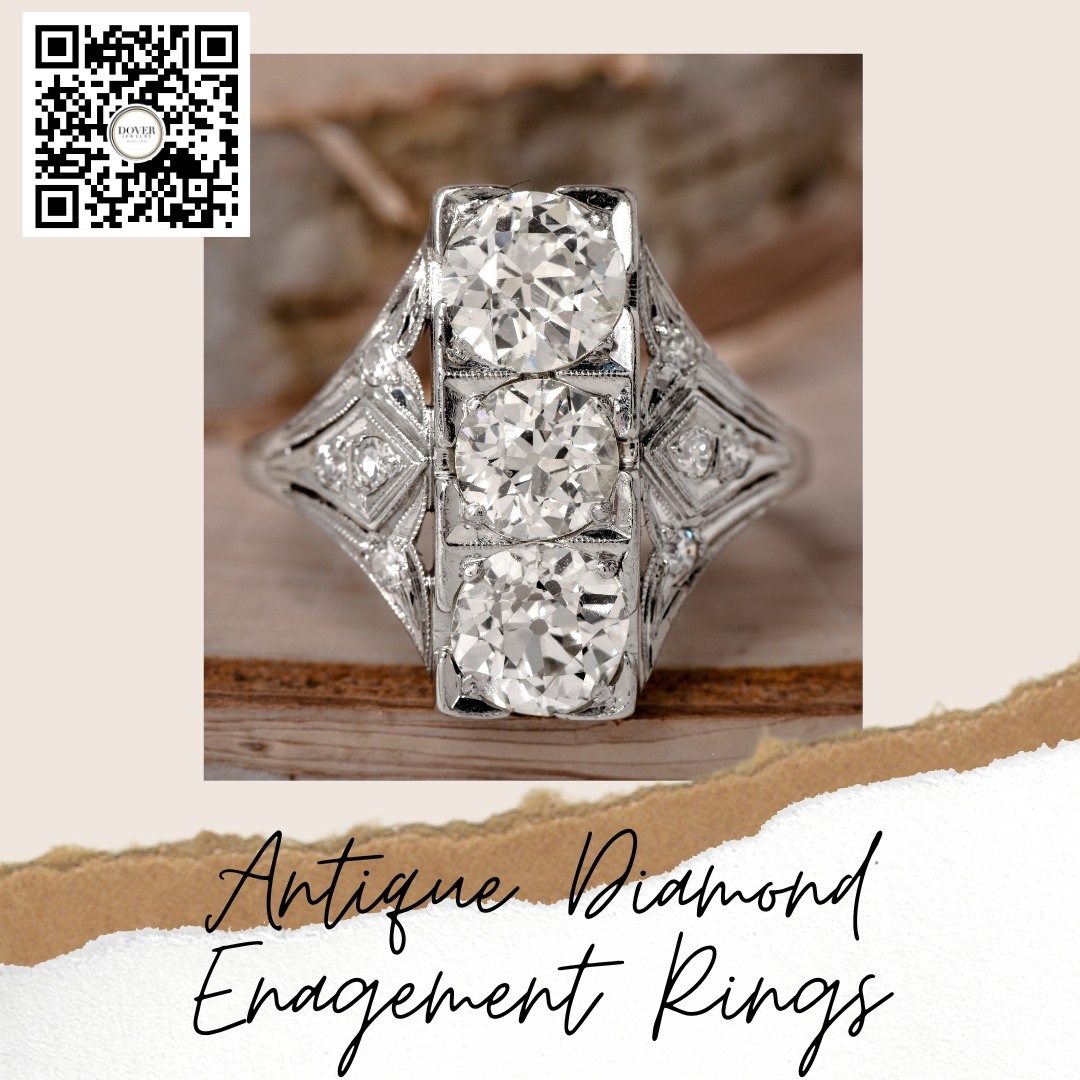 Vintage engagement rings represent jewelry pieces from bygone eras. If you dream about owning an engagement ring with a historic appeal, trust Dover Jewelry & Diamonds for genuine vintage engagement rings with exquisite character.
As you browse through our ever-evolving gallery of engagement rings and other jewelry pieces, you'll notice that our vintage engagement rings are suitable for individuals of all styles and personalities. And no one you know will have a ring exactly like it!
Order your favorite vintage engagement ring from our collection today. We offer both layaway and free international shipping options for your convenience. Have a question about one of the luxurious rings we offer? Call our experts at (877) 777-6111 for a private consultation.
Dover Jewelry & Diamonds has a selection of many different styles of engagement rings. Below are a few of the most popular styles. Our selection includes:
There are many kinds of popular engagement ring metals, as shown below. Your pick will depend on your preference, the type of jewel you wish to use and the wedding band if any, you choose.
White gold
18K yellow gold
Platinum
Rose gold
Silver
Titanium
Zirconium
Many buyers question the differences between "vintage" and "antique." In general, it's important to remember that some vintage engagement rings are genuine antiques, but not always. And every vintage or antique jewelry item is pre-owned.
"Vintage" describes a piece of jewelry designed during a previous era. The previous era could be the 1960s, the 1970s, the 1800s, or before. This is a wide historical range! Essentially, a vintage diamond or other engagement ring is deemed "vintage" by our team of expert and certified gemologists and the jewelry community.
"Antique" engagement rings must be at least 100 years old to receive this moniker. Therefore, some vintage pieces from the early 1900s are indeed antiques. But a vintage engagement ring from 1950 would not be considered antique.
Neither "vintage" nor "antique" engagement rings are inherently better. The final decision comes down to the buyer's personal taste and desires.
Engagement Ring Shapes
Engagement rings, like every style of jewelry we collect, come in unique shapes and sizes. Common shapes include:
Vast Varieties of Settings, Features, and Gemstones
Why are so many individuals with discerning jewelry preferences moving toward purchasing vintage engagement rings? Usually, it's because vintage rings offer choices, luxury, and sophistication unavailable from modern jewelry.
As you explore our ever-evolving gallery of vintage engagement rings, you'll see a range of settings, features, designs, and gemstones. If you're trying to find a diamond engagement ring with a decidedly historical, whimsical appeal, you can discover the perfect appearance and fit with Dover Jewelry & Diamonds.
However, if you desire brilliant, colored gemstones set in a whimsically crafted precious metal band, why not consider an engagement ring featuring white gold, yellow gold, or platinum, and set with deeply hued gemstones from one of the globally renowned jewelry houses like Tiffany and Co.?
With Art Deco engagement rings, rings dotted with sapphires, Victorian-era rings, and much more, our gallery has amazing selections just waiting to be worn with pride.
It's exciting to give renewed life to exquisitely-designed antique engagement rings that have withstood the test of time. We carefully inspect every antique engagement ring we sell and, when needed, repair and restore it to its natural splendor. Additionally, we offer clientele certificates of authenticity for antique diamond engagement rings.
Have Questions?
Please let us know if you have any questions or want further information on our vintage engagement rings. Submit a request for more information, and a personal concierge will soon be in touch.
At Dover Jewelry & Diamonds, we offer unique antique engagement rings that are truly one-of-a-kind. Each engagement ring we sell has been inspected by our expert team, which includes certified gemologists, and most vintage rings and antique engagement rings come with a certificate of authenticity. You can browse our current collection of luxurious antique engagement rings online.
Schedule your appointment today via email at contact@doverjewelry.com, or text at 786.218.0777.  If you have questions about any of our antique or vintage engagement rings or other fine jewelry, please contact us at (877) 777-6111 for a private consultation.
Visit the Dover Jewelry Brickell Showroom
Our team of experts at Dover Jewelry & Diamonds is available from Monday to Friday during office hours of 10:30 a.m. – 5:30 p.m. to assist you with any questions regarding appointments, buying jewelry, selling jewelry or fine jewelry appraisals. We invite you to contact us with any questions via phone or email.