Published April 22, 2023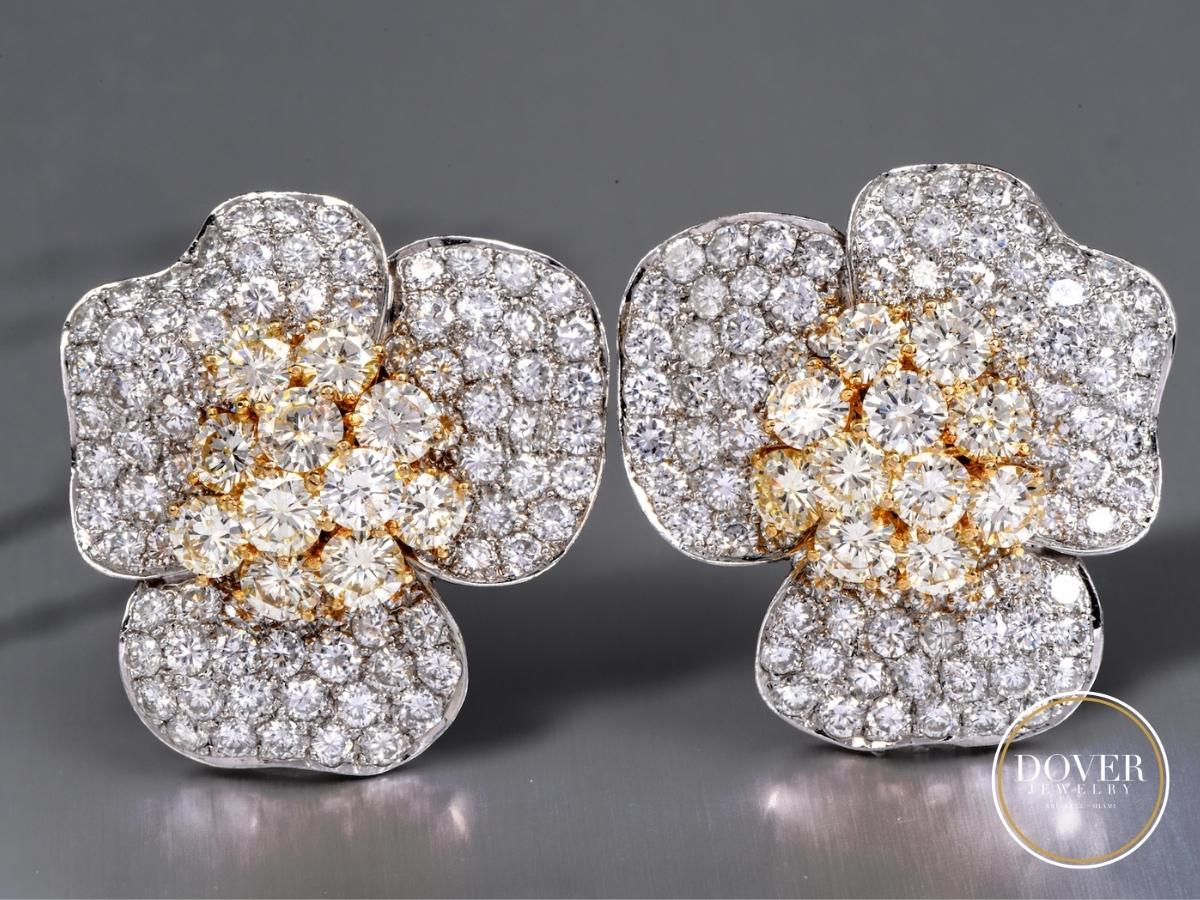 What is a Diamond?
"Diamond is a solid form of the element carbon with its atoms arranged in a crystal structure called diamond cubic."  Diamond – Wikipedia
More importantly, They're a girl's best friend. They are forever. They are glorious, glittering pieces of natural wonder, each one a marvel.
For centuries, diamonds have been treasured and revered for their beauty and matchless durability. When you own a diamond, you own something truly extraordinary. But you don't have to look like your grandmother to make a splash. Today's diamonds come in dazzling, modern designs, in a huge variety of different shapes, colors and settings.
At DoverJewelry.com we specialize in bringing you an exceptional selection of: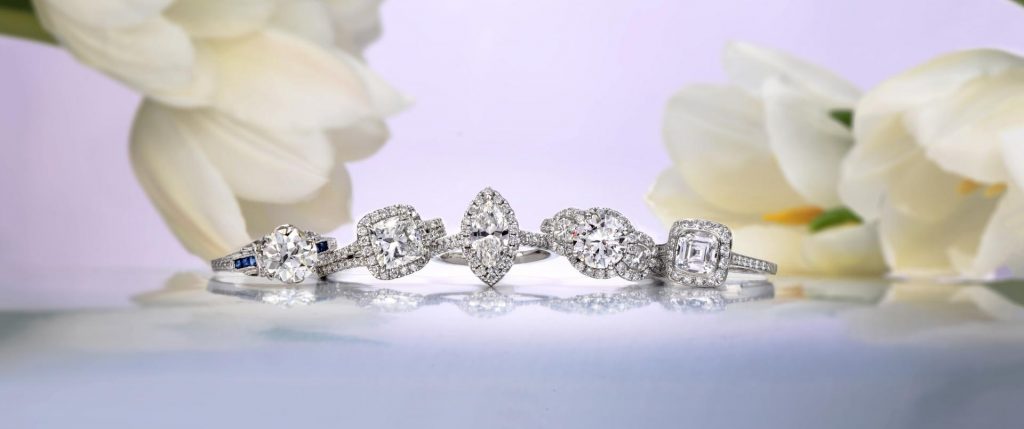 Fun Fact! The Diamond Tennis Bracelet
The diamond tennis bracelet, formerly known as the "diamond line' bracelet had been a style staple since the 1920s, but it was Chris Evert who made it famous in 1987 during a match at Wimbledon. She suddenly stopped, mid-match, and told the umpire that the clasp on her diamond bracelet had broken, later telling reporters that she needed time to find her "tennis bracelet."
The tennis bracelet is still one of the most versatile and wearable pieces of jewelry you can own. It looks equally good with jeans, tennis shorts or dressed up with a cocktail dress. Examples of an Estate 14.79 Carat Emerald-Cut Diamond Platinum Graduated Tennis Bracelet and a more opulent Modern 16.72cts Diamond Platinum Double Line Wide Link Bracelet
The tennis necklace look adapts easily to a necklace. This is a 'drop-dead' gorgeous 18k white gold Riviera star drop tennis link necklace, with a continuous link of round cut diamonds.  This Fancy Yellow Diamond tennis necklace features a fancy yellow, light pink-orange, brownish-yellow and white round cut diamonds which gives it a pretty, multi-colored flower look:
Diamonds By The Yard
When one diamond is not enough, a girl needs diamonds by the yard! This one has 155 mixed-size round cut diamonds on a 42-inch chain.
It's a classic. This platinum and diamond-by-the-yard chain necklace features 9.77 total carat weight of sparkling diamonds, balanced to perfection with stunning black enamel.
Prefer something super contemporary? How about this 18K white gold diamond necklace with 39 half-hoop graduated links, accented by round-cut, pave-set diamonds, weighing a total of 5.25 carats? It will illuminate your decolletage to perfection. Pair it with diamond hoop earrings for a look that will steal the show.
The round diamond necklace can go in so many directions. We love the lighthearted, fun look of this Chopard Happy Diamond puff heart necklace.
Chopard's Happy Diamond collection also includes this I Love You diamond pendant necklace. It's the perfect gift for the special someone in your life.
Sometimes, simple is better. Who could resist this Art Deco Design Diamond Emerald Platinum Butterfly Pendant Necklace? You can wear it all day at work, then all night out on a date.
Classic is cool.
This Riviera 8.65cts Diamond 14K White Gold Tennis Necklace of well-matched diamonds in a timeless stunner inspired by a Riviera design. It is elegant, classic and goes with any sophisticated look.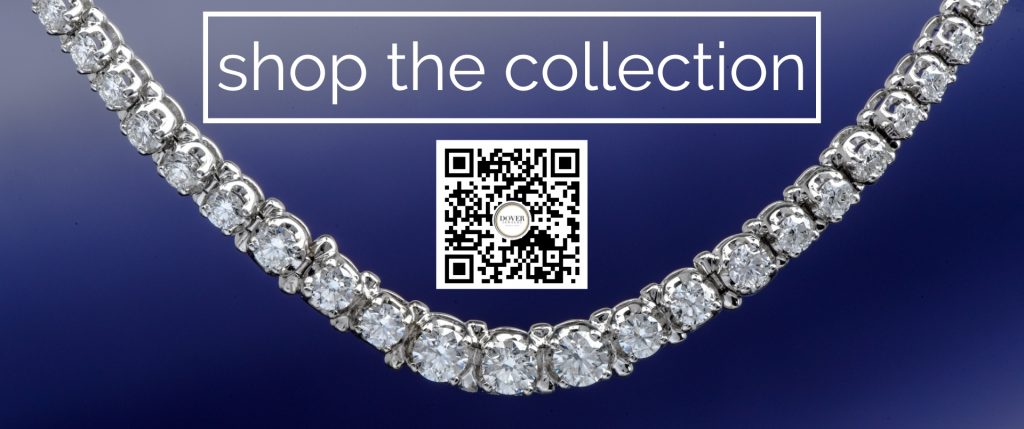 Although traditionally known for their outstanding Diamond watch collections, this modern Piaget Diamond 18K gold Necklace takes on the classic diamond necklace and features a double bandeau lariat style necklace with cylinder link chains connected by a diamond set in a fold-over locking clasp. It has 9- round brilliant cut pavé set diamonds.
This is another piece that takes you seamlessly from day to night.  From streetwear to social wear, every woman needs diamond hoop earrings. These have French-cut square diamonds in an outside hoop design.
Dress up. Dress down. Add a diamond or two – and every outfit suddenly looks special
When choosing an engagement ring for your beloved partner it is important to take into account not only their personal style preferences but also their lifestyle and personality too! With these tips in mind, we hope that you are able to find the perfect symbol of love and commitment that will last forever! So go ahead and start shopping today! You won't regret it!
Contact our jewelry experts today or visit us in our New Brickell Showroom located at 1000 Brickell Ave Suite 100 Miami Florida. Estate evaluations are provided in our Brickell Location or on-site at the location of your choosing free of charge. We welcome your inquiries either via email, telephone or by private appointment in our Brickell Miami Offices.  1.877.777.6111 | contact@doverjewelry.com