Published February 18, 2021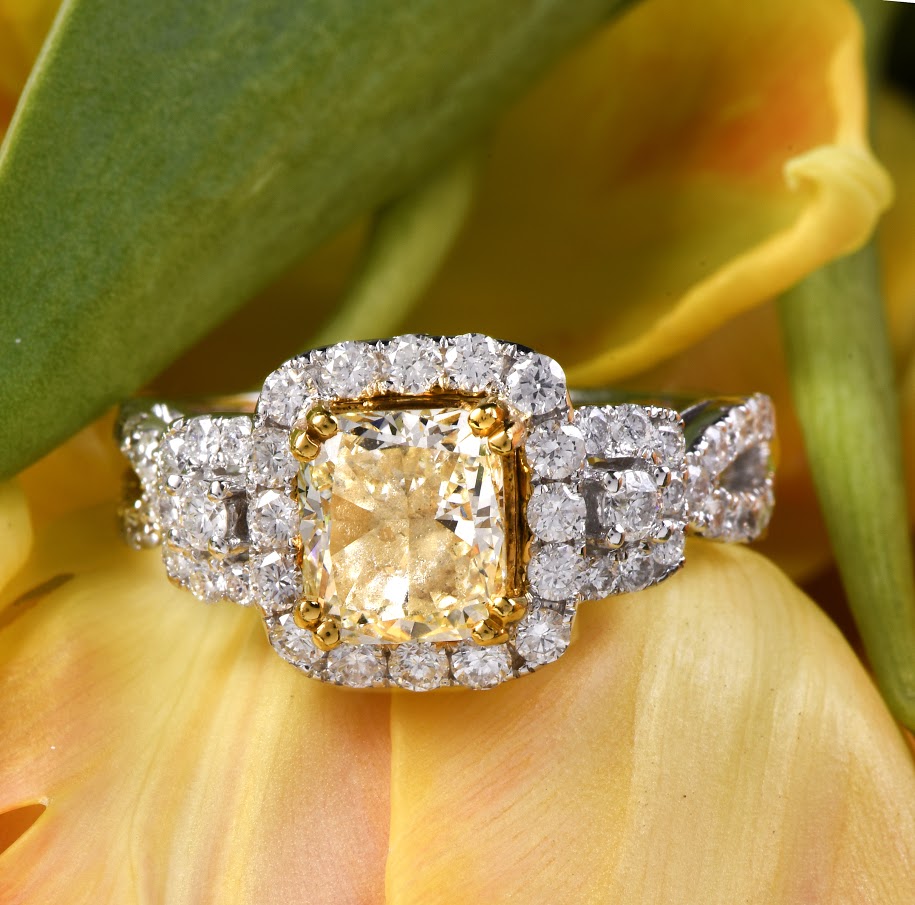 Yellow Diamonds: Down the Runway & Down the Aisle
They can command among the highest per carat value of all colored diamonds. Diamond connoisseurs, serious collectors, successful entrepreneurs, top-level executives, billionaires, and movie stars have spent millions to own them.
Yellow diamonds have also become this season's most adaptable and enduring fashion trend, and you will see them again everywhere in Hollywood, on the red carpet, down the runway, at charity balls and society events from New York to LA, Houston and Miami, as the pandemic allows.
And yes, they have been spotted on some of the world's most famous ring fingers.Jennifer Lopez rocked a $2.8 million custom yellow diamond ring and matching earrings given to her by her first husband, Marc Anthony. Heidi Klum, Kelly Clarkson, Nicki Minaj, Paris Hilton, and Amal Clooney have all been presented with jaw-dropping yellow diamonds by their significant others.
Yellow diamonds have also taken over as one of the top choices in engagement rings because of their beauty and relative rarity. They represent a sophisticated step away from the traditional, "safe" classic white diamond solitaire. These days, couples are becoming bolder in their tastes, and are looking to express their uniqueness by choosing a yellow diamond engagement ring instead of a plain white one. Yellow diamonds are different; they are vibrant yet mellow, and yet they still have the distinctive allure and brilliance of a dazzling gemstone.
Dover Jewelry & Diamonds has a fine selection of magnificent vintage and estate yellow diamond engagement rings. Our heart-shaped fancy yellow diamond ring is sure to set her heart fluttering. Or check out our vintage inspired 3 stone engagement ring, featuring an internally flawless yellow oval-shaped diamond.
What gives yellow diamonds their distinctive color?
You may be wondering what exactly yellow diamonds are – and what gives them their distinctive coloring. Yellow diamonds get their color due to the existence of nitrogen molecules which absorb blue light, and it is this impurity that gives the diamond its distinctive color. In fact, many experts think that yellow is the natural color for all diamonds, depending on their level of nitrogen. The more nitrogen the diamond contains, the deeper the intensity of the yellow color the diamond will have.
Yellow diamonds are considered "Fancy" when they fall outside the colorless to light yellow range (D-Z on the GIA Color Grading Chart). Although they are the most common form of all colored diamonds accounting for about 60% of the total, only 1 carat out of every 10,000 carats mined has a natural yellow color. Yellow diamonds are often called Canary diamonds, because of the intensity and purity of their yellow color. Canary Yellow Diamonds (not an official term) are so-called because they are the purest yellow in color, and they can command a high price. Another term often used is Zimmy or Zimmi Diamonds, a name derived from the area in Sierra Leone where they are mined. Their intense yellow color can make them even more expensive and sought after.
The most prized color on the official color grading scale for yellow diamonds is Fancy Vivid, with color intensities ranging from Fancy Light Yellow to Fancy Vivid Yellow.
Diamonds can be artificially colored by treating them with irradiation, annealing and coating, so it is important to ascertain if your yellow diamond is natural or not.
Pantone Color of the Year 2021 – And How to Wear it
Given the unprecedented popularity of yellow diamonds, it is hardly surprising that Pantone just selected yellow as one of their 2021 Colors of the Year. The shade of yellow chosen is called iluminating, and is described as a rich, sunny, cheerful, and energetic yellow representing positivity and the promise of brighter days to come.
Yellow is a highly adaptable color, and the look of yellow diamonds, especially when paired with white diamonds, is nothing short of magical. Yellow and white diamonds are simply stunning together, and they work with just about any skin tone. Wear your yellow diamonds with a little black dress to allow them to take the spotlight against plain black. . Our estate floral drop earrings are the perfect embellishment for a black, special occasion outfit.
As purple is on the opposite end of the color spectrum, wearing a purple top or dress will set off your yellow diamonds to their best advantage, as will deep blue colored clothing. If you like to match colors, try a dazzling white summer suit worn with a yellow top. Other colors that look good against yellow diamonds include anything with black and white. Our yellow diamond floral cocktail ring weighs a total of 6.09 carats and features a pear shape center stone set in a floral design.
If you are looking for an extraordinary, one-of-a-kind cocktail ring, our GIA 10.65 carat yellow diamond cushion cut ring has it all – exceptional beauty, superb taste, and timeless collectability.
And the biggest yellow diamonds of all time?
The Tiffany Yellow Diamond was mined in the Kimberley mine in South Africa by DeBeers in 1878 and it weighed in at an exceptional 287.42 carats. It was cut into a 128.54 cushion-cut stone and purchased for $18,000 by Charles Tiffany. You can still see it on permanent display at Tiffany's flagship store on 5th Avenue in Manhattan. If that was not big enough, make way for the 552-carat yellow diamond discovered by Dominion Mines in the Diavik Diamond Mine in Canada in October 2018. The value of these two extraordinary precious gemstones is impossible to compute.
High-quality yellow diamond jewelry is an excellent investment. Their price has increased dramatically over the years because the demand for them has simply outpaced the supply. According to the Fancy Color Research Foundation (FCRF), which monitors the price of colored diamonds, the price of yellow diamonds has increased by over 21% in the past few years. Their price increase is also affected by the supply of Fancy Vivid Yellows coming from the Dominion Mines in Canada, which are transitioning from open-pit mining to underground, thus reducing the number of stones available going forward, and increasing their market price.
For this reason, their re-sale is much easier than some other colored precious gemstone jewelry. The popularity of yellow diamonds is soaring, and because they are coveted by celebrities, who have turned them into a fashion statement, they have become a must-have purchase for collectors, investors, and private buyers alike.