Published May 12, 2021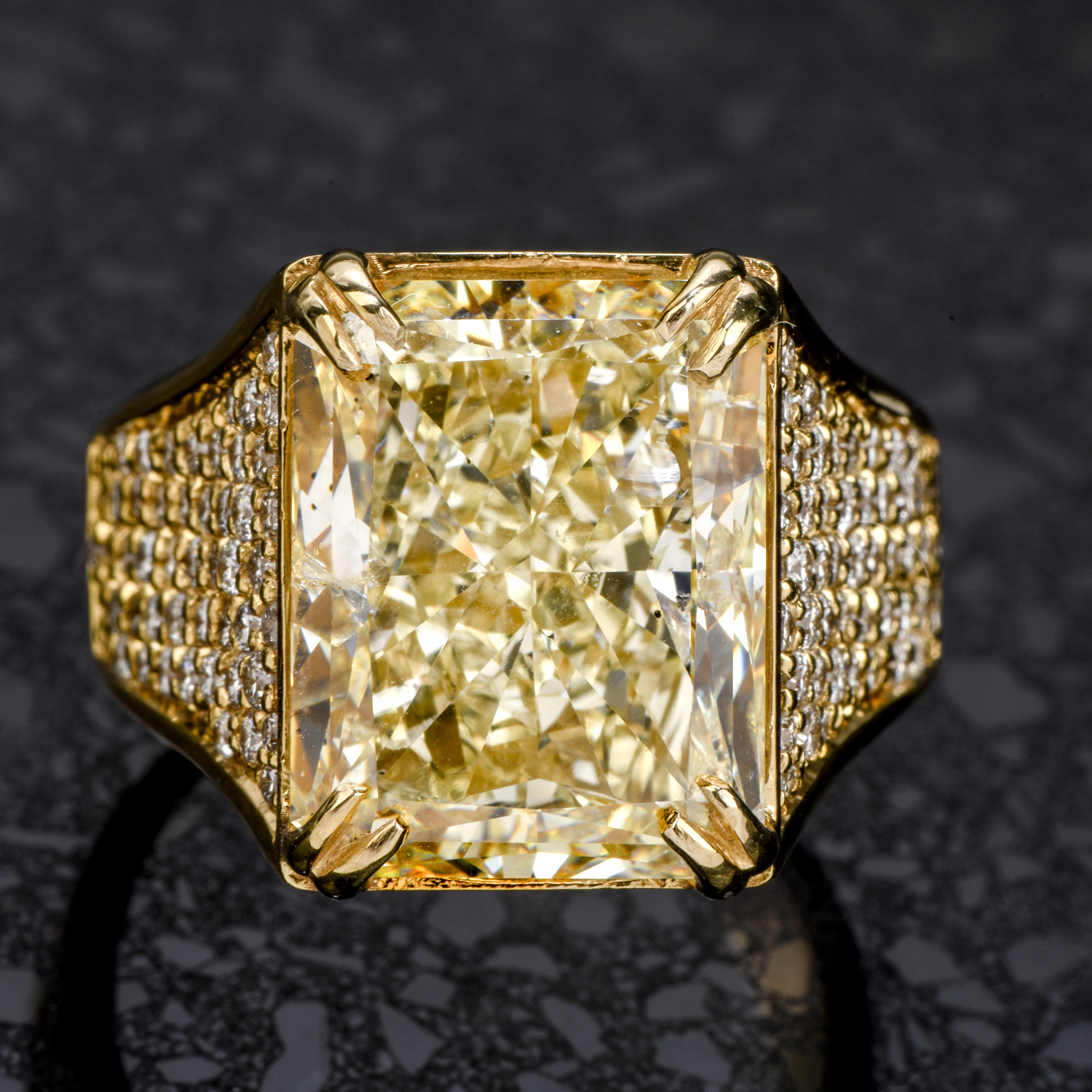 Stunningly different, yellow diamonds look extravagant – yet can be relatively affordable.
Our clients in California and Georgia attend a variety of top-level charity events. After all, LA is the home of Hollywood – and the movie industry has always given back generously to numerous charitable causes across the years. Similarly, Georgians love a big event, charity ball or simple dress-up party in support of a good cause!
At Dover Jewelry & Diamonds, we have noticed a strong trend towards yellow diamonds across the country, but especially in California and Georgia. More and more of our customers are buying yellow instead of white diamonds – and where better to wear them than at the latest elegant mover-and-shaker money-raiser? 
Doing good never looked so good.
Los Angeles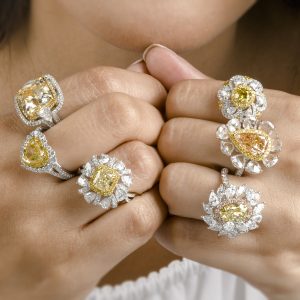 Here is a list of some of the top charity events that have been held in LA, and attended by celebrities, business people, donors, volunteers, and others associated with the city's glitterati.
The Carousel of Hope Ball

supports the Children's Diabetes Foundation and the Barbara Davis Foundation for Childhood Diabetes. Celebrity attendees last year included Jane Fonda, George Clooney, Quincy Jones, Robert De Niro, Opray Winfrey and more. It is a star-studded occasion, to say the least.
If you are lucky enough to attend the next one, here is our pick of jewelry for the evening. It is a magnificent 10.65 carat cushion cut yellow diamond cocktail ring.
The Chrysalis Butterfly Ball w

as founded by actress Rebecca Gayheart-Dane to help individuals out of poverty and unemployment. It attracts such luminaries as Elon Musk, Al Gore, Seth McFarlane and the rapper, Common. 
Here is a perfect piece to wear at this event. It is a slightly less formal affair, so this 7.8 carat Ceylon sapphire cocktail ring is just the ticket. A retro yellow diamond piece hits two hot trends at once.   
The

amfAR Gala Los Angeles

carries on the incredible work to raise money for AIDS and HIV awareness.  In 2019 it honored Gwyneth Paltrow with entertainment supplied by Christina Aguilera. 
Here is a different take on a diamond bracelet. It is an unusual yellow, white, and champagne diamond piece in a snake pattern. 
Byron Allen's Entertainment Studios Oscar Gala.

This is a star-studded event to benefit the Children's Hospital Los Angeles, most recently attended by Jamie Foxx and Katy Perry.
For this event, we have chosen a pair of well-priced yellow diamond and emerald drop earrings. 
Atlanta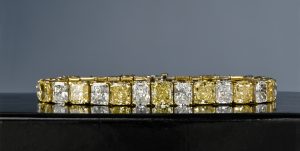 Georgians are never ones to be left behind in the charity scene! Here are a few of the better- known events held in Atlanta:
Night of Hope Gala raises money to fund research into ALS. It was started by athlete and wilderness enthusiast Ed Tessaro, who found himself stricken with the disease. Our fancy pink, yellow and white diamond heart bracelet has a total diamond weight of 19.68 carats and is set in 18k gold. 
The Crystal Ball benefits the Arthritis Foundation. It started almost 40 years ago and has raised millions of dollars for the cause. These yellow, white and pink diamond pendant earrings will compliment your little black dress or ball gown to a T. 
The Legendary Party of the Century originated back in 1989 and raises money for the Shepherd Center, a non-profit private hospital in Atlanta that specializes in spinal cord and brain injuries, MS and chronic pain. This geometric style fancy yellow diamond rectangular cocktail ring, designed by Staurino Fratelli is a conversation starter, for sure. 
The Mayor's Masked Ball, a celebrity attended a formal fundraiser for the United Negro College Fund. 
Perhaps you can see yourself in this 15.07 natural fancy yellow radiant cut diamond ring?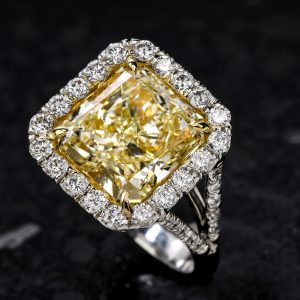 As COVID slowly comes under control, these charity events will gradually begin appearing on your social calendar once more. We hope we have given you some inspiration for your next charity gala. Even if you cannot attend the events we've mentioned above, think about dressing up for a great party or formal get-together anyway. 
Going yellow never looked so good.