Published September 11, 2022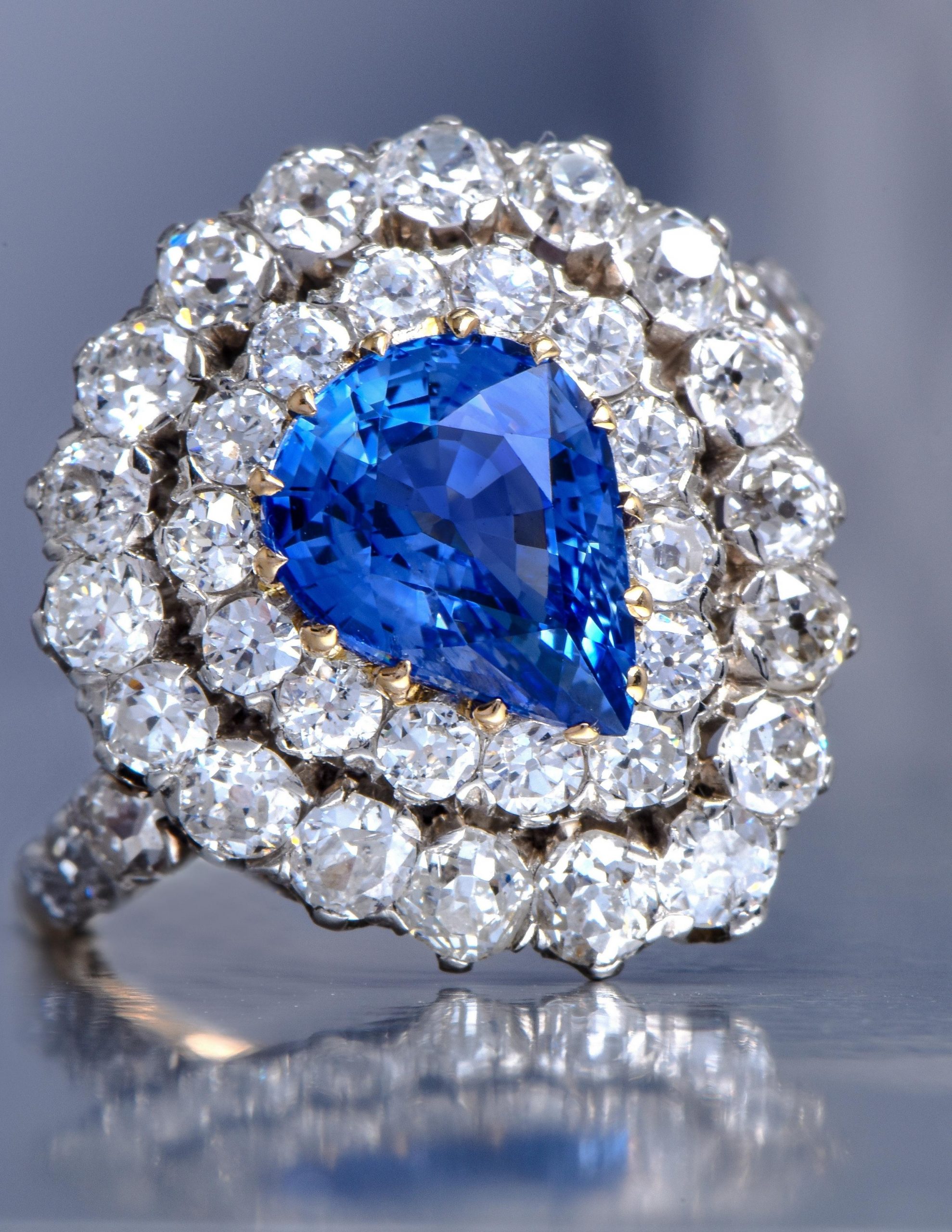 Are there more beautiful precious gems than sapphires?
Depending on your taste, of course, it's an arguable question.
Sapphires are endlessly fascinating with their link to romance, royalty, and mysticism throughout the ages. As an exquisite example of the timeless colored gemstone cocktail ring and a colored gemstone engagement ring, Sapphires maintain a rich, calming depth that makes them one of the most desirable gemstones for every generation. From an antidote to poison, a cure for eye afflictions, and even the plague, a symbol for heaven, faith, nobility, and loyalty, the sapphire has been assigned special powers for thousands of years.
Sapphire is actually the blue variety of corundum, although it can come in many other colors. Ruby is the red type of corundum. There have been some impressive sapphires mined over the years, including the enormous 62.02-carat weight step cut stone bought in 1934 by John D. Rockefeller from an Indian Maharaja. More recently, the 12-carat sapphire engagement ring originally owned by Princess Diana was given to Kate Middleton, Duchess of Cambridge by Prince William. It is perhaps the most widely admired and copied engagement ring of the past decade.
Sapphires have been mined in Sri Lanka for over 2,000 years and are found in conjunction with other fancy-colored stones. They are also found in Kashmir, Myanmar, Australia, Cambodia, Madagascar, and the United States. Some of the most treasured sapphires are found in Myanmar. Still called 'Burmese" sapphires, they come in deeper, more intense blue colors than in other parts of the world, hence their value.
Dover Jewelry carries a beautiful selection of sapphire jewelry of all kinds.
Getting engaged in September? Why not choose a sapphire?
This is a classic, 3.92 GIA-certified Ceylon sapphire and diamond ring. It is an octagonal step-cut, four-prong set, with unique purple and blue coloring. If you are looking for something different, this is it. And another point, sapphire scores a 9 on the Mohs Hardness Scale so it is durable, even for everyday wear.
Look no more for that perfect September birthstone gift! This is a different take on the tennis bracelet – a Sapphire Tennis Bracelet and this time it's set in sapphires. Well-priced, beautiful, and sure to please its recipient, this is a great choice.
September Virgo or Libra Birthdays?
For that someone special with playful, lively tastes -and a personality to go with it, these are the September birthstone earrings for her. They're from the renowned designer jewelry house of Chopard and are part of their Happy Diamond collection. In this instance, the sapphires are happy too.
Still, looking for a Sapphire?
Elegance and luxury are personified in these magnificent GIA-certified, no-heat Ceylon sapphire platinum drop earrings. The two stones have been cut in a modified trapezoid mixed shape and weigh in at 8.27 total carats.
Whatever the occasion this month, let's remember that sapphires are not limited to the deep rich depths of blue that are associated with this exquisite gemstone. Sapphires can be found in bold radiant colors of red, yellow, and orange sapphires – a color for any palette, wardrobe, and personality.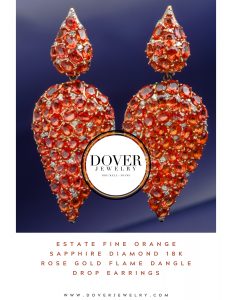 If you are on the hunt for a special September birthstone gift – or have a friend or relative celebrating either their 5th or 45th wedding anniversary – and have considered other jewelry stores in Miami, we invite you to stop by our Brickell Jewelry Showroom to enjoy our customized, white-glove service boutique environment. Our product selection is unique and varied, and we think you'll find just what you are looking for. We buy diamond and gold jewelry and sell special antique, vintage, estate and collectible pieces every day in our New Miami headquarters.
Our young, energetic Gem Team on Brickell Ave Miami is ready to meet with you, one-on-one, to choose an unforgettable sapphire for a loved one or for yourself.
Please contact us to schedule a viewing appointment in our Boutique Showroom.  Dover Jewelry at 1000 Brickell Avenue, Suite 100 (Tel: 877 777 6111), right here in Miami.