Published January 28, 2014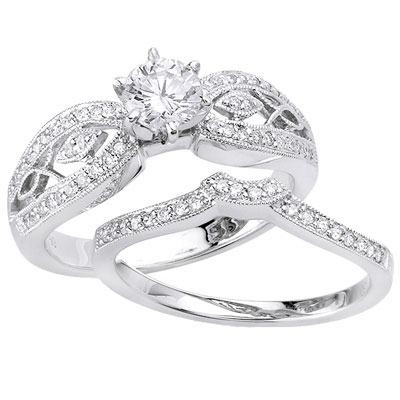 Wedding ring set: Everything you need to know.
The wedding ring set usually consist of an engagement ring and a wedding band that matches. Traditionally, the engagement ring is used from the time there's a commitment. It is usually the bigger of the two rings and is made with just one gem and/or accompanied with little stones in the sides. Historically the engagement ring has been utilized as a formal pledge that the couple was serious about their wedding.
On the wedding day you must wear your engagement ring on your right hand to avoid any problems or delays when the groom places the wedding band on your finger at the ceremony. In case you have a wedding ring insert, it is better to wait until the end of the ceremony to complete the wedding ring set to avoid blunders. That way the pairing of the engagement ring with the wedding ring insert can be a beautiful part of your ceremony.
If your ring isn't a wedding ring insert, you can use the two rings on the same finger, making sure your engagement ring is on top of your wedding ring. In this way the wedding ring will be closer to your heart and the engagement ring will be closer to your fingertip. If using the two rings at the same time is problematic for you, you can ask your trusted jeweler about soldering the two rings together