Published March 25, 2023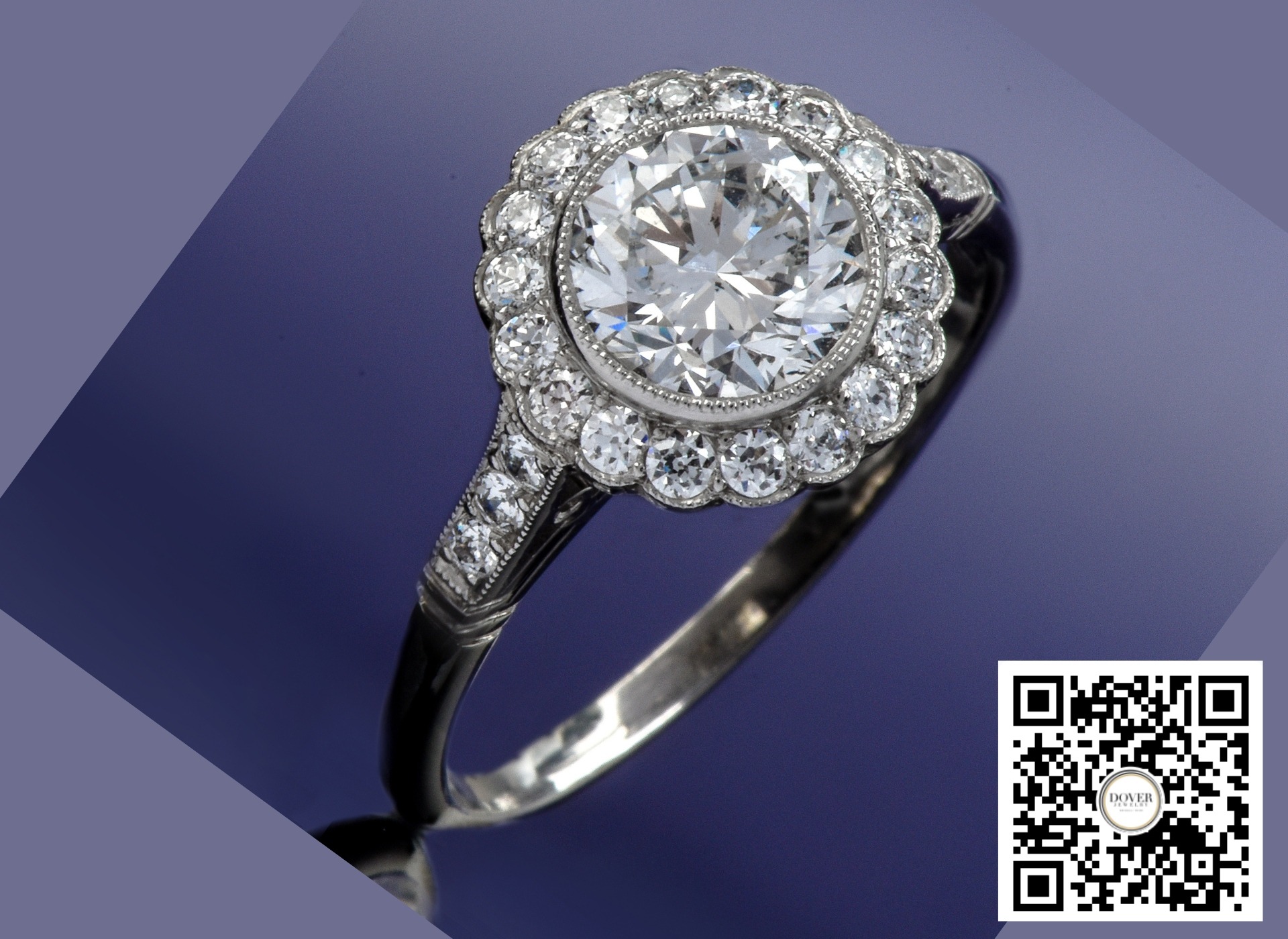 WHY HALO ENGAGEMENT RINGS ARE THE PERFECT CHOICE
Halo engagement rings are a timeless and elegant choice. Our collection of high-quality halo rings will make your partner feel like royalty. Click here to learn more about why a halo ring might be the perfect choice for you.
If you are looking for one of the most dazzling engagement ring styles available, look no further than the halo. It is truly unique, eye-catching and, importantly, it accentuates the other diamonds or gemstones in your engagement ring.
The halo has been around for centuries, making a splash with its unrivaled elegance and sophistication. It is a traditional design used in many Fine Jewelry selections and can be found with Diamond Halo Earrings, as well as Diamond Halo Rings. It can be traced as far back as the Georgian and Victorian Eras when round diamonds or smaller pearls were set around a central white diamond or colored gemstone. However, the classic halo setting appeared in the era of Art Deco Jewelry of the 1920s, with its emphasis on geometric designs and symmetrical patterns.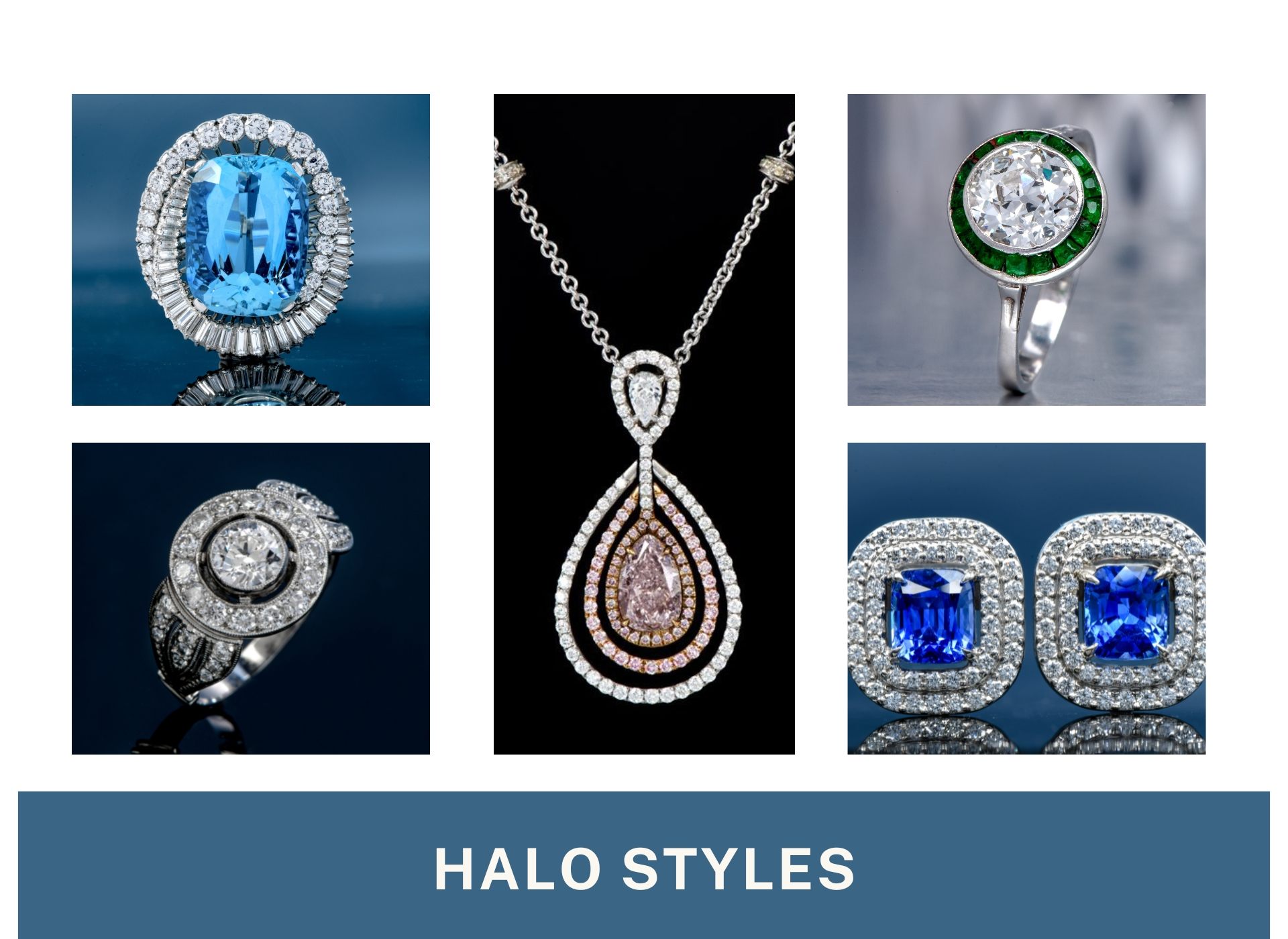 So, what exactly is a halo ring?
As the name implies, it features a 'halo" or circle of smaller stones set around a larger central stone. This type of setting is called "pavé." Pavé set engagement rings have been hugely popular for decades because they have that unmistakable "wow" factor. Taken from the French word for "pavement," a pavé setting encrusts the ring with tiny diamonds closely set together, resulting in a continuous band of sparkle. Your ring will look dazzling, and the central diamond will appear much brighter – and often up to half a carat larger. It's a stunning optical illusion that works brilliantly in an engagement ring. A halo ring can have a single row of pavé set of smaller stones or even multiple rows depending upon the particular design of the ring.
The halo has been a top choice in engagement rings for decades – and the reasons for this are clear. Apart from its dazzling appearance, it tends to be priced lower than other engagement rings due to its use of smaller, less costly gemstones. It is also a flexible setting and can be easily customized to suit different style requirements.
Larger Appearance
The main advantage of choosing a halo engagement ring is its ability to create the illusion of a much larger, more expensive ring, which is a huge advantage for many couples on a budget. Science calls this the Ebbinghaus Illusion – and it means that when something is surrounded by similar but smaller items, it will appear much larger than it really is. Your diamond may be less than a carat in weight, but it may look as if it is up to a carat and a half, giving it the advantage of a size contrast illusion. As found in this example of an Exquisite Marquise Diamond Halo Engagement Ring. Just at 1 carat but provides a gorgeous elongated ring of diamonds.
Intensified Sparkle
The sparkle of a halo engagement is intense and literally head-turning. Given a well-cut central diamond with a good quality color and clarity, the halo setting will intensify its look and enhance its brilliance to an extraordinary degree. The surrounding smaller halo diamonds complement the sparkle of the diamond it encircles. Featuring this 1.83cttw Cushion Halo GIA Diamond Rose Gold Engagement Ring
Complements Any Diamond Shape
The halo complements any diamond shape you choose, from a simple round to a pear, asscher, marquise, heart, princess, and emerald and it takes each shape to a new level of sophistication and beauty. The smaller pavé stones display each shape to its best advantage and highlight its inherent characteristics to an extraordinary degree.
Budget Friendly
If you are on a budget and looking for the biggest bang for the buck, a halo engagement ring may be your perfect choice. Many couples think they need to buy the largest diamond they can afford, but for obvious reasons this is not always the best way to go. Many end up spending much more than they'd planned and live to regret it later when other wedding-related bills become due. Luckily, with the illusion of being a bigger carat ring than it really is, together with the illusion of an intensified sparkle, the halo engagement ring is a much smarter option. Couples find they can enjoy the appearance and dazzle of a much larger carat ring at a far lower cost.
Design Flexibility
The classic halo engagement ring is a single row of small diamonds surrounding a larger one, but there are endless variations on the halo theme. You can have multiple rows, add filigree or hidden pavés or multiple central stones, three-stones and more. The options are many and varied depending on your particular style preferences.
Protects the Central Gemstone
Some settings are more vulnerable than others to chipping and damage. A halo protects the larger central stone by encircling and protecting it from everyday wear. If the halo stones are well set, it can also help prevent the central stone from falling out.
Classic, Timeless Choice
The halo engagement ring has been around since the 18th century and has since been worn by royalty, celebrities, the rich and famous, and ordinary couples to celebrate their love and commitment to each other. It is a timeless choice, opulent yet classy, endlessly elegant and iconic. The halo is a modern and timeless twist on a popular vintage style. If you love Art Deco, this is the engagement ring for you. The look is sleek and bold, yet it is a style that will last for decades to come, just as it has for decades in the past.
Dover carries a magnificent selection of halo engagement rings including these two:
Princess Diana and Kate Middleton both chose halo engagement rings, as have countless A-list celebrities. Couples around the world continue to do the same.
In conclusion, halo engagement rings offer various advantages, such as a larger appearance, intensified sparkle, compatibility with any diamond shape, budget-friendliness, design flexibility, protection for the central gemstone, and a classic, timeless choice. With all these benefits, it's no wonder that halo engagement rings remain a popular and perfect choice for couples looking to celebrate their love and commitment.
Thank you for reading about the intricacies of Halo designs in Diamond Jewelry.
At Dover Jewelry and Diamonds, we understand the importance of finding the right ring to celebrate your love and commitment. Our collection of Diamond Halo Rings offers a unique and timeless selection for those looking for something truly special.
Whether you're looking for a classic diamond solitaire or a unique vintage design, our expert team is here to help you find the perfect ring. Contact us today to schedule a consultation or browse our Estate  Jewelry Collection online.
We look forward to helping you find the perfect Diamond Engagement Ring that will be treasured for a lifetime.
Our team of experts at Dover Jewelry & Diamonds is available from Monday to Friday during the office hours of 10:30 a.m. – 5:30 p.m. to assist you with any questions regarding appointments, buying jewelry, selling jewelry or fine jewelry appraisals. We invite you to contact us with any questions via phone or email. 1.877.777.6111