Published February 25, 2021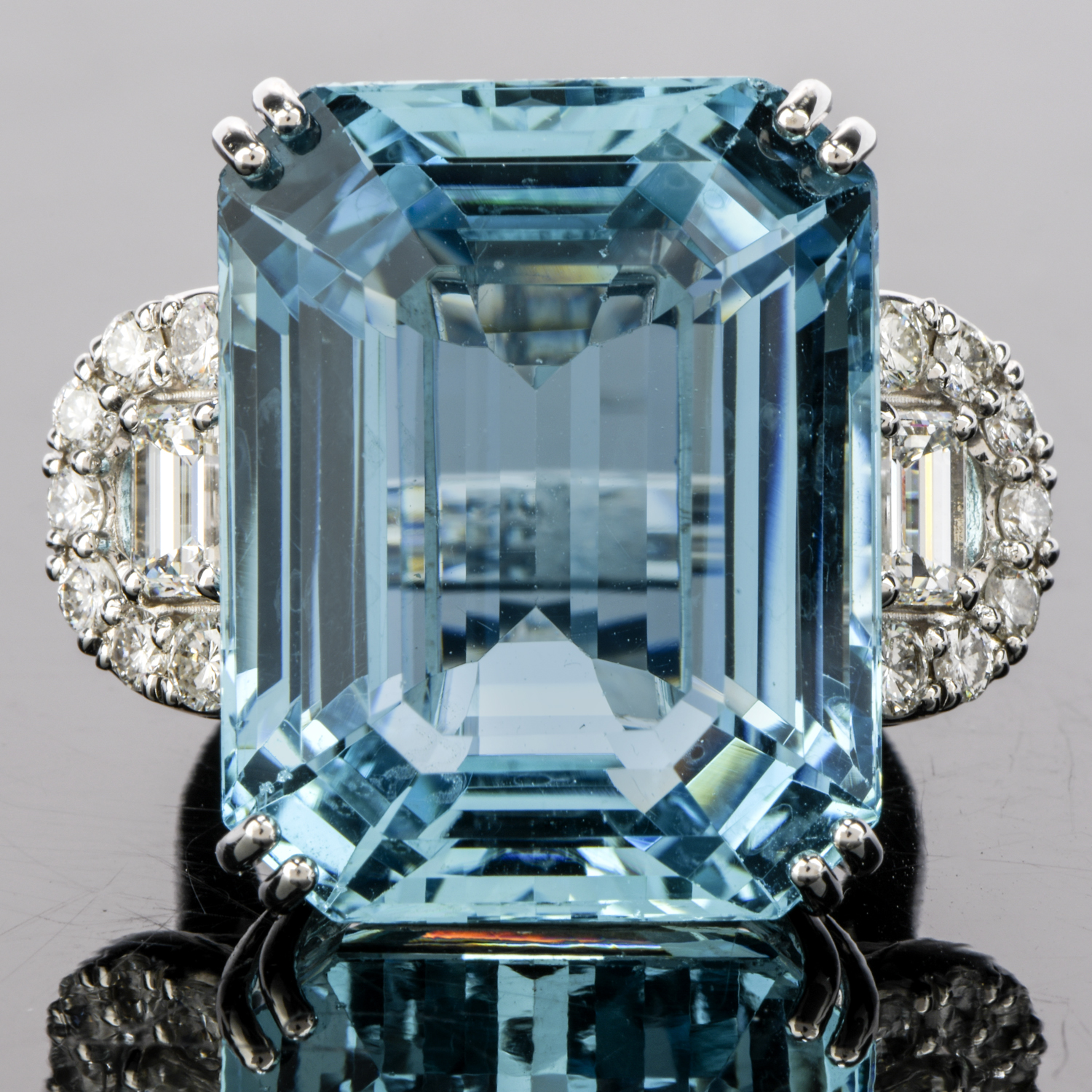 Spring 2021 Trends
Aquamarine – The Mystical Beauty of the Ocean,
Blue Aqua – a relatively rare and yet soothing color  – prized for centuries and worn by royalty, the wealthy, and the powerful. Derived from the Latin word for Seawater, this mesmerizing color has been worshipped by the ancient Greeks and Romans, later by fishermen and traders of all kinds as a kind of protection against storms and the potential ravages of the ocean.
Color of The Sea
The March Birthstone resembles the beautiful, translucent pastel colors of seawater, and in fact, they are a blue variety of the mineral beryl, which includes emerald, morganite, and heliodor. Aquamarine gemstones come in a range of different shades of blue from very light to a deep, rich blue and even blue-green. Not surprisingly, deep, saturated blue aquamarine is generally the preferred color and therefore tends to be the most expensive.
Many aquamarine gemstones are color treated to enhance their look and give them a deeper shade of blue, but this is not unusual in the jewelry industry. If you prefer a natural stone, you can inquire as to any artificial enhancement before purchase.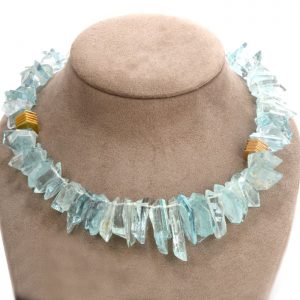 Spring Jewelry & Fashion Trend Report
Looking for this Spring's hottest color?
Aquamarine is it, showcased on the Virtual Runways and elegant backyard intimate social events. A cool, restful color that works beautifully with soft, Spring clothing – white, tan, navy, midnight blue, lavender, aubergine, dusty rose, or peach.
Co-ordinate your aquamarine jewelry with other pieces that complement it, such as clear or white diamonds, silver, and white gold.
Straight from the runways and pages of the top fashion magazines, the trends for Spring jewelry are bright, colorful, and full of life. Front and center everywhere in the world of ready-to-wear and couture, designers were playing with colorful, oversized gems, oversized statement pieces, and over-the-top earrings. Spring colors such a muted blues, greens, sometimes both colors together – and yes, aquamarine were reflected in large earrings, bracelets, and necklaces, as were mix and match stones and metals. Natural cut jewelry such as our Christopher Walling mirror cut aquamarine necklace also made a strong showing.
Aquamarine Engagement Rings – A Long History, A Hot New Trend
Superstitions and traditions abound concerning aquamarine and love. Aquamarine was considered by the Romans to be the most appropriate morning gift to be given by a groom to his bride following the consummation of their marriage. Made for a continued happy marriage, and thought to reawaken the love of married couples.
Popular for centuries, the Aqua is often seen in all types of vintage earrings necklaces, and rings.
More couples are choosing an aquamarine and diamond engagement ring over the traditional plain diamond solitaire than ever before. This trend was no doubt enhanced when Prince Harry gave his mother's aquamarine ring to Meghan Markle upon their engagement. It is a magnificent 24-carat emerald cut aquamarine, flanked by small solitaire diamonds and set in yellow gold. It is believed that Princess Diana commissioned the ring from Asprey.
Aquamarine is relatively hard and durable, so it works well in everyday jewelry, scoring a respectable 7.5-8 on the Mohs Hardness Scale.
Dover Jewelry carries several estate and vintage aquamarine and diamond rings, which can work equally well as engagement or cocktail rings.
Voted one of the best celebrity engagement rings of all time by Vogue Magazine as featured by Justin Timberlake for Jessica Biel.  Since she has a March Birthday, her 6-carat diamond surrounded by aquamarine stones set in blackened platinum, seemed all too appropriate!
Aquamarine – March Birthstone & 19th Anniversary Stone
The official birthstone of March and also the gem traditionally given on a 19th wedding anniversary, there is no better way to treat yourself or your spouse than with a Vintage Seaman Schepps aquamarine and diamond brooch or an Antique 7.8 carat Tiffany aquamarine and diamond pendant set in platinum
Fun Facts 
The world's largest aquamarine is the Dom Pedro, cut from a 100lb crystal measuring over 3 feet in length. It weighs 10,363 carats and its worth is incalculable. It is currently housed in the Smithsonian Museum and will probably never be cut.
Queen Elizabeth II was given an aquamarine necklace by the government of Brazil as a coronation gift in 1952; she later had other pieces made to match, including a dazzling aquamarine tiara, which she wears on state occasions.
Aquamarine has been a favorite with the rich and powerful for centuries, and its recent resurgence in popularity for engagement and fashion jewelry means that we try to maintain a good selection of vintage and estate aquamarine pieces for your consideration.
Please check out our current inventory of vintage jewelry and let us know how we can help you find the perfect piece for you.