Published December 12, 2017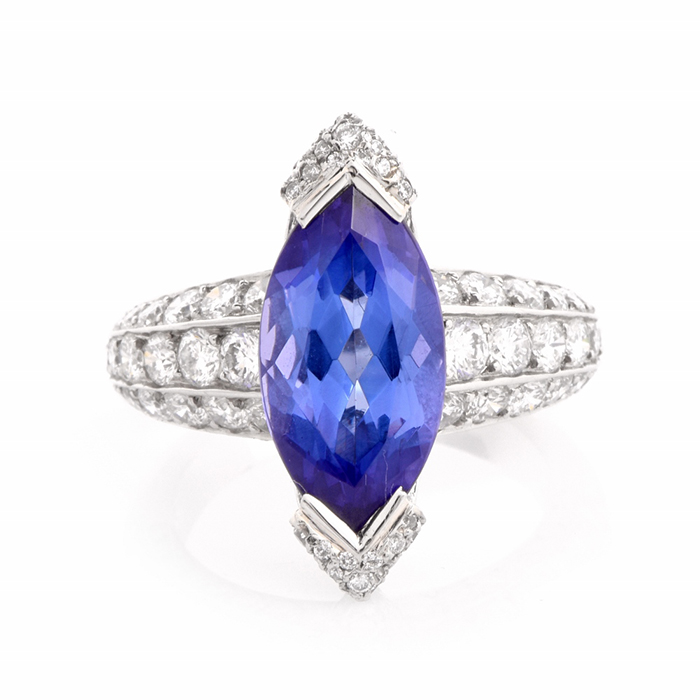 Its  name derives from the East African state of Tanzania, the only place worldwide in which it has been found. The  magnificent gemstone  Tanzanite whose color runs from ultramarine blue to light violet-blue,  is also referred to as 'the gemstone of the 20th century'. The second name was given to it by the specialists who celebrated its discovery in 1967.
As legend would have us believe. the Masai cattle herders in Tanzania first noticed this enchanting gemstone, after a fire caused by lightening  which had burned large areas. They noticed that brown zioscite  crystals had turned a deep shade of blue-purple due to the heat from the fire!
Notwithstanding the legendary explanation, those who discovered the first deep blue Tanzanite crystals in the Merelani Hills near Arusha in North Tanzania,  held their breath in excitement , and when a short while later the crystals were offered to Tiffany in New York, the excitement was greater and the enthusiasm unprecedented!
A blue variety of the gemstone zoiscite, Tanzanite consists of calcium aluminum silicate and is not particularly hard, It is therefore recommended  to be worn carefully  and not  placed in an ultrasonic bath for cleaning .
Tiffany who had found the new gemstone sensational, did not approve of the name 'blue zoisite' arguing that it phonetically resembled the English word 'suicide'! The name Tanzanite was in fact given to the 'gem of the 20th century' by Tiffany of New York and has remained valid to date. Tiffany was also the first source to introduce the new gemstone to the world with a worldwide  advertising campaign
Amongst the variety of its shades, a  blue surrounded by a delicate hint of purple, which shows  a particularly wonderful effect in sizes over 10 carats, is the most coveted color of Tanzanite.
The multi-color  (Polychromatic) effect of this gemstone can vary depending on the angle from which it is looked at: It may appear blue, purple or even brownish-yellow.  Tanzanite has a captivating aura which  fascinates the gemstone connoisseurs, and also personifies a distinct elegance inherent in a gemstone.
The reasons behind Tanzanite's popularity and constantly rising price are twofold: (1) the gemstone offers unique beauty and magnificent color  and (2)  it is of  exclusive  origin which is Tanzania and no other place in the world!
Tanzanite was added to the official list of  December birthstones by the American Gem Association  in October 2002 and is since considered as an alternate birthstone for December.
VB