Published August 5, 2020
When selling part of your jewelry collection, you want to be sure you receive its true monetary value. Whether you're making room for new pieces or selling jewelry for extra cash, consider these commonly asked questions before putting your estate jewelry on the market.
When Should I Sell My Jewelry Pieces?
People will always have room for the classics and current trends, so the real determinant of when to sell your jewelry is seasonality. The three main calendar events that can increase your sales are:
Valentine's Day: Sweethearts are looking for the best gift to say, "I love you." Nothing says this quite like a romantic diamond tennis bracelet or heart-shaped ring.
Mother's Day: Family members are looking for the perfect treat to express their appreciation for all that moms do, making this a good holiday to consider consigning your jewelry.
Holiday seasons: Today's holiday season has expanded its window, bringing holiday shoppers to the market as early as August and September, especially for online shoppers. People who are looking for something special to give their loved ones often turn to consignment for a diamond or gemstone ring as a gift for the holiday. For the best chance to sell, start marketing your fine jewelry and luxury watches as summer ends in early fall, ensuring the greatest visibility and marketing exposure for your jewelry items.
Engagements and bridal: Love is always in the air, but July, August and September have proven to be the biggest demand for engagement rings and anniversary gift upgrades! Colored gemstones and traditional diamond solitaires are all the rage in the luxury resale jewelry market, while everyone is looking for that coveted pair of diamond stud earrings as this year's jewelry anniversary gift.
Keep a watchful eye on the economic status and market fluctuations — especially for your diamonds, which are known to peak and drop throughout the year. The more people who are willing to buy your jewelry, the greater return you'll receive.
How Can I Get the Most for My Jewelry?
Jewelry is a style-driven industry and is highly influenced by individuals' preferences and current trends. Having a deeper understanding of your jewelry collection can help you receive the best prices for the pieces you're looking to sell.
1. Understand What Type of Jewelry You're Selling
Be familiar with the style of jewelry you are trying to sell. These styles may include estate, vintage or older trends:
Estate: This term describes a previously owned piece that is desirable to buyers. Some people prefer shopping estate pieces to find something brand new to them without the brand new price.
Vintage: These collectible pieces are highly coveted and require a certified gemologist's guidance to learn the highest resale value.
Older trends: If your piece is an outdated style, consider waiting for the trend to recycle before reselling your piece.
Deciphering which jewelry type your piece embodies may be nuanced, especially with trends continuously evolving. Refer to a professional to help guide you in the right direction.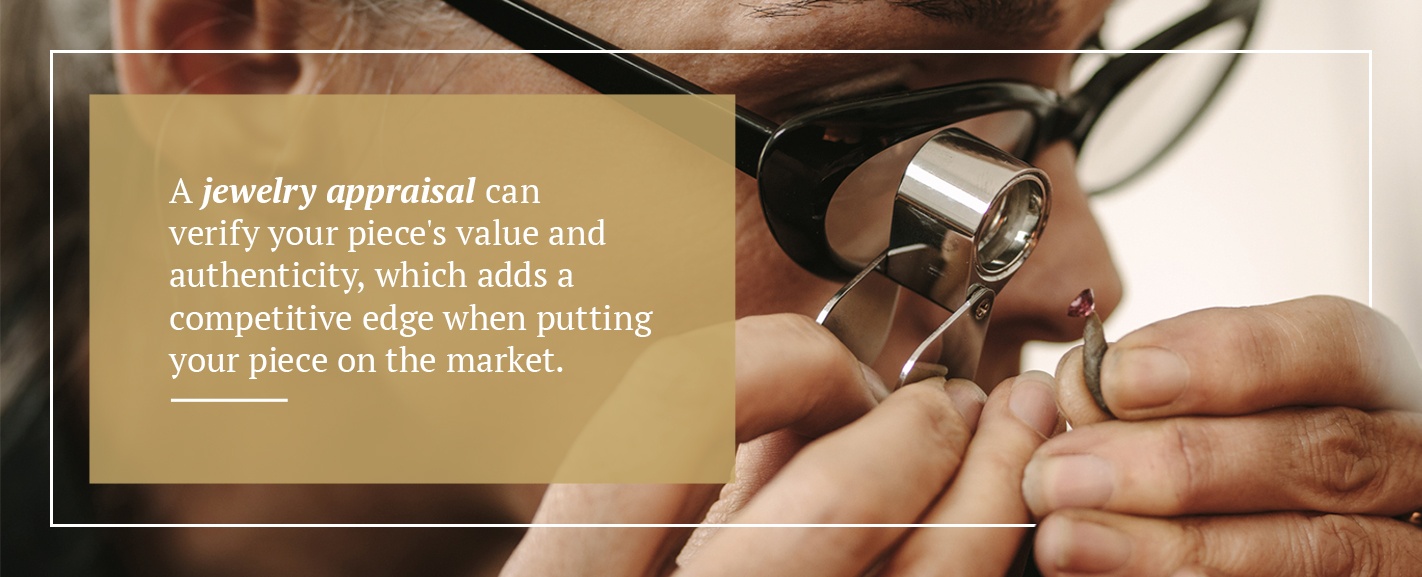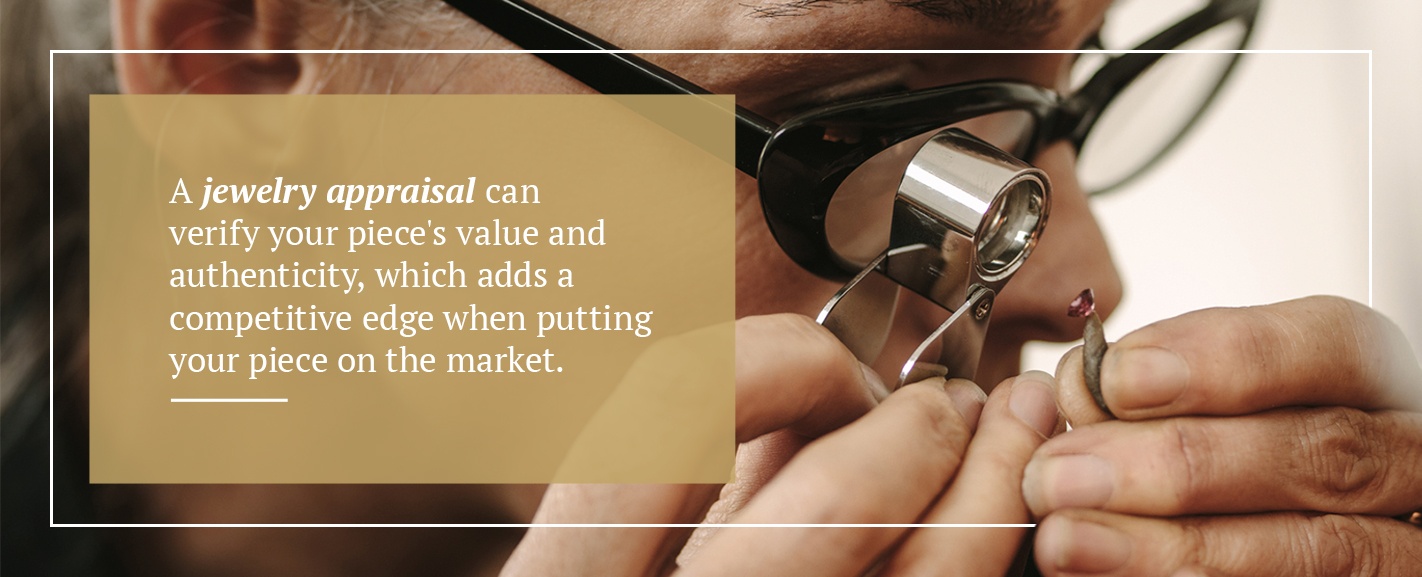 2. Know Your Jewelry's Worth
Enthusiasts across all generations and preferences tend to gravitate towards the classics, like:
Gold: Extremely desirable and durable, gold is one of the most popular precious metals. Look in any jewelry collector's collection, and you'll find a sea of gold necklaces, earrings, elaborate rings, and brooches.
Silver: Next to gold, silver is a popular precious metal of choice. The debate between gold and silver is over — both have room in an enthusiast's collection.
Ruby: The rich, luxurious color of the ruby stone is one that stays close to the heart. In fact, rubies are labeled one of the most popular gemstones in history.
Pearl: A pearl's value varies depending on a number of qualities, but there is no denying its iridescent, feminine beauty.
Diamonds: Like pearls, a diamond's value can vary greatly. Finding a fine jewelry collection without a diamond piece is almost impossible to do.
Because these styles are sought after, you'll generally be able to price them closer to their original value. Some styles, especially older trends, may not yield the return you were hoping for. As an alternative, consider selling them based on their intrinsic value. You can determine the intrinsic value based on the raw materials, any precious metals or gemstones and the current market rates. This process can be tricky, so you may want to rely on the professionals. A jewelry appraisal can verify your piece's value and authenticity, which adds a competitive edge when putting your piece on the market.
Doing your research and maintaining your pieces can help you receive the best price when selling jewelry online.
3. Prepare Your Jewelry for Sale
Spend time examining your pieces and acquainting yourself with every little detail. Do you notice any issues that need to be fixed or any areas that lack the shine they once had? If your piece is damaged, consider the option of repairing it. The most common jewelry repairs are:
Soldering a broken chain
Cleaning or polishing
Replacing a faulty or broken clasp
Re-setting a stone
Weigh the benefits of repairing your piece. If the repair cost exceeds the resale value, repairing may not be the best option. If that's the case, consider selling unwanted jewelry as-is for a lower price, or based on its intrinsic value.
No matter its condition, you should properly clean your jewelry before selling. Each stone and precious metal requires specific care, so be cautious when cleaning. For a simple clean, follow these general tips:
Use a mixture of mild soap and warm water for most jewelry, followed by a gentle scrub with a hard-bristled toothbrush.
Be careful with ammonia-based cleaning products, especially around gems. They can do more harm than good.
Avoid cleaning gold and gemstones in chlorine.
If you're uncertain how to clean your jewelry safely, rely on the professionals to do the job.
How Can I Consign My Jewelry Online?
Consignment is a mutual agreement between you and a consignment vendor, where you transfer the selling efforts into the hands of professionals to achieve the highest selling price possible. Choosing online consignment increases the number of people who see your piece, making it one of the best places to sell jewelry to give your pieces the highest chance of finding a buyer.
Many buyers turn to consignment for convenience. Vendors select their merchandise based on current trends and their clienteles' tastes, offering buyers a tailored list of products in one inventory.
Choose the Right Consignment Vendor
When selling your jewelry collection, choose a consignment vendor that specializes in luxury jewelry and attracts a wide market of the right buyers. Make sure buyers trust the vendor's inventory. Luxury shoppers value transparency, often relying on gemologists' and appraisers' professional opinions before committing to a piece.
The right vendor should also be transparent with their consignors. When selling through a vendor, you'll receive most of the profit, minus a consignment fee to cover your piece's marketing efforts. Choose a vendor with a low consignment fee and a proven track record for the highest possible profit.
Understand How the Consignment Process Works
Learning how to consign jewelry is simple. The online consignment process generally involves these three steps:
Email the vendor a short description of the item you wish to sell, any relevant information about your jewelry and your contact information.
The vendor will review your submission and typically respond to you within seven business days.
If it's accepted, the vendor will provide shipping arrangements details to send the piece to their headquarters for preparation and processing.
Once delivered, professionals begin preparing your piece for online luxury shoppers and put it on the market promptly. When your jewelry sells, you'll receive your payment based on the closing price and the vendor's commission.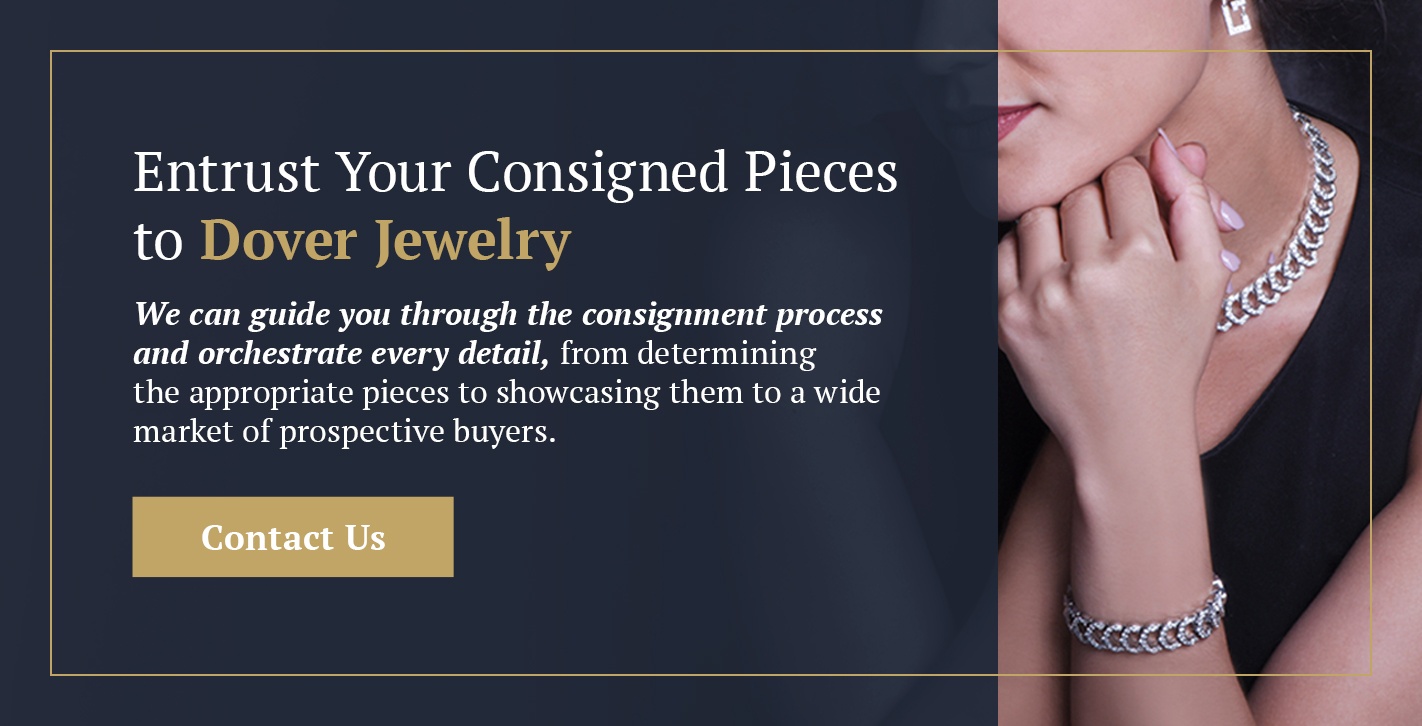 Entrust Your Consigned Pieces to Dover Jewelry
The passionate team of gem and jewelry specialists at Dover Jewelry welcomes new clientele around the globe. We can guide you through the consignment process and orchestrate every detail, from determining the appropriate pieces to showcasing them to a wide market of prospective buyers. Our team of experts will ensure your piece looks fabulous online, creating a hassle-free process for you. Many vendors have the ability to consign, yet do not have the jewelry and gem expertise which Dover Jewelry has.
Although many vendors have the ability to consign, none have the jewelry and gem expertise that Dover Jewelry has. Based in Miami's Diamond District for over 25 years, our high-end jewelry consignment team is staffed with Master Jewelers, GIA gemologist, videographers, selling professionals, globally procured buyers, and an experienced customer service team providing 100% personal attention to our clientele. Dover Jewelry's proven reputation in the Fine Jewelry & Luxury Watch Resale Market has achieved the highest prices for our consignors with a low consignment fee. For assistance consigning or selling jewelry estates, contact your personal concierge to discuss your unique possibilities.