Published May 22, 2014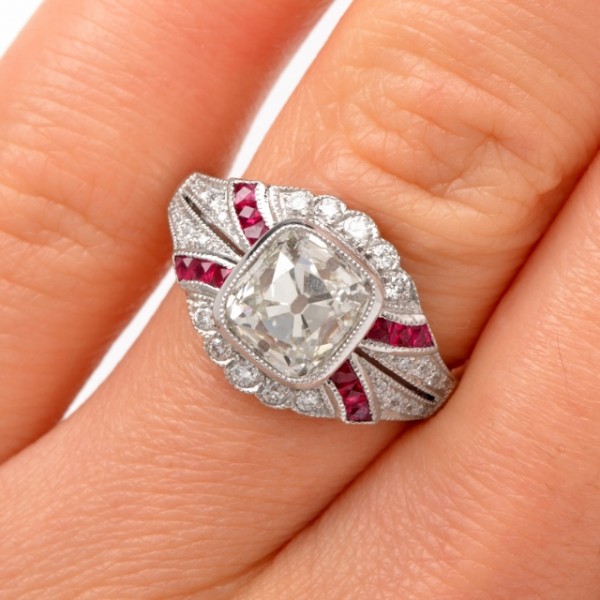 Ruby wedding rings set with diamonds have been a popular wedding jewelry choice for many members of historic and legendary Royal families around the world. Ruby Wedding Rings are treasured for their outstanding durability, high degree of brilliance and alluring rarity.
Moreover, Rubies have always been the gemstone of intense passion, and believed to permeate the guidance, knowledge, and the ability to make the right decisions….like getting married. A magnificent example of the link between Rubies and Royalty is the antique wedding jewelry Ruby ring that was given to Queen Victoria by her half-sister Feodora, Princess Hohenlohe-Langenburg in 1840, at the time of her marriage to Prince Albert, featuring an alluring medium-dark red stone.
Ruby Wedding Rings with Diamonds
Rubies and diamonds have been a perfect match for ages. Adding to their powerful and striking beauty, ruby wedding rings with diamonds create a unique sparkling effect that combines brilliance and color and can be featured in interesting shapes, like hearts and flowers.
In fact, Queen Mary of Austria selected a heart-shaped ruby ring for her wedding in 1893, a gift from her father-in-law, the Prince of Wales, who later became King Edward VII.
Rubies and Redheads – Also a perfect match
A Ruby wedding ring was also the choice of gemstone for the Duchess of York – Sarah Ferguson. Sarah became engaged to Prince Andrew, later to become the Duke of York, in March 1986. There's a saying that read heads need to have red stones to balance their temper.
The Duchess of York's alluring Ruby wedding ring was designed by Andrew and it comprises a central ruby surrounded by diamonds and set in the shape of a rose, being roses her favorite flower. The ruby ring has similarities to that of another royal ruby engagement ring, worn by Princess Margaret in that both rings have a central ruby stone surrounded by diamonds.
Princess Diana's choice for her engagement ring
The most famous Royal Ring of recent times is, of course, Princess Diana's Ruby Wedding Ring. However, this is a blue sapphire ring, not a ruby. Sapphires and rubies come from the same mineral; it is only the color that really separates them. So it could be argued that to some extent at least, Diana was following in the Royal tradition.This ring was later given by Prince William to Kate Middleton as an engagement ring.
As you can see, Ruby is not only a stone of nobility, but ruby engagement rings also stand for love, energy, passion and powerful feelings.