Published March 31, 2020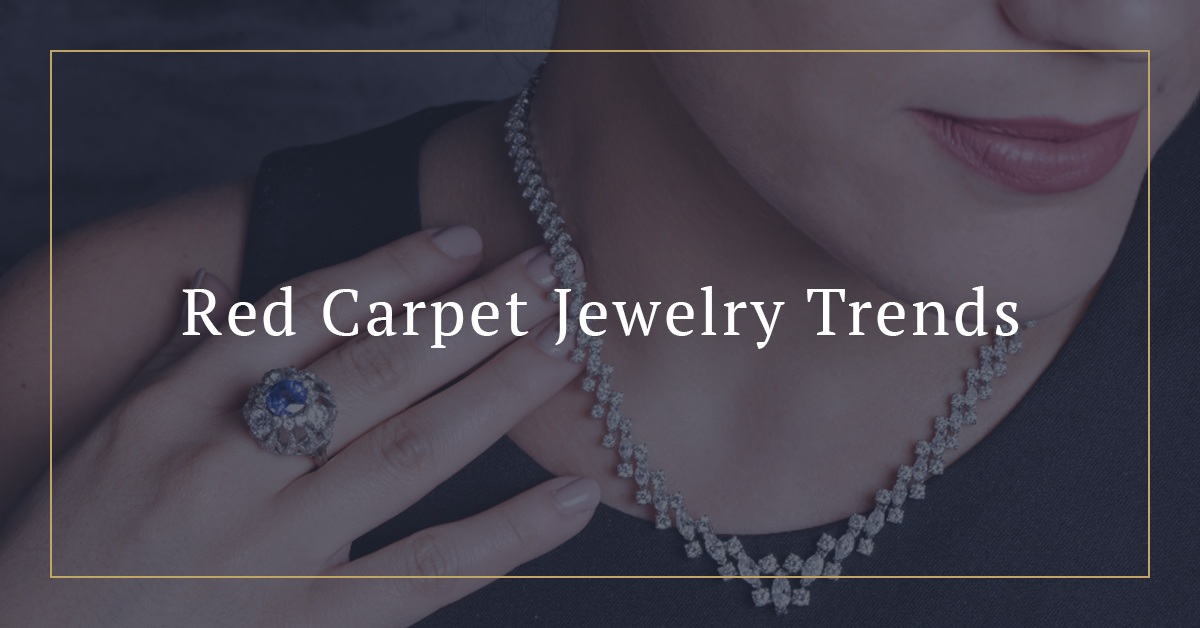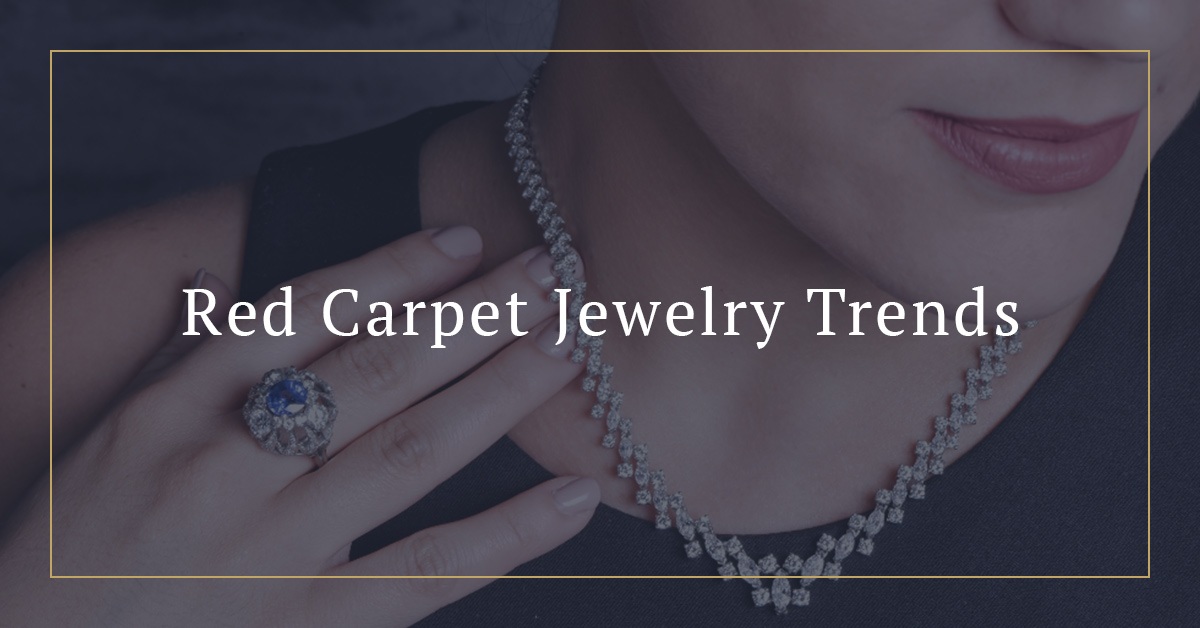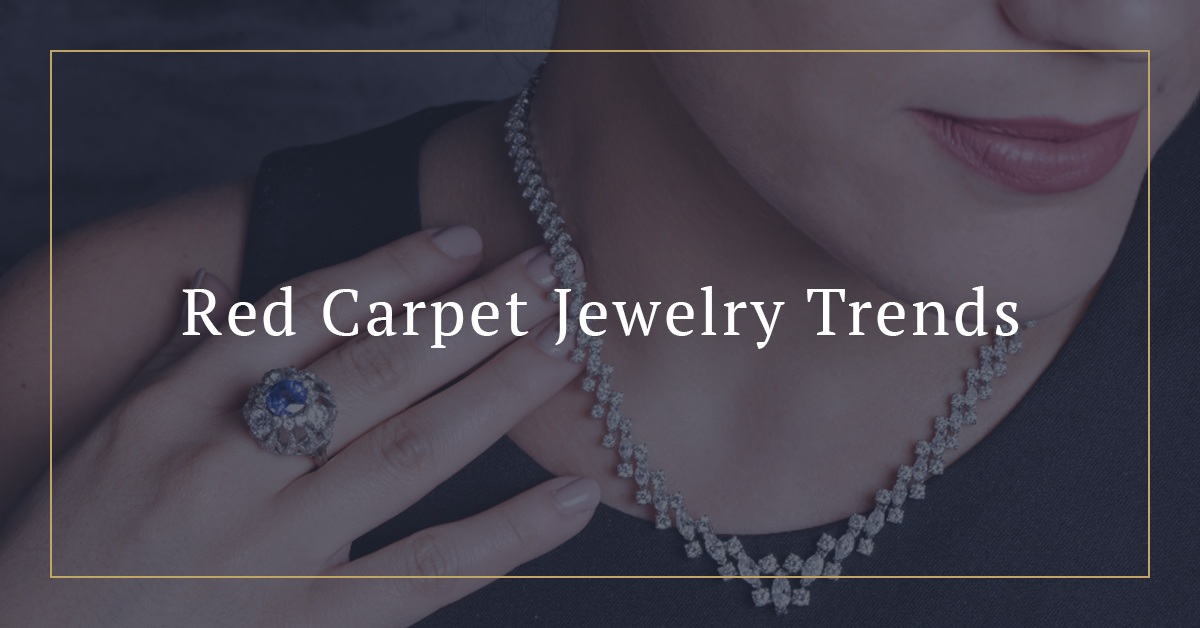 As the world looks forward to a new decade, jewelry trends are looking back at the Roaring '20s for inspiration. The glam, art deco styles of the age of flappers and speakeasies are getting a 21st-century makeover and making their mark as contenders for the best red carpet jewelry.
From diamonds to colorful gemstones, old is new again with both vintage and vintage-inspired accessories set to steal the show as one of the biggest red carpet jewelry trends of 2020.

1. Colored Stones
In the 1920s, jewelry got as bold as the women, with a rise in gemstones. The '20s also ushered in a new trend of mixing gems, something that celebrity jewelry trends seem to mimic this year.
From stunning sapphires to elegant emeralds, celebrities like Cynthia Erivo and Jennifer Lopez seemed to redefine the future of award show jewelry from traditional diamonds to an eclectic array of precious gemstones. Earrings and necklaces kicked off the celebrity jewelry trends this year with many opting to say, "less is more," with statement necklaces or earrings.

Award season begins with the Golden Globes, and that's where the celebrity jewelry trends of 2020 made their debut. Skipping traditional solitaire gemstone jewelry, multi-stone chokers and rings were lighting up the red carpet with delicate topaz, tourmalines and garnets.
Later, at the Academy Awards, colorful gemstones once again showed the world they are the latest jewelry trend for red carpets, this time joining diamonds — a red carpet veteran — to bring a little pizazz. Salma Hayek went another way by giving new life to pearls with a Greek-goddess-inspired headpiece of pearls and white gold with matching earrings.
Another throwback to the Roaring '20s is the statement brooch, which was a popular accessory for some of the men on the red carpet, like Timothee Chalamet, who jazzed up his Oscar look with a vintage diamond and ruby Cartier Tradition brooch from 1955.

2. Drop Diamond Pendants
There's a reason they say diamonds are forever — because they never go out of style. Similar to the red carpet jewelry trends of 2019, this year saw diamonds that prove they really are timeless, with classic diamond pendants mingling with more avant-garde creations.
The Grammy Awards saw some of the award-winning musicians donning diamond necklaces ahead of the show. That's no surprise since diamond pendants tend to be foolproof when it comes to accessorizing since they really are forever and they never go out of style.
As fashion trends change, diamond pendants remain static and have the ability to match the fashion of any decade. Plus, you can easily dress them up or down, making them ideal for casual and dressy events alike. It's no surprise, then, that diamonds are a favorite on the red carpet.
Yvonne Strahovski's had the unending appeal of diamonds in mind when she donned a Harry Kotlar diamond necklace with a giant, blinding diamond pendant hanging off its end at the 2020 Screen Actors Guild Awards. Totaling 182 carats, the simplicity of the necklace doesn't take away from its appeal.
But not everyone enjoys perpetual simplicity when it comes to their award show jewelry, as celebrities like Gal Gadot and Charlize Theron revealed. Both sported a variation of the traditional solitaire diamond necklace with some personal accents: Gadot's was adorned with a diamond choker that boasted a central oval diamond pendant and Theron's marquise solitare central diamond was guided by 165 additional stones.
3. Dripping Diamond Earrings
Necklaces aren't for everyone, and some prefer to show off some personality with earrings instead. Like diamond necklaces, diamond earrings are a timeless red carpet jewelry trend that can be dressed up or down as needed. Long diamond drop earrings were particularly popular this award season, with celebrities like Alessandra Ambrosio and Jennifer Aniston opting to use dripping diamond earrings to complement their looks.

Aniston kept true to her personal style at the SAG Awards, with platinum and diamond earrings, while Ambrosio chose a pair of large, chunky geometric diamond earrings to match her asymmetrical dress at the Grammy Awards.
Best actress nominee Saoirse Ronan kept it classy with chandelier earrings of diamonds and spinels. The star of "Little Women" showed off a little personality with a delicate tsavorite and diamond brooch in the shape of a bee nestled in her hair.

Dangling earrings may not be as causal as studs, but this season also saw a trend in dressing down diamonds in order to dress up outfits. The addition of pearls and other colored gemstones allow diamonds to seem more approachable without losing any of their exclusivity. Mismatched earrings also further revitalize traditional diamond jewelry, allowing celebrities to dress creatively and have fun without fear of ending up of any "Worst Dressed" lists.
The addition of precious gemstones to drip diamond earrings takes diamonds to another level while inviting pop of color, as does giving up matching necklaces in favor of hair accessories, like Scarlett Johannson at the Oscars red carpet or Michelle Williams on the SAG Awards red carpet.
Take Part in Red Carpet Trends With Dover Jewelry
You may not be headed to the red carpet, but you can feel like you are with pieces from our ever-evolving selection of fine and antique jewelry sourced from around the world. Whether you're in search of the perfect jewelry accessory, just looking to jazz up your style or want to know how much your own collection is worth, we offer unique and rare jewelry and appraisal services.
With a global reach and a staff of professional jewelry appraisers and certified gemologists, we set ourselves apart by the value of our jewelry and timepieces, which span multiple eras, including Victorian, art nouveau and vintage retro. Plus, we also offer free shipping.
Contact us online or by calling 1.877.777.6111, or browse our selection online.