Published June 7, 2023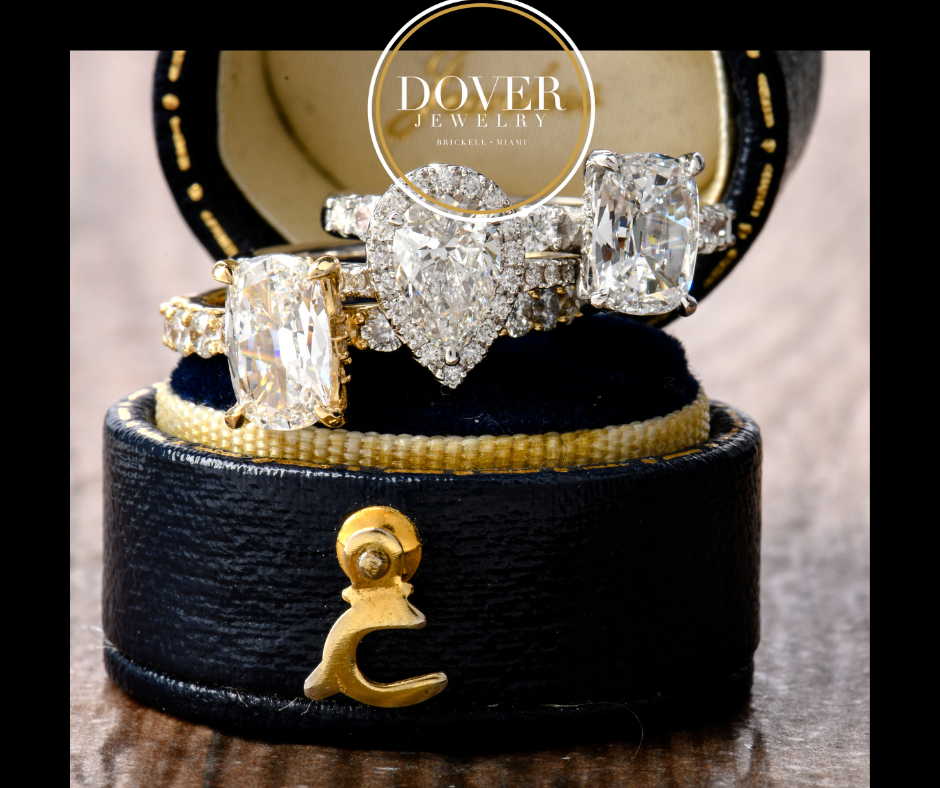 Re-Purposing an Heirloom Ring
Something Old, Something New…Getting Engaged?
Don't like the look of your existing engagement ring? Re-purposing an heirloom ring is much easier than you may have thought.
If you are like many of us, you may have a piece of family jewelry that has been sitting in your jewelry box for years. Perhaps it was a gift from a special aunt or another relative – or perhaps it was left to you by your mother or grandmother, and it has special meaning. Perhaps you are getting married soon and would like to make use of this sentimental ring as part of your engagement ring, but the style is outdated and not to your taste.
What can you do?
Dover Jewelry & Diamonds to the rescue! We can update the look and style of an old-fashioned ring by changing your heirloom ring design to make it come alive again. No doubt when the ring was first worn, fashions were very different. Ring styles change with the decades too, so instead of selling or consigning a special ring or hiding it away again, why not let us re-style it for you?
Re-purposing jewelry is a wonderful way to remember the original owner of you ring and honor him or her by having it made into an engagement ring. You will keep the connection with the former wearer alive as your own marriage and future unfolds in front of you.
Giving An Old Ring A New Lease on Life and customizing and old engagement ring
The first step is to research the particular design you want. Look online and see what catches your eye. Doverjewelry.com has rings galore in a variety of different styles. What looks good to you? Do you like the look of a solitaire? Perhaps a three-stone? Would you like to add other colored gemstones, or more diamonds? What about the precious metal? Do you like yellow or white gold – or maybe rose gold? Platinum? Do you prefer a classic or romantic Victorian vibe or something more contemporary? These are questions you will want to ask yourself before you consult with us.
As we work with you to create a new ring, we'll advise you to focus on the larger, more valuable stones and work the new piece around it. In some instances, we can also re-set smaller diamonds – sometimes even pave diamonds – or other small gemstones. If it is not possible to re-purpose the smaller stones, remember that you will be looking for a wedding band or stack band, so given their condition it may even be possible to create TWO rings out of one.
Many couples like to work with the larger stone in the original ring and re-set it with two more modern side stones in a contemporary setting.
Bracelets, Earrings & Pendants Can Also be Re-Vamped
It's not only a ring that can be modernized, of course. Dover can work wonders with heirloom bracelets, old-fashioned earrings and out-of-date pendants. Our master jewelers will take the piece apart, evaluate its condition and help you match with other stones and precious metals so that you can have the engagement ring of your dreams.
Obviously, the condition of the original piece will be paramount, and you will have to choose the precious metal you want. Any damaged stones, chips or cracks will mean the gemstones cannot be used in a new ring. Diamonds can withstand just about any wear and tear, so they are easier to work with than emerald, for example, which has a 7.5 or 8 rating on the Mohs Hardness Scale, compared with a diamond at a rating of 10. If the ring has a lot of small stones, it may not be worth the time and money to place them in an updated ring.
Before repurposing your ring, it's recommended to consult with a professional jeweler who can assess the materials, and gemstones, and offer expert guidance on the best options for repurposing based on your specific ring. They can provide you with design ideas and ensure that the transformation is done skillfully.
Dover Jewelry and Diamonds specializes in re-styling outdated rings to make them come alive again.
We look forward to helping you create something new from something old!
Contact Dover – Dover Jewelry & Diamonds at 1000 Brickell Ave Suite 100 Miami, FL 33131 1.877.777.6111 | contact@doverjewelry.com