Published March 31, 2014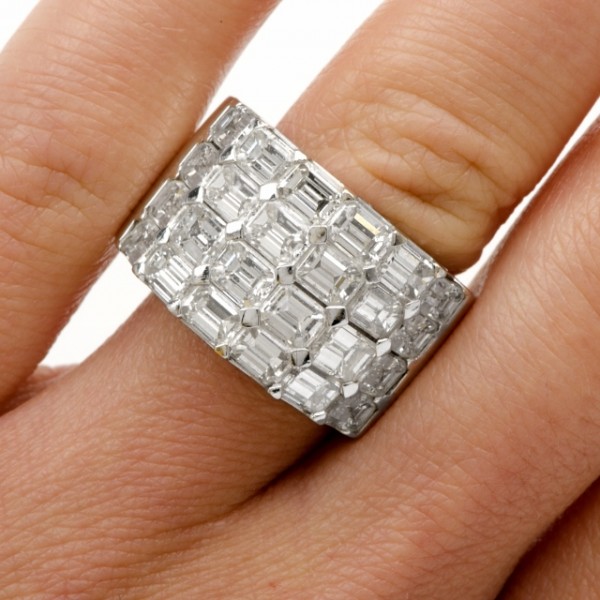 From Gatsby-inspired wedding gowns to parties and receptions decorated with antique furniture and lit with crystal chandeliers, vintage rings are the perfect complement for weddings everywhere. Brides want a ring that lasts as long as the love they symbolize, reason why platinum is also becoming a very sought-after material when looking for the most gorgeous vintage diamond rings.
Vintage style represents an artistic era beginning in the 1920's, a time of groundbreaking innovation in design and style that also encompasses vintage jewelry. Vintage rings often include intricate detail aspects; anything from scrollwork and milgrain details to filigree or geometric Art Deco touches, which makes them unique and very coveted. And platinum is incredibly dense and durable – but also malleable and ductile – which means platinum rings can feature unique intricacies that will stand up to daily wear for years to come.
Brides always have diamonds as their favorite stone for their engagement rings, but vintage rings from the past often featured colored gemstones that fit perfectly with the design. So you can be sure that a vintage ring featuring either white diamonds or colored gemstones is both very trendy and incredibly meaningful.
Platinum has some very special characteristics that makes it perfect for an engagement ring expected to gracefully endure through time. Platinum is a naturally white metal and will never fade or change color. While white gold will yellow over time, requiring its rhodium plating to be replaced every 12-18 months to maintain a white appearance, platinum jewelry will always last 20 to 30 years with no special care requirements. Moreover, it's not uncommon to for platinum pieces to last 75 to 100 years, reason why platinum is sometimes called the miracle metalAlso, the optimal setting for diamonds is platinum, a naturally white metal that won't ever reflect color into the diamond. Platinum enhances the brilliance of diamonds and other gemstones. Consider the magnificent contrast that platinum and gemstones create. This classically elegant estate ring is crafted in solid platinum and showcases an enchanting natural Ceylon sapphire. Simply stunning.
In addition, platinum is the perfect metal to add a little sophistication to your jewelry collection. Its rarity is related to exclusivity and wealth and it's considered more of an investment than ever before. Platinum is 30 times rarer than gold, which is itself already much rarer than any other precious metal. The amount of places on earth that successfully mine this metal is extremely limited, reason why platinum pieces are not seen as often as gold or silver pieces.
If you are considering platinum as the perfect metal for vintage rings in your wedding, look into our great assortment of pieces and pick the one that best relates to you.