Published February 28, 2021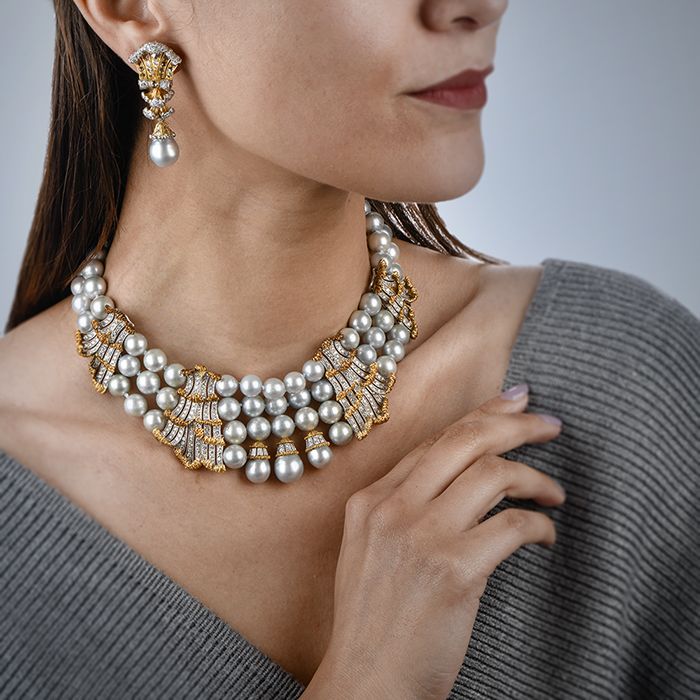 "A woman needs ropes and ropes of pearls" – Coco Chanel
Lustrous History 
What is it about a pearl that is so endlessly fascinating? 
From ancient India to China to Ancient Rome, pearls have mesmerized us for thousands of years and were long considered the most highly prized precious stone of all. 
Roman ladies in the 5th century upholstered their couches with pearls. Caligula wore slippers made of pearls, and as he became increasingly insane, he also dressed his horse in them. Cleopatra made a bet with Mark Anthony that she could give the most expensive dinner in history; she drank a glass of wine which contained a crushed pearl earring – the largest in history and worth well over 13 million dollars in today's money – as proof of the unrivaled wealth of Egypt. She won the bet. 
A few words here about the different types of pearls and how they are formed: 
Natural  
Only one in approximately 10,000 wild oysters produce a true natural pearl, and of those very few are big enough for the jewelry industry, so natural pearls are increasingly rare and therefore extremely expensive. 
Pearls are formed as a natural secretion in response to a grain of sand, possibly, or a small stone, which irritates the shellfish into producing a smooth, hard, crystalline substance called 'nacre' eventually resulting in a pearl.  Because of the rarity of natural pearls, they were prohibitively expensive to all but the ultra- wealthy. In 1692, the Duke of Saxony prohibited commoners from wearing them and restricted them to members of the royal family and the nobility only.
Cultured
Cultured pearls result from the artificial process of inserting an irritant into a mollusk and harvesting the resulting pearl. Modern cultured pearl production was developed in 1895 by the Mikimoto family, and the original Japanese cultured pearls were produced by a small oyster called the Akoya in saltwater, rarely producing pearls larger than 10mm, so large, original Akoya pearls are very expensive. Today, Akoya pearls are harvested in quantity, which has made them more affordable.
Freshwater 
Freshwater pearls are produced in oysters that live in lakes or ponds. They are not as round as saltwater pearls, so they are less expensive. You will find these readily available and most often used by jewelry designers.
South Sea Cultured Pearls
South Sea pearls are generally white, silver or golden in color and they are harvested in Australia, Indonesia and the Philippines. They are relatively large due to their thick 'nacre' and long growth period because they lack the best-growing conditions in which they can thrive.
Tahitian 
Tahitian pearls come in a variety of more exotic colors such as black, green, grey and silver and are cultured in saltwater around the islands of French Polynesia. They cost more than freshwater or Akoya pearls because of their extraordinary coloration.
The most common color for natural pearls is white although they can come in many shades of ivory, cream, pink, silver, lilac, black and gold. Many "black" or Tahitian pearls are actually darker shades of grey, like the ones famously worn by Mary Queen of Scots, although newer cultured pearls can be very dark black.  Some pearls show a type of iridescence which is called 'orient.'
We offer a lustrous 20-inch Tahitian pearl necklace that features 37 large pearls and a diamond-encrusted gold ball clasp.  
Here also is an estate Tahitian pearl orchid flower brooch, recently reduced in price.
Fashion & Gift Mainstay 
Pearls have long been a fashion mainstay. Edwardian era ladies wore waist length pearls; in Victorian times they wore pearl chokers, and Roaring Twenties Art Deco era girls famously twirled long pearl necklaces as they danced in their scandalously short flapper dresses.  Here is an art deco diamond and pearl brooch dating back to the flapper era.  
Your mother and grandmother no doubt owned a classic single strand pearl necklace. Today they still make perfect bridesmaids' gifts and gifts to pamper yourself or for special friends. Pearls make spectacular fashion necklaces and rings. We carry several pieces that will never look out of style when worn with a little black dress. 
Investment 
As investment pieces, they are also an excellent choice. For example, our exceptional Buccellati designed blue-grey cultured pearl and gold choker necklace also comes with matching earrings.
This exquisite pearl and diamond cocktail ring is a vintage beauty featuring a soft white 13.5mm pearl wrapped with 25 marquise diamonds and a tapered ribbon of baguette-cut diamonds. 
Pearls can be both classic and ultra- contemporary. In recent years they have become a top fashion trend; leading design houses such as Gucci and Alexander McQueen have shown pearls on the runway draped in multiples as chokers, threaded with oversized crosses and multi-colored brooches, even slung over earrings and sneakers, proving once and for all how endlessly versatile and chic the simple pearl can be. Chanel, of course, has shown them for years. 
If you want to know what shade of pearl will suit you best, choose pink or white pearls if you have a fair complexion and cream or gold-colored pearls if you have a darker skin tone. 
Pearls have been admired, revered and coveted for many thousands of years for their simple and sublime beauty. Unlike other precious stones, they do not need to be cut or shaped. They are uniquely perfect the way they are. 
Dover Jewelry & Diamonds has an unsurpassed selection of vintage, antique and estate pearl jewelry you will want to wear for their sheer glamor and allure – or collect for their lasting quality and investment value.