Published October 5, 2019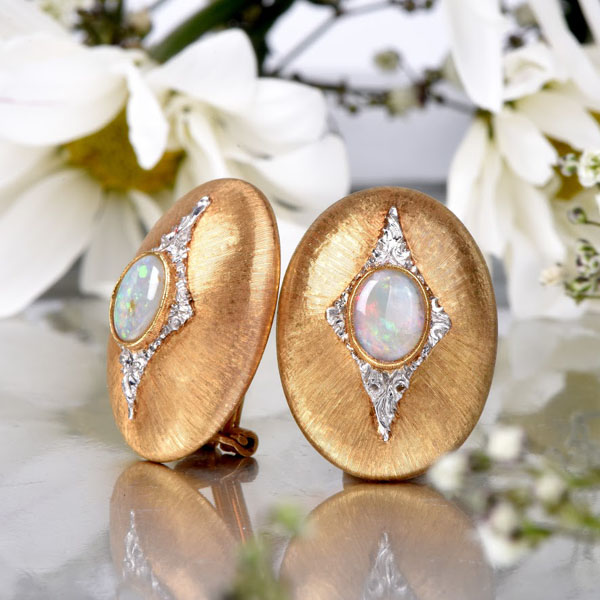 Opal: A Gemstone with Multiple Elements
And so October arrives with purpose primed in taunts of gutsy wind. But the gift she brings to women who love beauty is the opal. Shades of pastel blended into a radiant stone is the prize.
The admiration of Opals or Opalus, the Latin word that best describes this 'stone from several elements' spread through time, was extolled by poets and even compared to such bursting marvels as volcanoes and galaxies. 
Superlative opals have been called the light of the world. But where was this mysterious stone discovered, in the nineteenth century, 1849. However it's beauty did not find recognition until 1905 through the skilled stone cutters of Idar Oberstein a German manufacturer. The popularity of the opal zoomed into prominence in the decorative  years of Art Nouveau and Art Deco.
Origins & Provenance
Today the opals of our time are to be discovered from Australia to Nevada with Brazil, Mexico and Czechoslovakia in between. It is an expensive and delicate stone requiring expertise and caution before its final setting. The background color seems to determine the material value, some buyers prefer a black background since the profusion of colors shows most distinctively against a black screen. A favorite legend of the origin of opals is that when the creator came to earth on a rainbow bearing the blessing of peace to all who dwelled there, all existing stones beneath his descending feet sparkled with a celestial radiance. And this was the birth of opals.
Opal Color Varieties
Opal's go from black to white thus estimating their desirability. Actually opals can be likened to paintings so individual are their markings. In those stones with a black background, called black opals, blue and green are the reigning colors although should they eclipse the other colors to too great a degree, the value is lessened. Other colors of even more regard are the red and gold, again with other blending colors. The colors should be seen in sections called zones or patches.
Caring for your Opal Pieces
Opals are among the most delicate gemstones used in jewelry items and therefore require special care.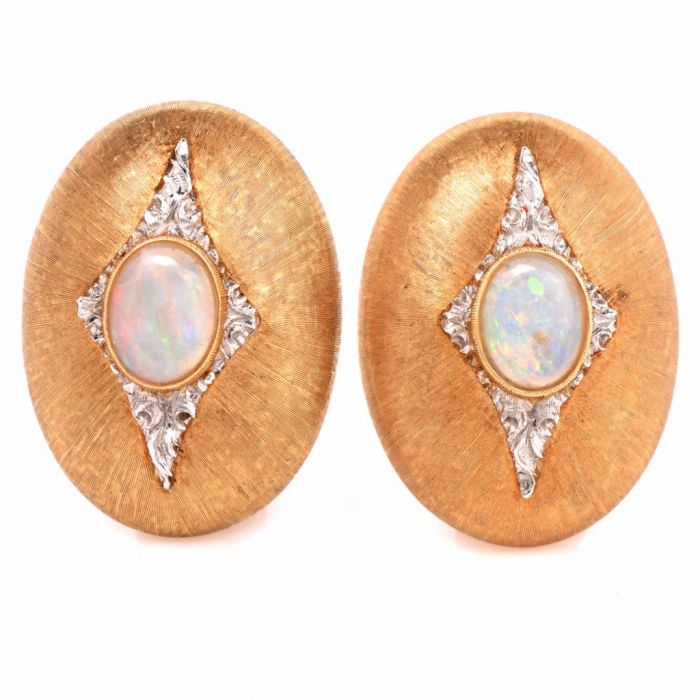 Opals require loving care
They are known as one of the delicate gemstones
Do not keep your opals in dry places
To clean use a gentle detergent, warm water and a soft brush or cloth
Never clean your opals in an ultrasound cleaner
Opals are safer when made into pendants, brooches or earrings
If your preference is an opal ring, choose a bezel setting, for protection
If your opal jewelry must be stored, choose a plastic bag with moistened cotton covering them
Our selection of exquisite jewelry includes opals of many sizes, colors and designs. An important addition to our collection includes… Buccellati earrings. 
Celebrating 100 Years of Buccellati
In honor of the 100 year celebration of Buccellati, Dover Jewelry and Diamonds is proud to showcase one of its Moonstone Buccellati designs as a part of this months Promotional Celebration! Our tribute to this sensational designer heralds our appreciation for the everlasting love and acquisition of beauty. 
The jewels of Mario Buccellati, are flamboyant and unique, lasting in the limelight of artistry for a hundred years. Dover Jewelry has caught the flame, the dynamic energy of the Buccellati design and proudly displays one of a kind examples of Buccellati inspiration. The love of unrestrained creativity has filtered through successive generations of this family expressed in the soul of young Cianmaria who at eleven brought his first endeavor a somewhat modern gold ring for his father's inspection.
Similarly,  Sotheby's is also Celebrating 100 Years of Buccellati with an outstanding auction collection of prized selections, many of which demonstrate the intricate expertise as found in Dover Jewelry's Buccellati collection, as well.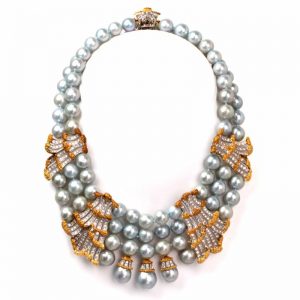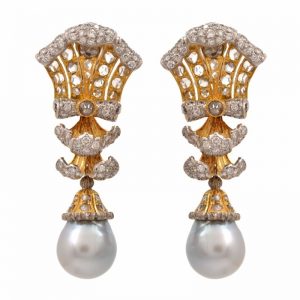 Through a century of bouncing fashion crazes and trends the Buccellati ingenuity, freedom of expression and innovative design has been celebrated. Cianmaria's  elaborate and daring use of uncut stones together with cut stones, unusual choices of lesser-known stones with diamonds and rubies coupled with his love of green and blue have been his declaration of singularity.
Welcome to Dover, come and peruse your choices. Do not hesitate to ask our team of expert gemologists as you discover the unique pieces available at our online store.