Published August 4, 2021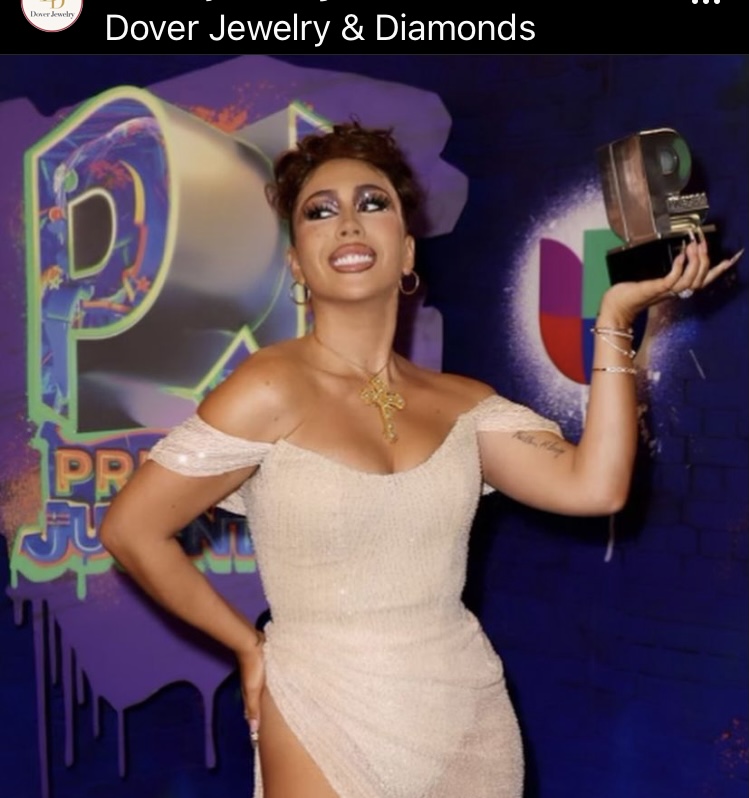 The Latin Look Dazzles at 2021 Premios Juventud as Kali Uchis Wears Dover
Miami's Music
Miami is all about Latin flair – and the city nurtures much of the best in today's Latin music.
Think of Gloria Estefan, Ricky Martin, Enrique Iglesias, Pitbull, Camila Cabello, Jason Derulo, Flo Rida, DJ Khaled and Iggy Azalea.  And of course, in a category all her own, the extraordinary JLo.
These are but a few of the cross-over Latin superstars who have made it big in the music industry. Miami is at the center of Latin music; it is where you'll find the best Latin producers, musicians and studios in the US. Latin music, fashion and style have converged over the years in our city, making it the hub for a new generation of talented artists to emerge.
2021 Premios Juventud
The 2021 Premios Juventud, held recently at the Watsco Center in Miami, featured top young Latin performers and was broadcast live on Univision. It is an exciting and vibrant awards ceremony which was developed to inspire and empower young Latin youth to become leaders for change in their communities. Artists are recognized for their contributions in pop culture, music, digital, fashion, television and social media.
Columbian American singer Kali Uchis performed her latest hit single "Telepatía." At this year's show.  She was nominated for no less than three Premios Juventud. She is up for La Nueva Generación – Femenina, Girl Power for her and Rico Nasty's son "Aqui yo Mando" and El Más Trendy.
Kali's star has been on the rise since her debut in the music industry. Last year, she released her second album and her first Spanish language LP, Sin Miedo (del Amor y Otros Demonios). Earlier this year, she won a GRAMMY for Best Dance Recording for her collaboration with Kaytranada "10%." "Telepatía," meanwhile, became Uchis' first solo charting hit on the US Billboard Hot 100. Uchis joined a long list of performers at Premios Juventud including Ricky Martin, Natti Natasha and CNCO.
Kali Wears Dover
Kali's signature style is glittering, dramatic and sexy, showing off her curvaceous figure.  At the awards event, she wore a sparkling gold bodysuit, draped with a sheer, floor-length overdress, dramatized by one of Dover Jewelry's special pieces – an antique turquoise large cross fleur de lis pendant necklace, set in 22 k yellow gold, which was the perfect addition to her shimmering outfit.
This exquisite necklace features 10 cabochon turquoise gemstones and has a carved image of a Madonna and child in its center.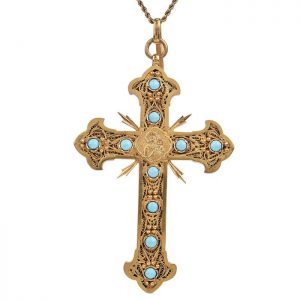 Latin fashion designers have been hugely influential over the years, from fashion royalty such as Balenciaga, Carolina Herrera, Adolfo, Oscar De La Renta, Manolo Blahnik and Isabel Toledo to newbies on the fashion scene such as Camila Coelho, Gabriela Hearst, Johanna Ortiz, Julie Sarinana, Diandra Marizet, Sai De Silva and Natalie Lim Suarez, who have given us a fresh take on Latin style in creative, elegant, colorful and dramatic new ways.
At Dover Jewelry & Diamonds we salute Latin designers, singers and artists of all kinds – and are proud of our association with Kali and other Latin artists. We carry a vast collection of antique, vintage and contemporary jewelry, from one-of-a-kind engagement rings to high fashion statement pieces at our flagship Vintage & Estate Jewelry store in Miami.  We have the perfect jewelry to accessorize your look and bring it to life.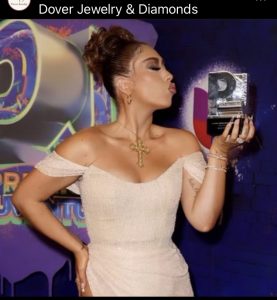 We congratulate Kali and look forward to complementing the outfits worn by many Latin stars to come.