Published April 29, 2023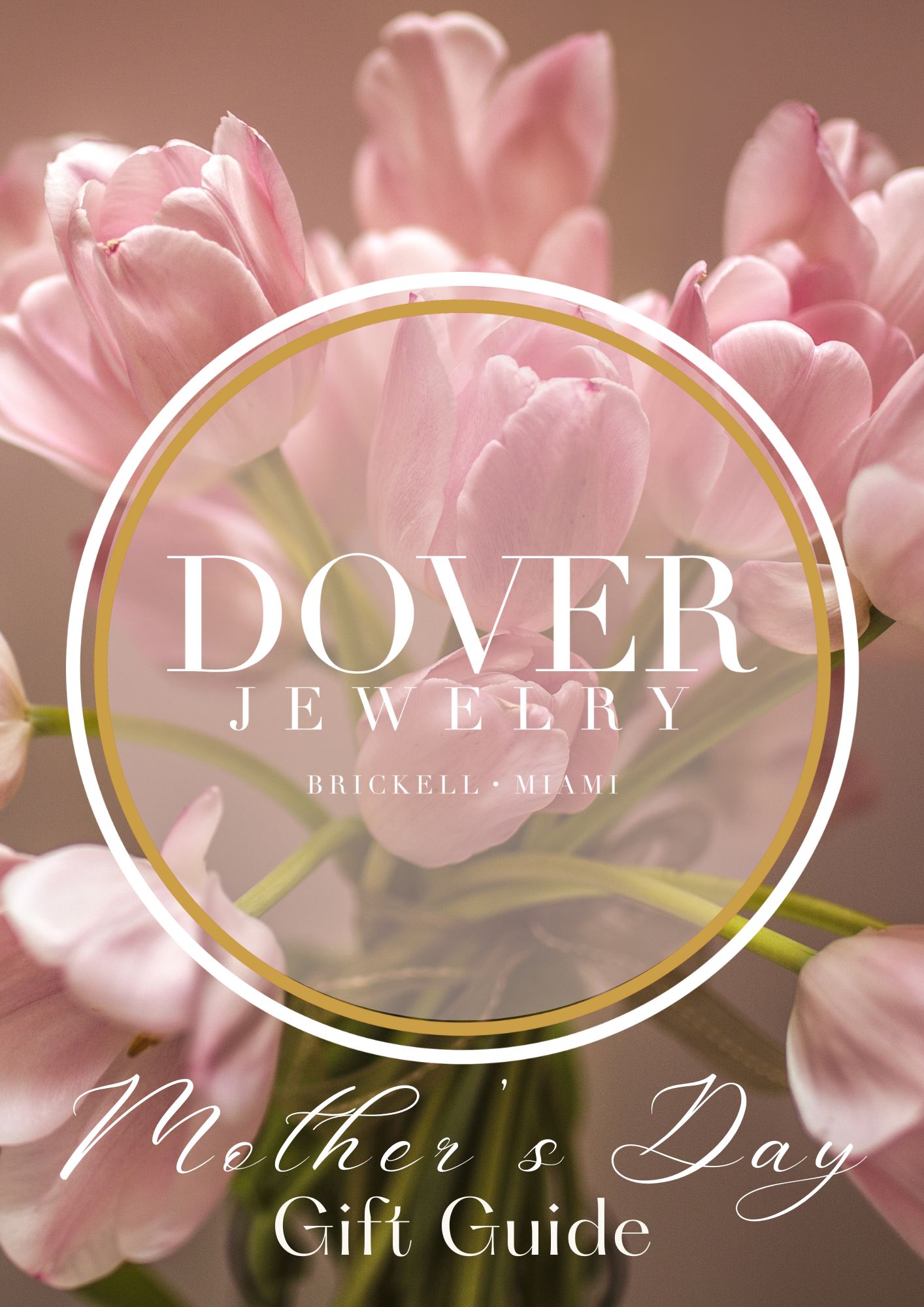 Sunday May 14th is coming up fast! View Dover Jewelry's Mother's Day Gift Guide
What better time to start thinking about a special gift for your mother or wife? She's been the mainstay of your family, providing love, guidance and support, while nurturing you or your children, shaping the lives and personalities of all those around her with endless care and love. She has been a constant support system for the entire family.
She's simply irreplaceable.
Mother's Day is the perfect time to show your appreciation for mom – and a piece of carefully chosen Diamond Jewelry conveys your gratitude and love. Before you decide what to buy, though, Dover recommends you think about her personal style and preferences. Does she like simple, classic, timeless jewelry? Cutting edge more her style? Somewhere in between? What type of jewelry does she wear every day – and what precious metals does she prefer? Some women like white gold or platinum, others go for yellow or rose gold, or even a mixture of colored precious metals. Is this to be jewelry to be worn every day, or only on special occasions?
Dover has some great suggestions for you:
Birthstone Jewelry
When is her birthday? Birthstone jewelry is always a thoughtful gift. It's personalized and meaningful, even if her birthday isn't in May. Birthstone jewelry can be simple or bold, depending on her style. Choose a ring, necklace or bracelet with her birthstone and she'll treasure it all her life.
Here is a list of all birthstones by month, with some of the stunning pieces Dover has in stock for you to consider:
These are a pair of vintage Piaget earrings featuring two heart-shaped deep red garnets. Your love for her will speak for itself every time she wears them.
She'll adore this stunning vintage retro pendant necklace. It is a fine-quality large amethyst surrounded by diamonds. Just perfect to wear when you take her out for a special Mother's Day dinner or Brunch.
A dazzling aquamarine pendant is next on our list. It also features sapphires and diamonds on a white gold chain drop necklace.
There are so many diamond options to choose from for her April birthday. Dover specializes in diamonds, so we have suggestions galore! This Diamonds By The Yard choker necklace is a perfect choice. It's versatile, beautiful, and with an updated look.
A white gold diamond and emerald link bracelet is on our list for May. A truly spectacular piece.
Alexandrite is a deep purple gemstone, and this superb cocktail ring features a rare oval 3.29 carat weight Alexandrite surrounded by diamonds.
Perhaps your mom likes vintage pins – or maybe she collects them. Here is a lovely flower bouquet ruby and diamond pin in yellow gold.
August's birthstone is peridot, a bold, deep green gemstone. This peridot and diamond cocktail ring is a marvelous choice for her.
Here's a thoughtful gift for moms born in September. It's an estate square-cut sapphire tennis bracelet.
If your mom likes Art Nouveau style collectible jewelry, she'll treasure this 1940s vintage opal and emerald bangle bracelet.
For November moms we have a 3.44 carat weight imperial topaz cocktail ring with diamond embellishments.
Your mother will not be able to resist these elegant H. Stern blue topaz dangle earrings. They can be worn during the day as simple stud earrings, or she can attach the drop topaz stones for a dramatic evening look.
If, for any reason, you've found out that she doesn't like her birthstone, don't worry. We have many more suggestions for you. Simple yet elegant everyday Diamond Jewelry is the Perfect Compliment to her daily wardrobe and the best Gift a Lady could have.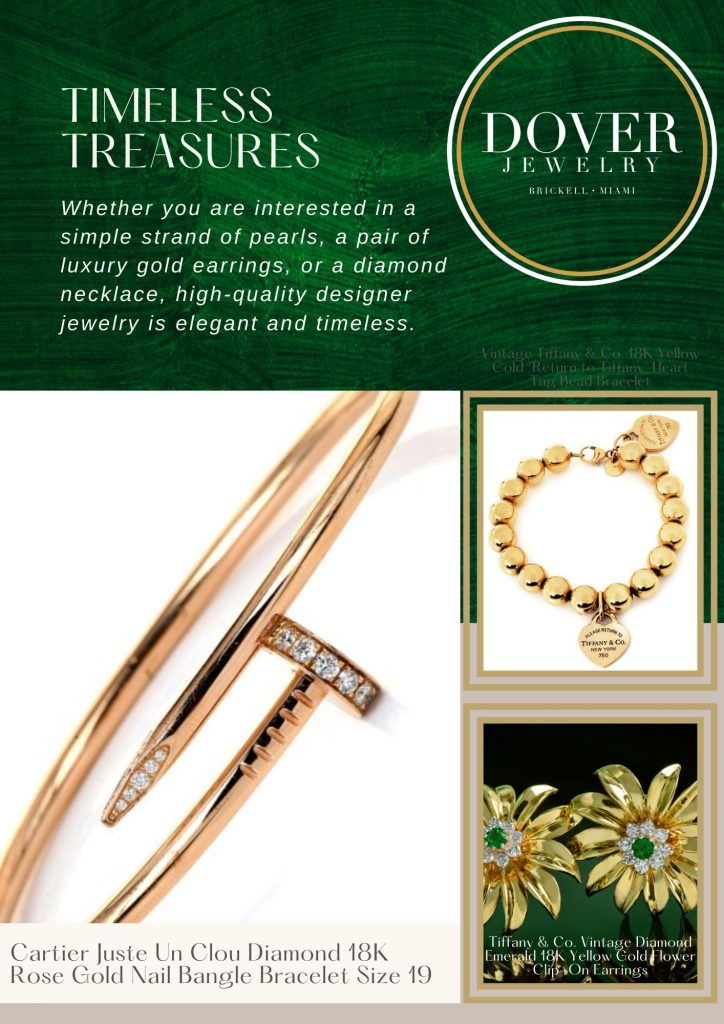 Why not consider stud earrings? They are simple yet endlessly elegant. They work just as well during the day as at night for a special evening out. We think your mom will love these.
Plain… Diamond Studs
…or pearl studs
Stud earrings are always a welcome gift.
The tennis bracelet has been a jewelry staple for decades. Does she have one yet? If not, now is your chance to get her what she's always wanted. We carry a huge selection of beautiful tennis
bracelets in both yellow and white gold. You're sure to find the perfect one for her at a variety of different price points:
1.71 carat Diamond Tennis Bracelet
14.79 carat Diamond Tennis Bracelet
Does she often wear necklaces? Pendant necklaces can dazzle any outfit. They come in many different designs and styles and are as versatile as they are beautiful. Dover carries a great selection of modern, more casual pieces, as well as glittering, night out collectible and vintage pendant necklaces that will take her breath away.
For the coolest of cool moms who can wear jeans and a T-shirt with endless style, here is a Carrera Y Carrera gold medallion safety pin pendant. Parent teacher meetings will never be the same. https://www.doverjewelry.com/carrera-y-carrera-diamond-18k-gold-medallion-safety-pin-pendant-necklace.html
This is for the mom who likes a bit of pizzazz. It's a modern-style diamond and pearl long-strand pendant.
Aww… this Chopard Happy Diamond pendant necklace tells her how much you love her.
And this Art Deco style diamond and emerald platinum butterfly pendant is for the mom who loves the vintage look.
A pretty timepiece makes a lovely gift. And it's all the more welcome if it's a collectible piece. Dover currently has an extraordinary collection of ladies' watches available. Patek Phillipe
makes arguably the finest watches in the world, and we are lucky to have this classic, vintage yellow gold Patek Phillipe Calatrava in stock right now. It represents elegance personified.
Here is another vintage beauty, this time from Piaget. It is a 1990s Piaget yellow gold and diamond dial, bezel with a black leather strap. 
From Audemars Piquet comes this diamond studded vintage 18k yellow gold cocktail watch.
If she goes for the more unusual, why not buy her this one? It's a 1980s Girard Perregaux brand inversed oval, wave bracelet watch. She's probably never seen anything like it.
This is the iconic Bvlgari Serpenti watch. The first one was worn by Elizabeth Taylor on the set of Cleopatra -and it has been a sought-after collectible ever since.
Finally, here is a unique-looking covered Diamond Omega Watch. Wear it as a bracelet or open up the diamond-studded clasps to reveal a watch.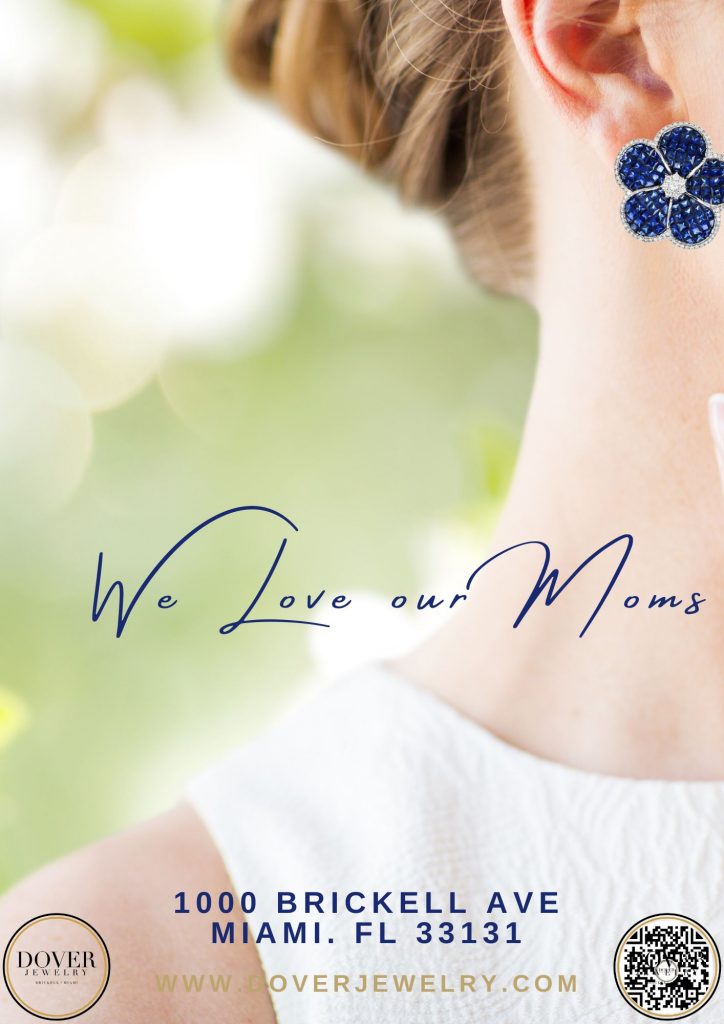 With options galore, we know you'll want to spoil the mom in your life with something very special on May 14th – and Dover has that something special.

Our team of experts at Dover Jewelry & Diamonds is available from Monday to Friday during the office hours of  10:30 a.m. – 5:30 p.m. to assist you with any questions regarding appointments, buying jewelry, selling jewelry or fine jewelry appraisals.
We invite you to contact us with any questions via phone or email. 1.877.777.6111
Please reach out to us, make an appointment, visit our brand-new headquarters in Brickell and see for yourself what makes us unique. We're right in your neighborhood – or just a phone call away:
Dover Jewelry & Diamonds at 1000 Brickell Ave Suite 100 Miami, FL 33131 1.877.777.6111 | contact@doverjewelry.com