Published May 27, 2014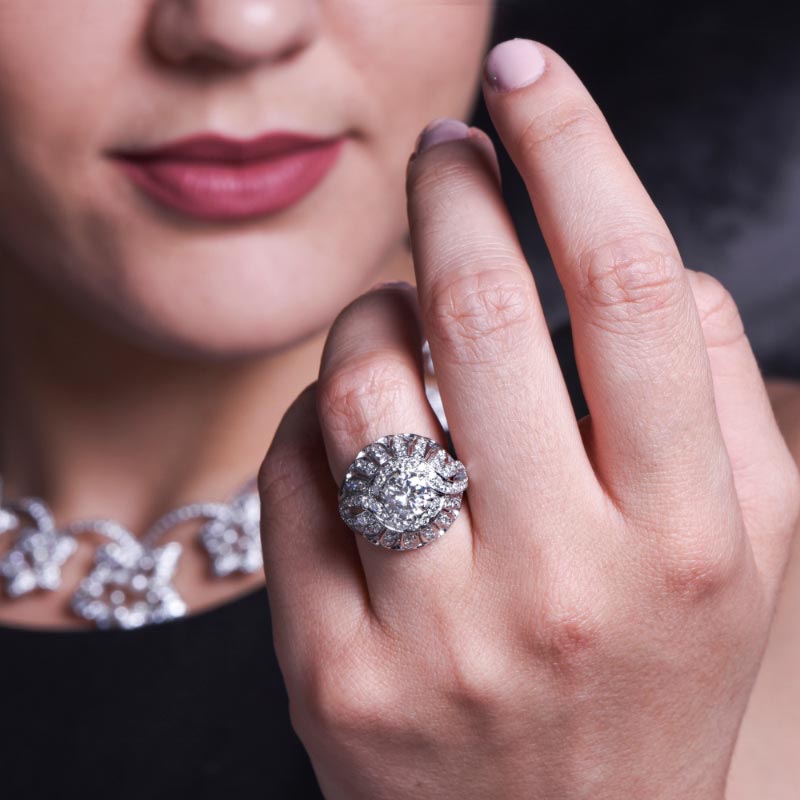 When it comes to matching diamond wedding rings to engagement rings the rule is…there are no rules!
Yes the wedding ring is worn together with the engagement ring and the two should complement each other but there is no right or wrong way to match diamond wedding ring sets.
Before you begin shopping, open your mind to all the ways you can create your own antique matching wedding rings or vintage matching wedding rings with our online selection:
Through matching metals used  – such as white gold, yellow gold, platinum
Through matching gemstones used – such as sapphires, rubies or pearls
Through matching diamond shapes and cut – such as Princess, Round, Cushion Cut
Through matching wedding band style and width – such as rounded or straight, thin or wide
You can also think about how you could create his and hers matching wedding rings so that the bride and groom will each get a piece of jewelry that works for them.
At Dover Jewelry we have put together this guide to matching wedding rings, with creative ideas for matching wedding bands and engagement rings, plus some ideas for his and hers matching diamond wedding rings.
Match the Metal of Your Wedding and Engagement Rings
This is perhaps the easiest and most obvious way to choose matching diamond wedding ring sets:
Pair a white gold engagement ring with a white gold wedding band
Pair a platinum engagement ring with a platinum wedding band
Pair a yellow gold engagement ring with a yellow gold wedding band
When you choose the same material and similar carat quality the rings will look like they were designed to be worn as a pair!
This is also a practical way to match rings because the wedding ring and the engagement ring will require similar care.  Also, matching the purity rating and material of the engagement ring and wedding ring means that they will be of equal hardness and won't damage when they naturally rub against each other.
Match Weddings Rings With Colorful Gemstones
One unique, not so traditional way to create unity between the engagement ring and wedding band is to add gemstones to enhance your diamonds. Gemstones like Emeralds, Sapphires, and Rubies can be used to create extra sparkle and make the ring come alive. This approach also has a practical aspect as plain wedding bands tend to dull and scuff over time. Durable gemstone and matching diamond wedding bands won't do this!
Match Engagement Ring and Wedding Ring Diamond Settings
Unique matching wedding rings are easy to achieve by pairing similar settings. Your options include:
Flat or deep-Set Wedding Rings – no visible claws over the surface of the diamonds or gemstone and suitable for both women's and men's wedding rings.
Pavé Set Wedding Rings – small diamonds or gemstones are set very close together with a beaded edge creating a sparkling surface.
Channel Set Wedding Rings – diamonds are set adjacent to each other between two bars to create a bright sparkle.
Match Shape Of The Wedding Band to the Engagement Ring
Straight and curved are two popular wedding ring shapes.
You may think that curved weddings rings are only meant for curved engagement rings, and vice versa, but that's not always true. Curved rings can vary greatly in shape and angle, which means you are likely to find a matching wedding ring to fit with your engagement ring.
Sometimes gemstone engagement rings that sit low on the band can be awkward to wear with a straight wedding ring. In this case, choose a matching wedding ring to fit comfortably with your engagement ring.
Choose a Wedding Ring That Matches Your Spouse's Ring
Many soon to be married couples want matching wedding rings as a symbol of their unity.
However this is not always practical! What if the woman wants an intricate antique engagement ring while the husband wants a more masculine wedding band?
There are other ways to achieve matching qualities through the ring such as the same metal (ex. white gold), matching diamonds or even custom engraving.
A most effective way to have an ideal wedding ring would be to have one custom-made with a mould of the engagement ring. Referred to as a 'contoured wedding band', this has become widely spread in recent years and has gained popularity.It facilitates the choice for the shape of the wedding ring as it would sit perfectly next to it!
Whether you choose matching wedding rings or not, keep in mind that simple is often better as it ensures the ring will never go out of style. Or choose antique Art Deco matching wedding rings that are still as popular today as they were 100+ years ago!
Ask a Professional Jeweler About Matching Engagement And Wedding Rings
The antique jewelry professionals at Dover Jewelry will gladly offer assistance in helping you find matching engagement and wedding rings from our endless selection of antique rings for men and women.
We'll creatively pair antique engagement rings with antique or vintage wedding bands to create alternative matching wedding rings you may have not even considered.
Call us toll free at 1-877-777-6111 or email us for assistance.