Published September 14, 2021
What is platinum?
Where does it come from?
Platinum (Pt) is a naturally occurring, white, precious metal. Although platinum looks like silver or white gold, the differences are many. The word platinum comes from the Spanish word platina, which literally means 'little silver.' It is both rare and highly prized for its beauty and durability. Platinum ore is not easy to come by, and 90% of the world's supplies come from just four separate mines. Three of these platinum mines are in South Africa and the fourth is in the Ural Mountains of the Soviet Union.
Because of its value, platinum is traded as a global currency and is sold in collectible coins and solid bars. It has been widely used in luxury jewelry and watches for decades – and for good reason.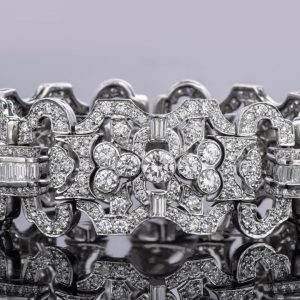 Platinum is rarer than gold. It is hypoallergenic, resistant to chipping and tarnishing and is much heavier, denser and harder than gold.
Platinum is considered scratch-proof, although that is not totally accurate.
When platinum is damaged, its surface develops small ridges or bumps because the metal is moved slightly to one side rather than disappear altogether. This 'ridging' is natural and occurs over time with daily wear. It shows up as a 'patina', which is a desirable look for platinum.
Antique platinum jewelry has a beautiful patina which gives it an heirloom feel and desirability.
Antique Platinum Pieces We Love
In the 1900s, it was Louis Cartier who first created stunning platinum jewelry, using it to showcase the brilliance of diamonds in his pieces.
Here are a few of our favorite antique platinum pieces from the Dover  Jewelry collection:
Art Deco Diamond Platinum Brooch
Antique deco 16.95carat marquise diamond platinum bracelet
Vintage diamond platinum ladies watch
Antique art deco diamond blue sapphire engagement ring
Taking Care of Platinum
There are a few simple rules to help you maintain the look of your antique platinum jewelry:
Remove – or wear reliable protective gloves – before using any harsh chemicals such as laundry bleach or household cleaners.
Don't wear platinum while doing strenuous outside chores such as farm work, gardening or sports such as golf or tennis where it might come into contact with other hard surfaces.
Store your platinum jewelry separately, away from other precious metal pieces.
Hand creams and soap will leave a residue over time, so remember to clean your platinum regularly.
Here are a few ways to clean platinum yourself:
Liquid Cleaning Solution. Comes with a soft brush. Dip the jewelry in the solution, dry with a soft, lint-free cloth.
Jewelry Cleaning Foam, towelettes. Perfect when traveling, but not for a deep clean.
Ultra-Sonic Cleaners. Place jewelry in the compartment and fill it with water. Works with sound-wave technology. Dry with a lint-free cloth.
Hand-held Ultra Sonic Cleaner. Travel-sized, battery operated.
Steam Cleaner. Now available for home use. Dry with a lint-free cloth afterward.
The old-fashioned way! Pour a few drops of gentle dish liquid into the water. Soak the jewelry for one minute. Brush away any debris with a SOFT toothbrush. Dry with a lint-free cloth.
· Nothing can replace a professional clean, however. Take your jewelry back to the jeweler at least once a year to have it cleaned by the experts – and to have the setting checked.
Platinum is beautiful, durable, fade-proof, dense, tarnish-proof, and will stay its natural white color for a lifetime. It is 30 times rarer than gold and highly coveted by generations of brides-to-be, anniversary celebrants, and fashionistas of all types and ages. It is versatile with outstanding qualities that make it the perfect choice for engagement, wedding,s and all formal and informal jewelry.
With proper care, your platinum jewelry can stay looking as beautiful as the day you bought it.