Published March 4, 2023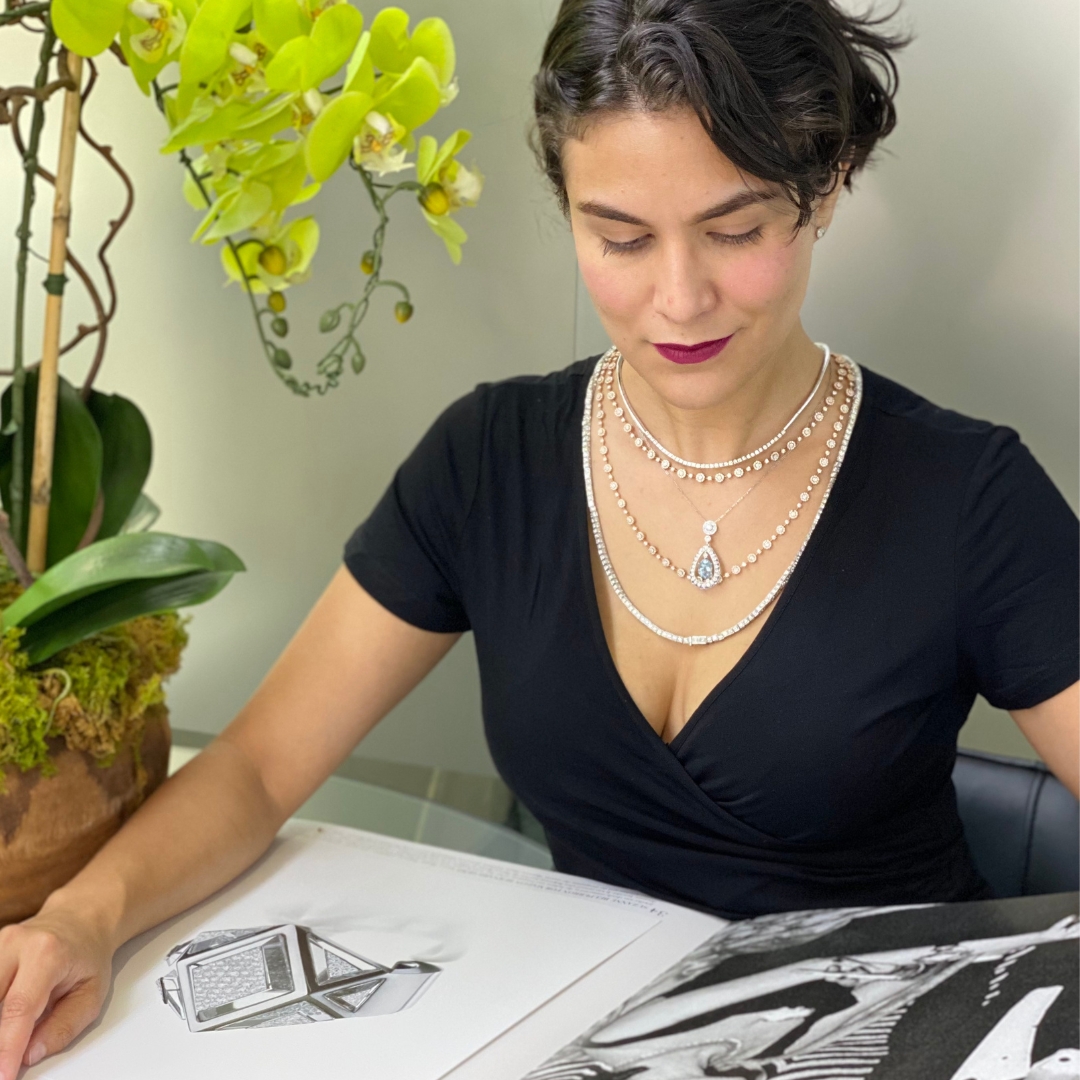 How to Style Your Diamond Necklaces – Layering
Chain, Chain, Chain…
Layering is one of the biggest jewelry trends we've seen in years.
It's a pretty simple, but effective idea. The look is to layer various pieces of jewelry of different widths and styles and wear them all together. Layering extends to bracelets, earrings and necklaces so that they catch the eye with their unique pairing – but you don't want to layer all of these at the same time. We recommend choosing to layer your necklaces but hold back on layering too many bracelets or earrings simultaneously, or you will look overdone.
Layering necklaces started out as a street style, but it quickly caught on to become a mainstream trend. Rappers and hip hop musicians adopted the look early on with over-the-top 'iced-out' pendants and chunky chains. The look took hold. Chains of diamond, pearl and gold necklaces worn with each other are the hottest fashions in jewelry right now. You will see them at Tiffany, at other prestigious jewelry houses and also worn by legions of Hollywood A-listers. The trend is seen everywhere – in all the high fashion magazines and on runways the world over.
How to Layer Necklaces
Your jewelry doesn't have to look 'matchy matchy' anymore. Quite the opposite, in fact. In addition, Antique or Vintage Diamond Necklaces are the perfect addition to your diamond layered decollete!
The key to successful layering necklaces is to have them be of different lengths and textures. We recommend pairing a chunky statement necklace with a light chain or two – or even layering a few tennis necklaces of varying carat weights together. You don't want your neck to look overburdened or unnecessarily cluttered, so keep the necklaces aligned and neat. Your goal should be to look effortlessly chic and stylish, so that you can wear certain layered pieces during the day, or even add more when you go out at night.
When choosing which pieces to layer together, you might want to keep in mind that daintier chains can get caught under larger ones or get tangled up with other thinner chains. Make sure that the various necklaces you choose are of different lengths and thicknesses, so that you start with a shorter one at the top of your neck and longer ones lower down, and that the chain links are of differing sizes. You can wear two necklaces of the same length together, but they should be of different thicknesses or carat weights and sit comfortably on top or next to each other.
Now that you know how to layer, here are some of our favorite combinations of diamond necklaces:
Here's another combination:
You'll want something chunkier to add to it. How about this H. Stern white gold box link chain choker necklace? https://www.doverjewelry.com/h-stern-2-00ct-diamond-18k-white-gold-box-link-chain-chocker-necklace.html
You'll want to add something that complements the look. Perhaps this 23" diamonds by the yard link chain necklace?
Remember, there are no real hard and fast rules to layering necklaces, apart from our tips on length, width and carat weights. Put togther what you think looks good and go with it.
Dover has some magnificent pieces in stock at our new showroom on Brickell Ave in Miami. Come play with them and find your perfect layered look:
Dover Jewelry & Diamonds at 1000 Brickell Ave Suite 100 Miami, FL 33131 1.877.777.6111 | contact@doverjewelry.com