Published June 14, 2021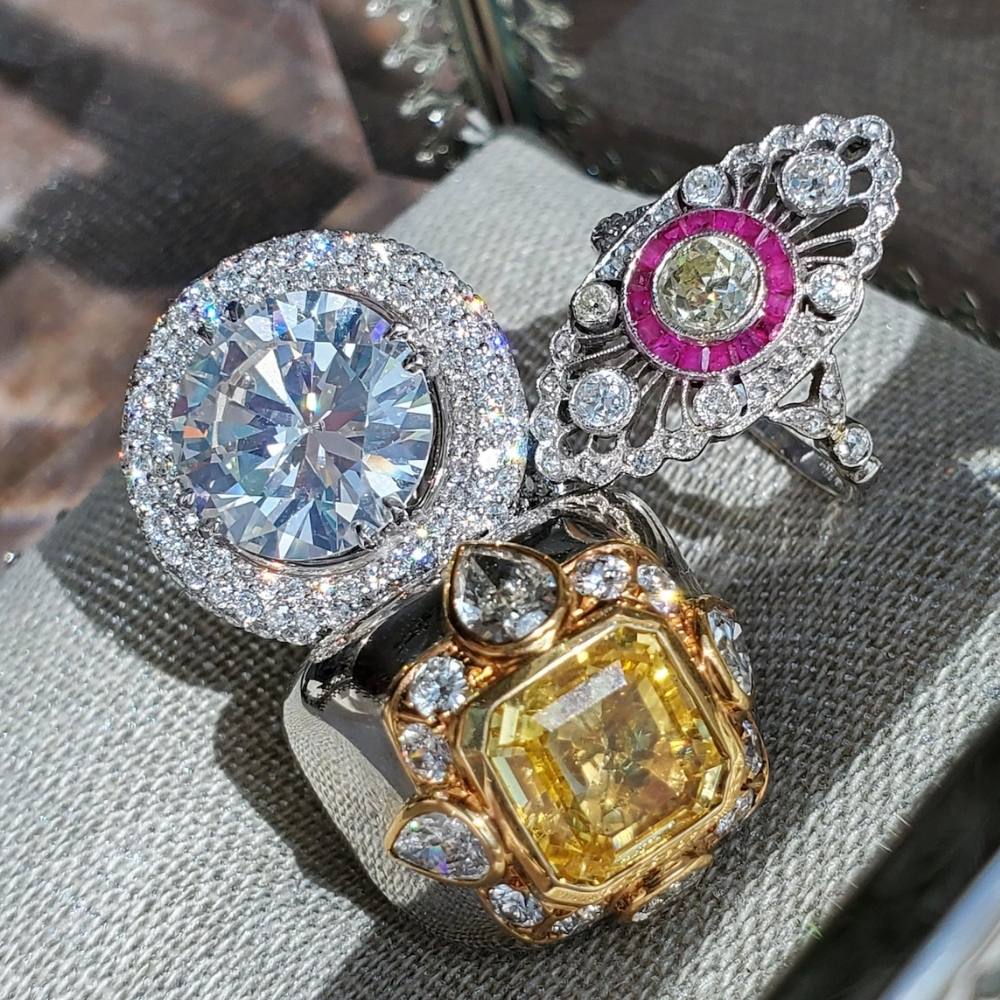 'It's up to you, New York, New York'    (Fairfield County, Connecticut too!)
'Only In New York!' as the saying goes – and only in New York will you find the level of sophistication, disposable income and international savoir-faire you will find here.
If you have lived there, you will know that New York truly never sleeps. It is always awake, restless and ready to show you the next multi-million dollar financial or real estate deal, the next job opportunity, the hottest new restaurant, the most exclusive charity social event and the most talked-about art exhibition. New Yorkers are always on their toes, primed to find success in their chosen field, ready to take on all competitors and prove themselves to be worthy of reaching the top.
Small wonder then that New Yorkers go for the best of the best. They can choose from amongst the most exclusive and the most expensive fashion and jewelry designers in the world; you'll find them all cheek-by-jowl on Fifth and Park Avenues. New Yorkers have ultra-sophisticated, international tastes and a style to challenge the movers-and-shakers of any capital city in the world. If you a see New Yorker dressing down, it will only be to walk her dogs in Central Park.
Those familiar with the Tri-State area will know that many of the most successful business people who work in Manhattan live in Fairfield County, Connecticut and commute into New York to work. Metro-North Railroad makes stops in Greenwich, New Canaan and Darien, among the wealthiest zip codes in the country. Our Connecticut clients tend to have similar top-of-the-line tastes as New Yorkers because they are New Yorkers at heart.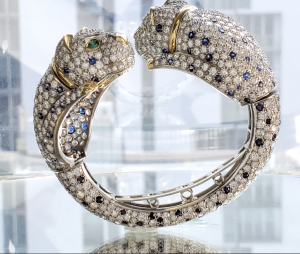 New Yorkers are always on the lookout for a good investment, and Dover Jewelry & Diamonds has proudly served our valued New York and Connecticut area customers for many years. We understand their fast-paced lifestyle and we always have a fine selection of jewelry to appeal to their discriminating tastes. Our most popular jewelry is from well-known designers with enduring and treasured brand names, such as Tiffany & Co. Elegant pieces containing white diamonds are also prominent on a New Yorker's must-have jewelry shopping list.
White Diamonds
What could be more spectacular than this vintage white gold and diamond Italian-made clutch purse? It is crafted in solid 18K white gold and topped with 15 round cut diamonds weighing approximately .35 carats.
You can check your make-up during the Met Gala in the hidden mirror inside….
…while adjusting your jaw-dropping 27.70 diamond lace necklace set in white gold, designed by Stefan Hafner. This magnificent piece features white, round-faceted diamonds graded F-G for color and VVS2-VS1 for clarity.
Here is a spectacular, investment-quality, estate natural fancy-colored diamond leaf brooch, featuring pear and baguette-cut white diamonds complemented by 6 genuine round and pear-cut fancy color GIA- graded diamonds. Their colors include Natural Fancy Deep Brown/Greenish Yellow, Natural Fancy Yellow Brown, Natural Fancy Deep Brown Yellow, a color-enhanced Deep Brownish Orangey Yellow and Natural Fancy Deep Brown Orange. Total carat weight for this lovely piece is 16.52 ct.
Designer Pieces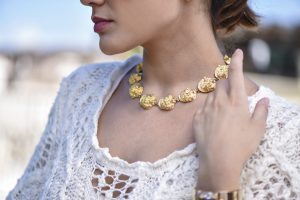 New Yorkers are no less swayed by designer names than those living in other large, cosmopolitan cities around the world. We've found that they like the investment opportunities afforded by the better-known brand names – and we carry plenty in our collection, from Van Cleef & Arpels to Bvlgari and Boucheron.
Tiffany & Co
Tiffany & Co is one of the most recognizable brand names in jewelry in the world. It was founded back in 1837 and has since become synonymous with the finest in luxury goods, most notably diamonds. The Tiffany brand is a marketing powerhouse, and because of the ongoing high demand for its timeless design and high quality, Tiffany jewelry is more likely to retain or grow in value than some other branded jewelry. New Yorkers know and appreciate that fact.
Here's Tiffany's take on the simple tennis bracelet, this time in sapphire.
This multi-gem lapel brooch is an authentic Tiffany & Co. piece, designed by Schlumberger in a combination of 18K white and yellow gold. It features a glorious floral bouquet of natural pink, blue and green sapphires attached with a diamond-swathed ribbon.
Patek Philippe and Tiffany are a team made in designer heaven. This is a diamond and platinum vintage beauty….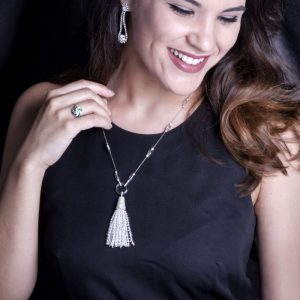 ..and this is a breathtaking Tiffany & Co. Art Deco style tassel necklace reminiscent of the Gatsby era 1920s.
We welcome our clients in New York and Connecticut to view our exciting new arrival and existing pieces. Dover's jewelry consignment services also offer the opportunity to sell your unwanted jewelry at top market pricing.
The experts at Dover Jewelry & Diamonds are ready to attend to your every buying and selling need –  in a 'New York Minute'.