Published May 23, 2014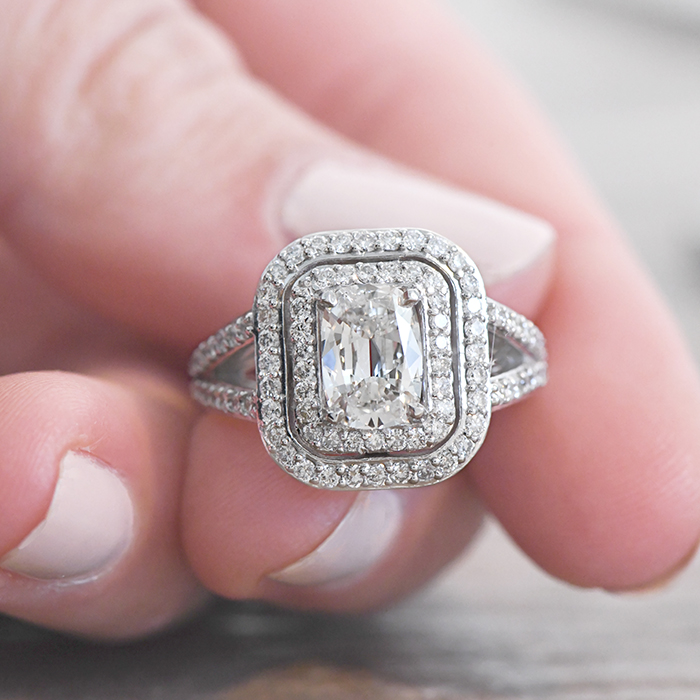 There is nothing like diamond wedding jewelry to embellish a happy bride and highlight her wedding dress.
In fact, real diamond wedding jewelry such as antique and vintage diamond rings, earrings and headbands are frequently a bride's first option when it comes to accessorizing with unique jewelry pieces that exude elegance, charm, and exclusivity. A bonus is that most brides will wear these diamond jewelry pieces again to other formal events!
Just remember the first rule in wedding jewelry – don't overdo it. Fight the temptation to over accessorize from your entire jewelry collection and follow these few steps to incorporating diamond wedding jewelry designs and pieces into your big day.
Accent Your Theme with Vintage Diamond Wedding Jewelry
You may already have chosen the style of your wedding, which in turn will affect the kind of jewelry accessories you will be wearing on your wedding day. For example, vintage weddings have been very popular for some time now, more so with motion pictures that pay tribute to the roaring 20s or the big salon dances of the 1950s.
Since we mainly consider a "vintage themed wedding" to incorporate features of the past there are plenty of antique jewelry periods you can choose from to accent your vintage theme:
Victorian diamond jewelry (from 1837 -1900)
Art Nouveau diamond jewelry (from 1895 – 1915)
Edwardian diamond jewelry (1901 – 1915)
Art Deco diamond jewelry (from 1915 – 1935)
However, if you still don't know what wedding style to go for, you can always take some contemporary wedding concepts and adapt them to a more vintage or bohemian spirit.
Choose Diamond Wedding Jewelry Sets to Match Your Dress Color
It goes without saying to choose your wedding dress before you start thinking about the wedding jewelry. The right dress is the first step to an incredible wedding look so take the time to find the perfect one and then accessorize it with our dashing assortment of antique and vintage diamond engagement rings, diamond earrings and bracelets, brooches, and watches.
Also, consider the color of your wedding dress when picking out the jewelry for your special day:
A bright white gown – we recommend pearl and diamond wedding jewelry in white gold or platinum; yellow gold diamond jewelry may clash against your bright white gown.
A diamond white gown – we recommend vintage diamond wedding ring designs set in gold, silver, or rose gold.
An Ivory gown – we recommend gold and diamond wedding jewelry to highlight the creamy tint of the fabric.
Take Inspiration from Your Diamond Wedding Ring and Band
Although not a steadfast rule, many brides like to keep their diamond wedding engagement ring set as the center of attention when it comes to their jewelry on the big day. Pick additional pieces of antique jewelry that will complement or match your engagement ring. You may also want to pick jewelry that you will be able to wear again later on.
Bring Out Your Wedding Dress Details with Antique Diamond Jewelry
Currently, many dresses come with their own arrangements, like crystals, diamonds, beads and pearls, among others. When accessorizing for your wedding, try focusing on one of these details and carry it to your jewelry.
For example, if your dress has a floral detailing you could carry this into your diamond headpiece or bracelet, to unify your style. On the other hand, if your dress has a lot of detail or embellishment you may want to choose more subtle diamond pieces to complement your dress rather than to compete with it.
Reinforce Your Wedding Colors with Gemstone Diamond Jewelry
You may also consider incorporating your wedding colors through colored gemstone and diamond jewelry. You could have your bridesmaids wear Emerald diamond jewelry to match their green dresses. As the bride you could find a blue antique sapphire diamond brooch to add to your flower bouquet. Ruby diamond bracelets and even gemstone diamond rings could complement your color scheme perfectly and add a pop of color too! Don't be afraid to think outside of the box when it comes to diamond wedding ring alternatives!
Pick Necklace and Pendant Earrings for Diamond Wedding Jewelry
A necklace or pendant has always been a crucial piece of diamond wedding jewelry for brides. The bridal salon where you purchased your wedding dress will likely have suggestions on what type of necklace to wear and may even present some fake antique inspired diamond jewelry.
Why not take their suggestions but buy the real thing? The most basic tip for choosing the right diamond necklace or pendant for your wedding dress is to consider your dress's neckline:
If you go for a halter neck style you may opt for a pair of brilliant antique diamond platinum night & day drop earrings of Italian provenance, and a vintage 1930s diamond bracelet also crafted in solid platinum.
If you choose a plunging neckline you may want to consider a strand of pearls or a gorgeous diamond pendant.
If you choose a one shouldered dress consider trading a necklace for wearing a gorgeous diamond bracelet on the opposite wrist.
For more ideas on unique diamond wedding jewelry or for assistance browsing our online antique jewelry store filled with antique and diamond jewelry pieces, please call us toll free at 1-877-777-6111 or send us an email.