Published June 21, 2021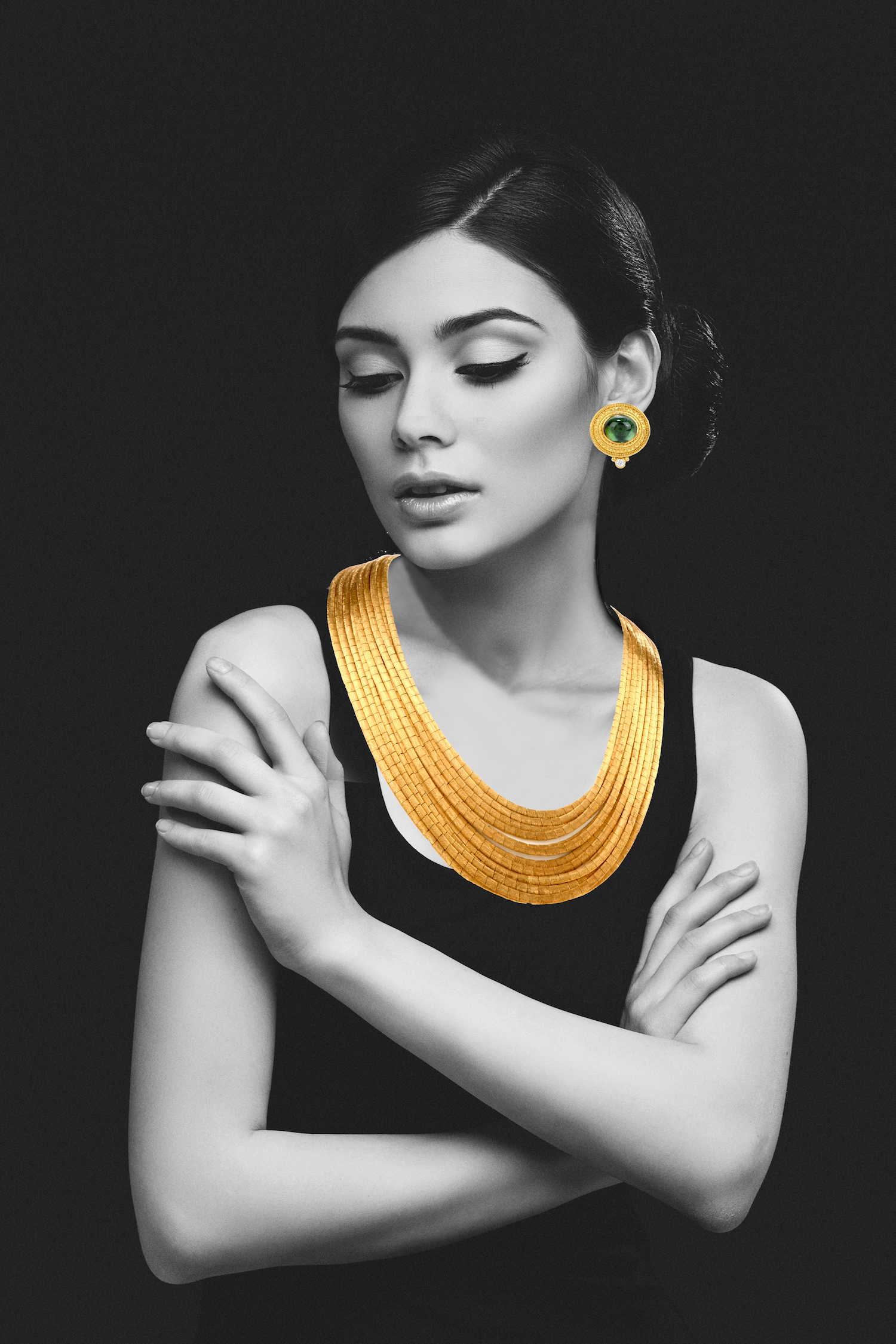 We humans have treasured gold for millennia.
Gold mining dates back at least 7,000 years, when gold artifacts were discovered in graves in an ancient Bulgarian necropolis. It is still the most popular precious metal for all types of jewelry, and is available in several types of color, karat and purity level, depending on its intended use. The Ancient Egyptians invented an early type of gold alloy, which was a blend of gold and silver called 'electrum.' Silver is still used today as an alloy, along with other metals, in order to achieve different colors and levels of durability.
The color of gold is based on the additional metals in the gold alloy. Its karat purity is determined by how much real gold it contains.
Color
Yellow gold is the closest to the original color of natural, mined gold. Today it is most often mixed with silver and copper to give it a deeper golden color. If there is a higher content of pure gold, the resulting alloy will have a more saturated yellow color.
Dover carries a huge selection of pieces in high quality yellow gold, for example, see our vintage Van Cleef & Arpels clip on earrings:
https://www.doverjewelry.com/vintage-van-cleef-arpels-18k-yellow-gold-clip-on-hoop-earrings.html
White gold is mixed with either platinum, palladium or nickel to give it its distinctive silver color. The formula for white gold using nickel and zinc was patented in 1920, and it led to the popularity of white gold through the Art Deco period. Today, white gold is sometimes plated with rhodium to increase its brightness and strength.
Our Art Deco white gold bracelet is a fine example of the jewelry of that era.
https://www.doverjewelry.com/vinatge-diamond-fire-opal-18k-gold-deco-wide-bracelet.html
Rose gold is alloyed with copper and silver, using more copper than silver to give a deeper rose color. It originated in 19th century Russia and is available in a variety of shades ranging from a coppery brown to pink.
Our vintage retro 18K rose gold bracelet dates back to the 1950s.
https://www.doverjewelry.com/vintage-retro-barrel-geometric-18k-rose-gold-bracelet.html
Green gold is actually yellow gold that has been mixed with silver – and sometimes with copper and zinc. Green gold jewelry became hugely popular at the turn of the 20th century in the Art Nouveau and Edwardian eras.
Karat
24K gold is pure gold but is too soft and malleable to wear every day, so, for example it is not recommended for engagement or wedding rings. It is best used in jewelry meant for special occasions, such as Dover's stunning sapphire and 24k link bracelet. https://www.doverjewelry.com/gurhan-55-00-carats-intense-blue-black-sapphire-24k-link-bracelet.html
18k gold is rich, luxurious-looking and more durable than 24k gold, because it contains a percentage of additional metals to strengthen it.
Classic, stylish, in 18k gold – our vintage Cartier bracelet makes the perfect gift for yourself or someone else. https://www.doverjewelry.com/cartier-vintage-18k-gold-link-bead-oval-bracelet.html
14K gold contains more added metals to make it harder, and it is therefore more durable than either 24k or 18k gold. It is a popular choice for engagement and wedding rings. A good example of wedding jewelry is our diamond and 14k bridal and wedding ring set: https://www.doverjewelry.com/estate-pear-cut-diamond-14k-gold-bridal-set-engagement-ring.html
Here is an interesting vintage men's chrysoberyl cat's eye ring, which the man in your life can wear every day without fear of damaging the gold. https://www.doverjewelry.com/vintage-gia-chrysoberyl-cats-eye-gold-gypsy-men-ring.html
Antique vs. Modern Gold
Because the types and amounts of metals added to pure gold differed throughout the centuries, the color of antique gold also varied. Standards have become more uniform, though, and the yellow gold manufactured today tends to be roughly the same color, depending on its karat.
Antique gold is prized for being more coppery, warmer and less yellow in color. The term Hamilton Gold is used to describe this antique, rosy-colored gold. Hamilton Gold is flattering to more skin tones than the harsher, yellower, modern gold.
This Victorian cameo gold bangle bracelet is made of solid 18k gold. The gold has a softer, rosier tone than modern 18k gold. https://www.doverjewelry.com/vintage-retro-cameo-wide-gold-large-bangle-bracelet-112-4-grams.html
Yellow gold, rose gold or white gold? 24k, 18k or 14k? Your choice will be determined by the quality, durability, beauty, provenance and investment value of the piece.
Dover Jewelry & Diamonds offers many different options to help you go for the gold.