Published March 24, 2014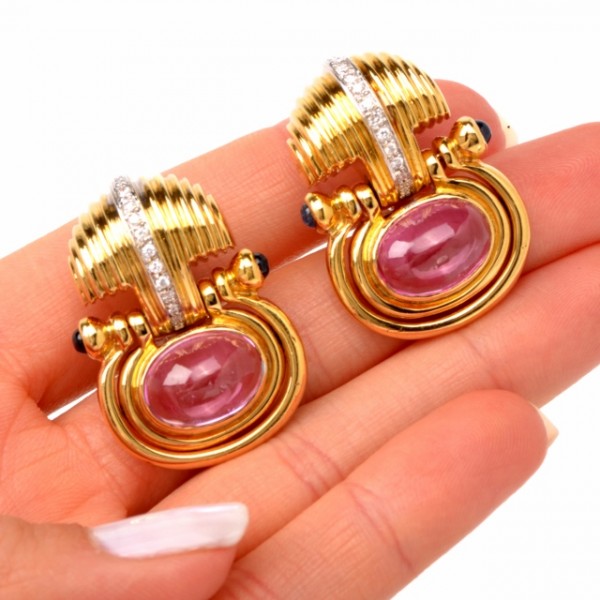 More than a piece of jewelry, gold earrings are a medium through which beauty and power express themselves while accessorizing elegant and sophisticated women everywhere. And with the wide variety of gold earring styles that jewelry stores online offer, they can also be the perfect inspiration for a memorable look with a gold bracelet, a gorgeous pendant or the perfect dress.
For a sophisticated vintage look, go no further than these alluring vintage feather earrings crafted in solid 18K yellow gold with a bark finish design perfect for a night out you will never forget. You can also add an estate Ebel ladies gold watch crafted in solid 18K gold with voluptuous contours and sensual lines. This lovely timepiece also features a very fine black dial, creating a classical gold and black contrast enhanced by diamond hour markers.
If you like a more antique design in your jewelry, a breathtaking set of antique Victorian pendant and earrings crafted in solid 18K yellow gold will suit you perfectly. The impressive pendant designed as a Latin cross is embellished on both sides with a pair of delicate centrally positioned gold flowers, surrounded each by 4 cone-shape gold profiles embellished with Etruscan style granulation technique. The matching gold earrings incorporate a pair of faceted pear-shaped and two oval-faceted citrines.
You can never go wrong with pearls, and for the perfect occasion consider these authentic Tiffany & Co. earrings crafted in solid 18K yellow gold centered with a duo of iridescent Mabe pearls with a white and pinkish hue color and an alluring floral design reminiscent of the best antique pieces. The significantly lustrous organic gems are bezel-set at the center of an artfully braided yellow gold surround, creating the floral pattern.
If you are looking to mix the yellow gold brilliance with some gemstone color, we recommend estate ruby and diamond earrings crafted in solid 18K yellow gold reminiscent of the retro era. These attention seekers earrings are set with a total number of 10 oval-faceted rubies of highly sought-after 'pigeon blood' red color mounted amidst pave diamonds, creating an enchanting color-contrasting pattern. This precious corundum is flanked by two rows of vertical diamond borders, composed of 44 genuine round cut diamonds.
Finally, an exclusive estate piece with effortless designer chic style and elegance will gracefully adorn your ears! Finely crafted in solid 18K yellow gold, these Italian earrings feature a drop hoop design in a wonderful ridged texture, complete with an exquisite high polish