Published September 22, 2021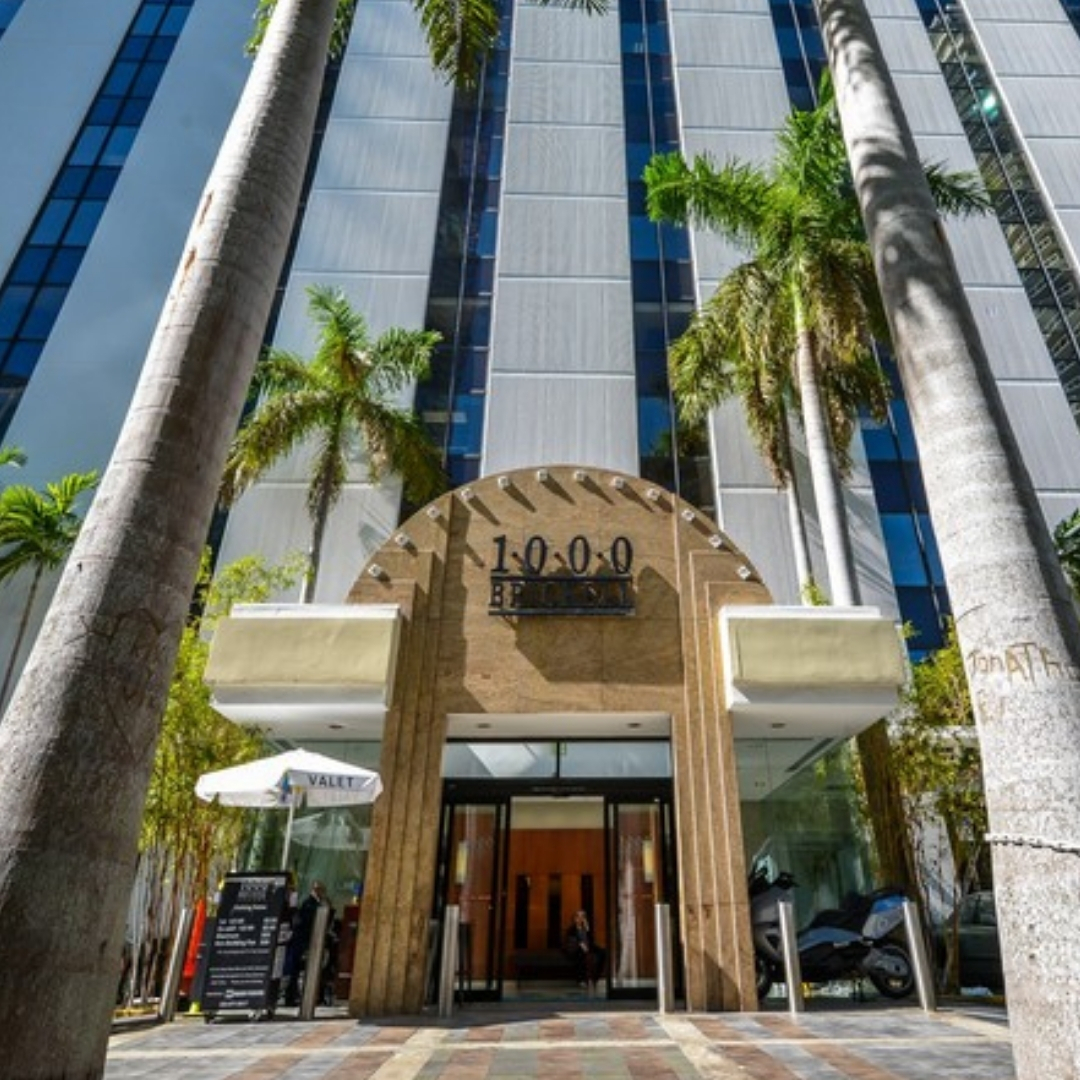 We are excited to announce our long-awaited relocation to 1000 Brickell in Downtown Miami.
Our new location will be in the heart of the banking and business district, near the new Miami City Center, Mary Brickell Village, the Flat Iron Residence and the luxury SLS Brickell Hotel and Residences. The Brickell area defines the new American city, where culture and history meet business and entertainment in Downtown Miami.
Over the past decade, Miami has evolved into a world-class destination. People from all over the world are flocking here in unprecedented numbers to buy condos, luxury homes and diamond engagement rings! This, in turn, has attracted high-paying jobs and wealthy residents from Latin America, Europe and elsewhere. There has also been an influx of financial institutions to support a high-end clientele, together with a dedicated initiative from Miami Mayor, Francis Suarez, to attract new technology companies.
Miami has become an internationally renowned art and design hub; the rise of Wynwood, the Design District, Art Basel and the expansion of Brickell and the Downtown area represent an emerging city-wide renaissance. The fashion industry is following suit with many up-and-coming, highly creative, sustainable fashion brands looking to make their mark.
Simply put, Miami has become an important international hub for business, the arts, music, fashion and style.
Dover Jewelry & Diamonds specializes in high-end antique, vintage, estate and contemporary pieces. For over 25 years, we have sourced the highest quality of unique, rare and estate jewelry from renowned designers such as Tiffany & Co., Cartier, Patek Philippe, Boucheron, Buccellati, Bvlgari, Van Cleef & Arpels, Harry Winston and many more.
As a world-renowned leader in luxury jewelry sales and consignments, we were looking to move to new office suites to keep pace with the increased demand from our growing cosmopolitan clientele. We searched for a long time to find exactly the right premises to reflect our brand's sophistication, world-class reputation and top-level customer service.
1000 Brickell stood out as the perfect location.
Customers at our new location can expect white-glove service all the way, comprising the highest possible standards of privacy, safety and personal attention. Our GIA gemologists offer professional gem appraisal services. If you consign your jewelry with us, our experts will give you full-service jewelry evaluations, at top market pricing, in the privacy and security of our new offices. Luxury jewelry aficionados will be able to enjoy all their jewelry and watch purchasing and consignment needs, both safely and securely.
As always, please contact our jewelry experts at 1-877-777- 6111, or via our online personal concierge service for inquiries meanwhile.
Our new jewel opens on October 1st, 2021 and we look forward to welcoming you to our beautiful new home.
Who are Dover Jewelry & Diamonds?
Dover Jewelry & Diamonds is one of the world's most respected and trusted retailers, purchasers and appraisers of distinguished, top-quality estate, antique and vintage jewelry. Our well-earned reputation is based on the strict authenticity and provenance of our pieces, their beauty and relative rarity, the fairness of our pricing and the unwavering trust and confidence both dealers and clients alike have placed in us during our 25 years in business.
We both buy and sell serious pieces sourced from all over the world from liquidators, attorneys, charities, bank trusts, private clients, and collectors alike to bring you the finest in luxury, collectible jewelry. We provide free estate evaluations in our Miami offices or your private home as requested, ensuring the highest level of integrity and trust at every step of the purchase process. Our team of Certified GIA Gemologists, professional appraisers, Master Jewelers, and experienced Customer Service personnel can help determine the true market value of your jewelry and give you a fair offer for your valued pieces. Our expertise also extends to the online marketplace. We take your fine jewelry and pre-owned watches and sell them for you through a variety of top e-commerce platforms such as eBay, Amazon and 1stDibs, resulting in successful sales for thousands of our customers.
Whether you are a serious collector of fine jewelry and follow the trends in significant investment pieces, or you are an admirer of precious gemstone jewelry, or you're celebrating a significant milestone and perhaps looking for that out-of-the-ordinary vintage diamond engagement ring, Dover Jewelry & Diamonds offers you an unmatched selection of exquisite, heirloom diamond and precious gem pieces you will not find anywhere else. We invite you to shop our luxury collection of rare, vintage, antique and estate jewelry, whether your preferred period is Edwardian, Victorian, Art Nouveau or Art Deco. We also carry Retro, Mid-Century, Modern, and Contemporary pieces for clients who may be starting – or adding to – their current collections of more modern jewelry. Our expert jewelers are here to give you advice about what to collect, and they can help you find the right pieces to build your collection from the ground up, with suggestions to suit the most refined of tastes.
Our exclusive product selection encompasses exquisite rings, necklaces, earrings, brooches plus cufflinks and watches, and we have a constantly changing inventory of both men's and women's pieces that are sure to appeal to the most discerning of tastes and meet your most stringent requirements. As a purchaser from us, you will find our one-of-a-kind collection gives you unequaled access to exclusive pieces from the finest jewelry design houses and most admired brands in the world – from Tiffany to Cartier to Harry Winston to Bvlgari and beyond. These are pieces that, heretofore, may not have been available for sale to the general public, and we pride ourselves on sourcing some of the best jewelry of its period, be it antique, vintage, or contemporary.
Our Customer Service is Unparalleled in the Industry
Dover Jewelry & Diamonds' in-house experts carefully inspect all engagement ring settings before a particular piece is sold, so that you are assured of its durability, and we will make any necessary repairs to make sure that your ring goes home with you in perfect, wearable condition. You will also be furnished with a professionally verified Certificate of Appraisal to assess the quality of your diamond or gemstones according to their color, cut, clarity and carat weight, together with details of the particular precious metal used in the setting.
Explore our Collection
If you are looking for jewelry from a particular period, we have a magnificent selection for your consideration.  For example, if you are a follower of Georgian jewelry, you may want to look for classic chandelier earrings, an enduring and on-trend look, or the rivière necklaces and floral spray brooches so typical of the era, featuring shapes from the natural world such as leaves, birds and flowers designed in garnets, white and rose diamonds, coral and topaz.
Many brides-to-be these days love the look of romantic Victorian era jewelry. It was flowery and sentimental with intricate filigree, hearts, bows and flowers, perfect as an engagement ring for the bride with classically whimsical tastes. Diamonds and semi-precious stones such as amethyst, garnets, opals and coral were also all the rage.
Art Deco more your style? It is one of the hottest new "old" looks in jewelry styles, and you will be hard pressed to find anything 'chicer' these days. In typical Art Deco style is a cocktail ring featuring an oversized centered gem or jewel, typically a diamond solitaire in a geometric cut such as a baguette, emerald cut, triangle, or shield – a dazzling, one-of-a kind choice for an engagement ring; other stones such as rubies, sapphires, onyx, emeralds, coral or jade were used as accents stones with the diamonds.
What about Art Nouveau?  Art Nouveau design favored natural graceful designs, such as flowers, birds, dragonflies, and animals, in curved, slender shapes.  Long pearl necklaces became very fashionable during this era, and agate, garnet, and translucent gemstones such as opal and moonstones were most often used.
If a more updated look is your thing, Retro is all about 40s Hollywood glamour; yellow and rose gold settings, dazzling gemstones like citrine and aquamarine, oversized rings, bracelets and necklaces, charm bracelets typify the Retro look – and 50s style was all about elegant pearls and diamond cocktail rings.
The world of collecting, enjoying and appreciating fine jewelry has never been more exciting or rewarding, and at Dover Jewelry & Diamonds we are justly proud of our expertise in serving the collector marketplace and of our top-level customer service and stellar reputation. Our jewelry's sophistication, beauty, quality construction and rarity makes it highly sought after in the collectible marketplace, which can represent both an important investment opportunity for you and an enduring family heirloom.
We invite you to start enjoying the exciting world of collecting and look forward to serving your every need in the future. We are here to make the process of buying and selling the world's most exquisite pieces easy, enjoyable – and above all rewarding.
Welcome!