Published April 19, 2023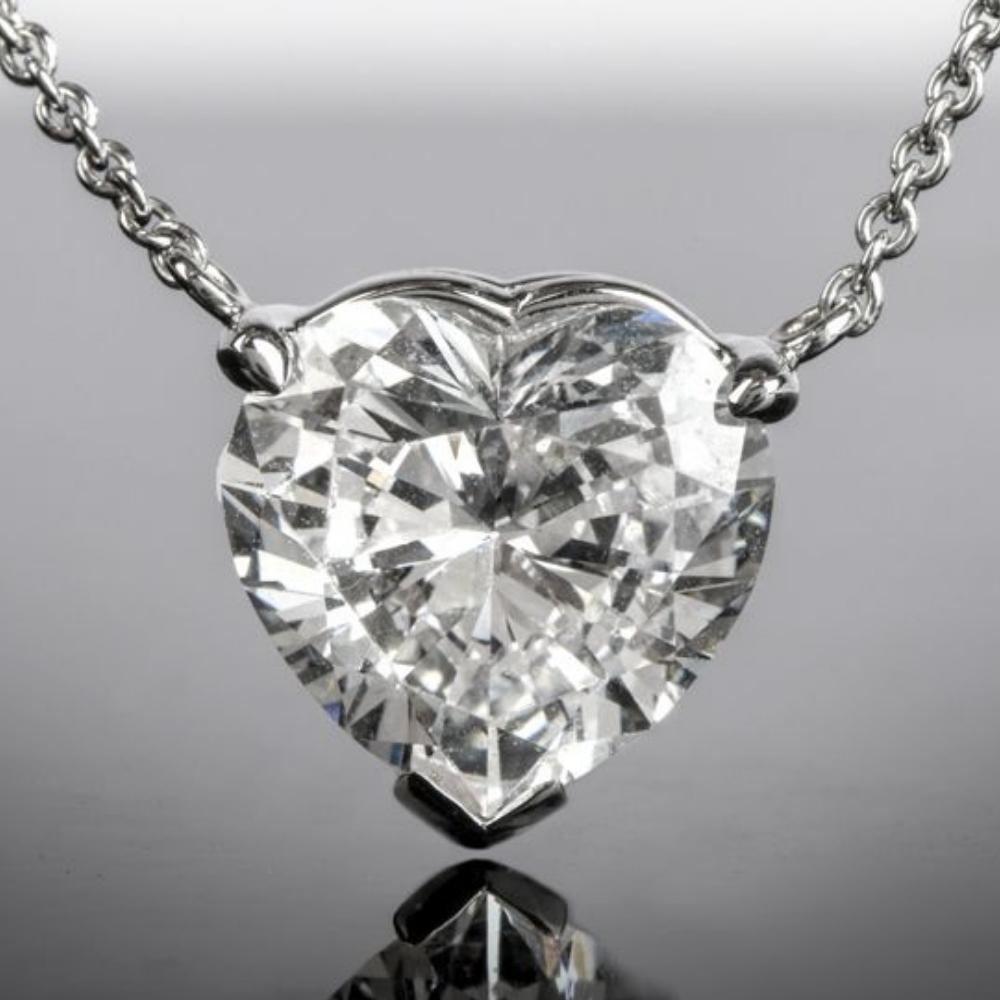 The Diamond Solitaire Pendant – What Every woman wants.
If you had to choose just one piece of jewelry to carry you through any social or informal occasion in style, you would be wise to choose the diamond solitaire pendant.
Diamond solitaire pendants are timeless, simple, classic, and always classy in any situation. They look good with any outfit – from the most informal jeans and a sweater to a business suit, to a cocktail dress, to a ballgown. They are treasured for their enduring simplicity and versatility, and they are one of the rare pieces of jewelry that never goes out of style. This Classic Tiffany & Co. GIA Round 1.23 carat Diamond Platinum Classic Solitaire Chain Necklace just launched on www.doverjewelry.com and maintains a timeless beauty  that any woman would cherish with everday style. Just a tasting of our newly procured  Fine Diamonds and Rare Gems sourced from a Private Collection in Palm Beach, take a peek at our New Arrivals.
Did You Know?
The word pendant comes from the French verb "pendre" which means to hang down. A pendant is a loose hanging gemstone or other piece of jewelry attached to a necklace.
The pendant dates back to the Stone Age when they were worn as amulets or talismans around the neck to ward off evil spirits. Back then they consisted of teeth, shells or bone, worn as trophies to bring the wearer on the next hunt for food. These evolved into beads made of glass or pottery, which were found in ancient Egyptian grave sites.
With the invention of the chain, pendant necklaces became popular. Ancient Greeks and Romans wore pendants around their necks to protect themselves from evil. Later, pendants were worn as symbols of identity, rank and authority, and to deify royalty. The more elaborate the pendant, the more important the wearer. In the Middle Ages, both kings and clergymen wore huge pendants of gold and gemstones denoting their authority and office.
Diamonds were popularized when methods were discovered to cut them, sometime around the 1300s, so it was a natural transition to add them to the pendant. In the 17th century, the pendant fell somewhat out of favor because both women and men wore elaborate, chin high ruffs which were considered fashionable. It wasn't until women's necklines were lowered that the pendant came back into style. In fact, the history of the pendant necklace closely follows that of the fashion in necklines.
The lavalier, which includes not one but two pendants, was named by Louise De La Valliere, one of King Louis X1V's mistresses who apparently loved the style. You will see this style echoed in many Art Deco pieces.
During the 1920s Art Deco period, flapper girls shocked society by shortening their hemlines and bobbing their hair, while the pendants and necklaces they wore became longer and more elaborate. As experts in Art Deco period jewelry, Dover carries many exceptional, collectible pieces.
Consider, for example, this truly extraordinary Art Deco aquamarine, diamond, onyx and pearl pendant necklace featuring a 27.14 carat aquamarine, an old European cut center diamond weighing approximately .7 carats, and 32 round cut diamonds displayed to perfection with 7 mm black onyx cabochon cut stones in multiple shapes.
These days the solitaire diamond pendant can be simple itself. We carry a couple of classic examples, including this estate Tiffany & Co. GIA Round Cut Diamond Platinum Classic Solitaire Chain Necklace. It makes the perfect gift for anyone, whether celebrating a birthday, an anniversary, or as a simple gift to say that you love them, and it is conveniently on sale at www.doverjewelry.com in celebration of April Birthdays!
It's Cartier. Say no more.
The name alone evokes the pinnacle of elegance and luxury. This is a beautiful Cartier GIA certified 18k gold and .82 carat diamond solitaire pendant. It is signed and numbered and comes with its original Cartier box. The center gemstone is a round brilliant-cut diamond.
Cartier Diamond Jewelry wows us again with this stunning diamond cross pendant, with large genuine natural diamonds weighing approximately 7.18 carats. It is signed by Cartier with a serial number and original Cartier red box.
The popularity of yellow diamonds seems never ending – and this GIA Certified 3.36cts fancy yellow cushion cut diamond and platinum halo pendant updates a classic look to perfection.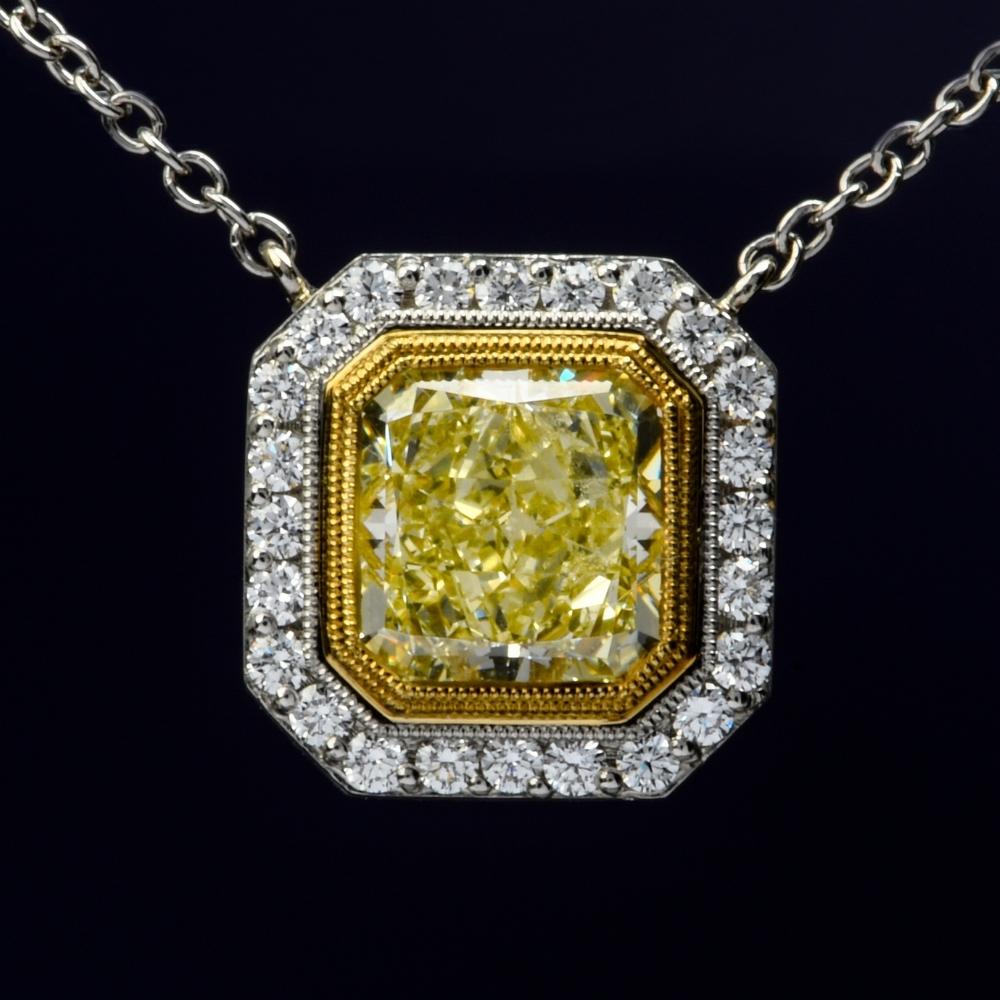 For the romantic at heart, here is the ultimate expression of your love. It is a heart-shaped diamond pendant featuring 65 white round diamonds weighing approximately 7.5 carats, attached to a 14k gold bale which can be added to your favorite chain or pearl necklace.
It's difficult to imagine a more elegant expression of the diamond pendant drop necklace. This one came from an estate sale, and it has a total of 13.02 carats of high-quality diamonds in a dazzling drop design.
Simple, sensational, sentimental even – the pendant necklace has appeared in many iterations over the centuries. Because it is worn around the neck and hangs close to the heart, it is often said to symbolize both love and passion.
When choosing an engagement ring for your beloved partner it is important to take into account not only their personal style preferences but also their lifestyle and personality too! With these tips in mind, we hope that you are able to find the perfect symbol of love and commitment that will last forever! So go ahead and start shopping today! You won't regret it!
Contact our jewelry experts today or visit us in our New Brickell Showroom located at 1000 Brickell Ave Suite 100 Miami Florida. Estate evaluations are provided in our Brickell Location or on-site at the location of your choosing free of charge. We welcome your inquiries either via email, telephone or by private appointment in our Brickell Miami Offices.  1.877.777.6111 | contact@doverjewelry.com