Published May 3, 2022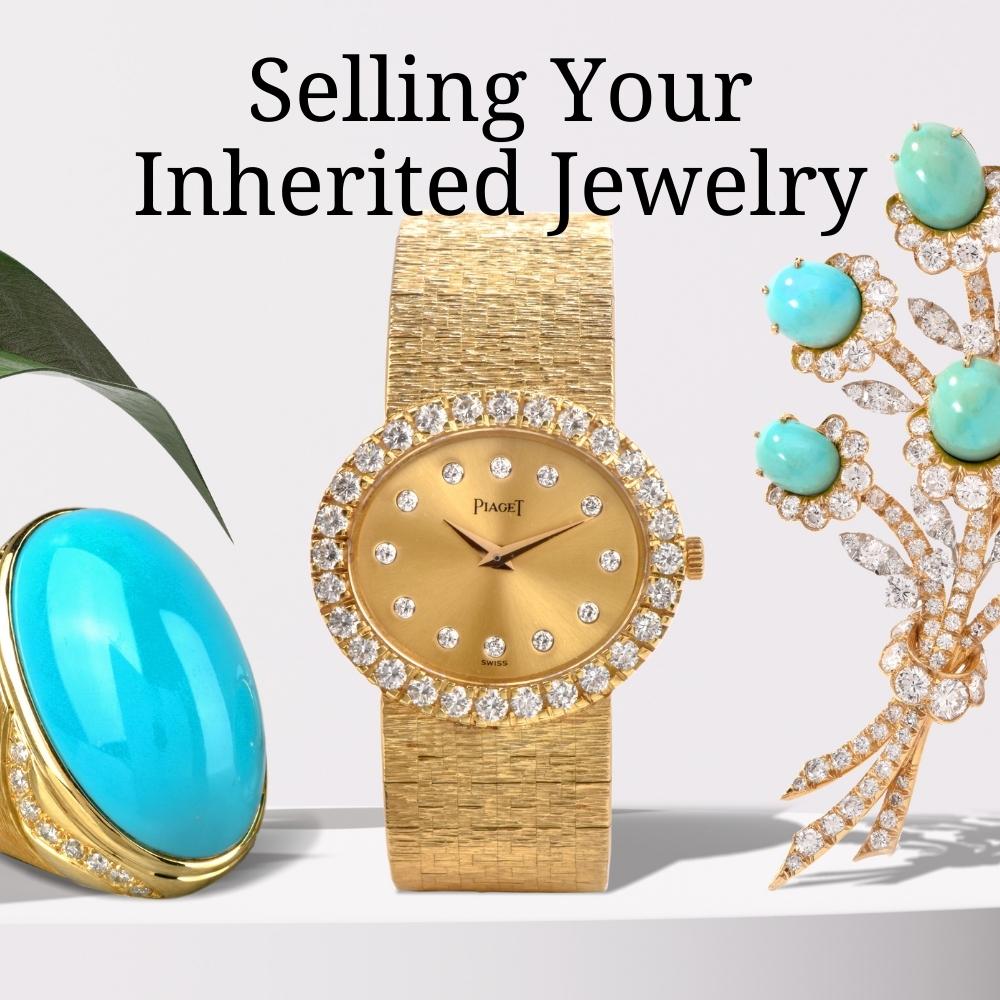 Inheriting Estate Jewelry
If you have recently inherited an estate that includes some nice pieces of antique or vintage jewelry, you may be wondering what to do with it. Should you keep it? Sell it? What are the pieces really worth? They may have sentimental value if they were owned by a cherished family member but if not, how can you find out their true value and get a fair market price for them?Dover Jewelry & Diamonds specializes in consignment sales.
Evaluation
Let us see your pieces, so we can assess their value and help you decide what to sell. Our jewelry consignment team can arrange to have your property delivered to our offices in Miami. We welcome antique or contemporary jewelry items in all forms of gold and platinum, with or without precious and semi-precious stones as well as signed/designer jewelry, men's and ladies fine watches and signed sterling silver.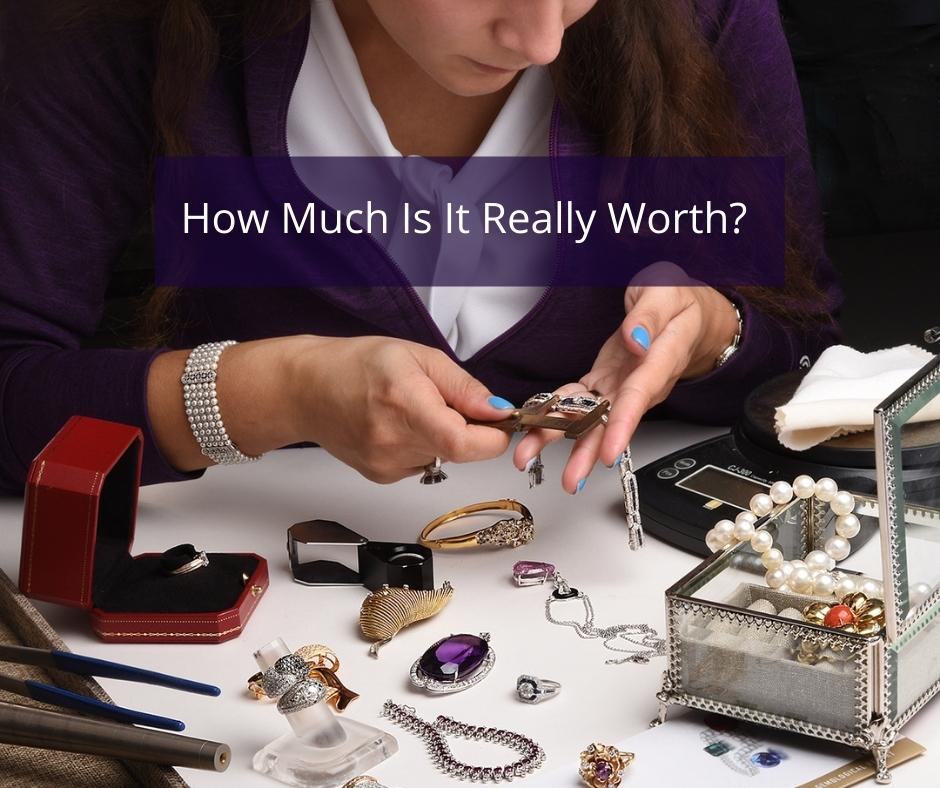 Dover's team of certified GIA gemologists are expert at evaluating even the rarest and most collectible antique and vintage pieces, and we guarantee to quote you a fair market value for them. Each piece of consignment jewelry you entrust to us is authenticated, tested and valued by Dover's Team of GIA gemologists and master jewelers prior to its sale. We take into account the quality of the gemstones for color, cut, clarity and carat weight, as appropriate; we look at the precious metal, the overall condition of the piece and any provenance documents you may have before giving you our expert opinion on its true value.
It is common for inherited jewelry to need repairs, so we will examine the prongs supporting each gemstone, the sides and backs of rings and the hinges in bracelets, plus any cracks or visible broken areas. We can make the necessary repairs to make your piece more attractive and saleable to a potential buyer.
Showcasing Your Jewelry
Dover makes it easy again. We prepare your jewelry for sale, photograph and describe it, then showcase it in its finest form on a global marketplace. We also incur ALL your selling fees.
We are recognized experts in online marketing – and we know that posting sale items online only works when you are affiliated with the top online selling platforms. We provide the greatest possible re-sale market price and opportunities by exposing your jewelry to thousands of prospective buyers worldwide in a timely fashion – typically within one week.
As the exclusive consignment seller on eBay, we sell to over 35,000 customers on a variety of other e-commerce platforms such as 1stDibs, Amazon, Etsy and eBay. We make it easy to sell your estate jewelry and watches by showcasing it to millions of luxury shoppers. Dover has a history of achieving the highest price for our customers, whilst charging amongst the lowest consignment fees in the jewelry industry. We take care of every aspect of the sale of your pieces, including shipment to its new home.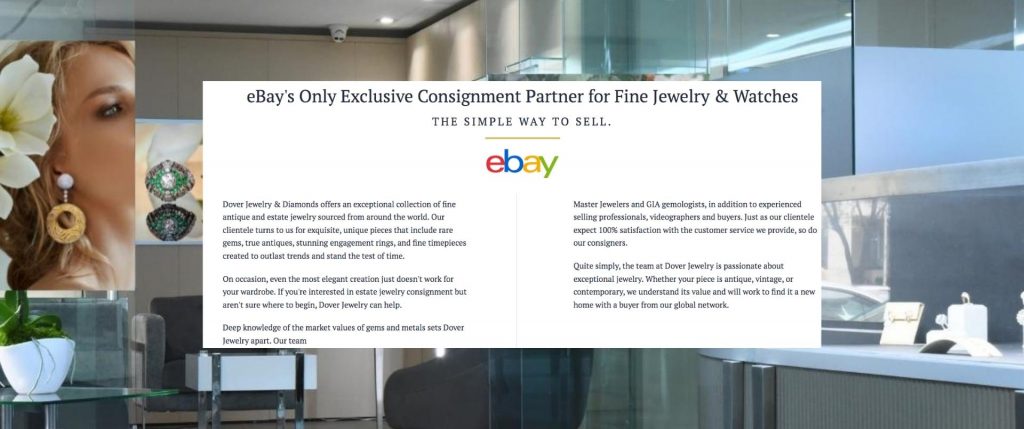 Quick Payment
When a buyer has made an offer on your jewelry – and you have accepted it – we will send you payment within 35 days. The amount sent will be based on the sales price less our commission and any other agreed-upon costs.
Since our founding year in 1985, Dover has helped thousands of individuals successfully sell their estate jewelry to purchasers across the globe. Our stellar reputation is based on trust, integrity and the highest possible degree of professionalism at every step of the way, as evidenced by constant new and repeat customers.
We'll let one of our many satisfied clients tell you about their experience working with us:
"I had a wonderful experience selling a piece of jewelry with Dover. They were extremely professional. I shopped around and they gave me a lot more for my piece than I was offered at other places. They also paid me immediately. This will be my go-to place for selling future pieces." LM
When you find yourself with a treasured collection of unwanted family jewels, and looking for the best way towards a new home for them, contact our team of consignment jewelry experts for your FREE valuation on how to get started selling your jewelry.