Published April 29, 2014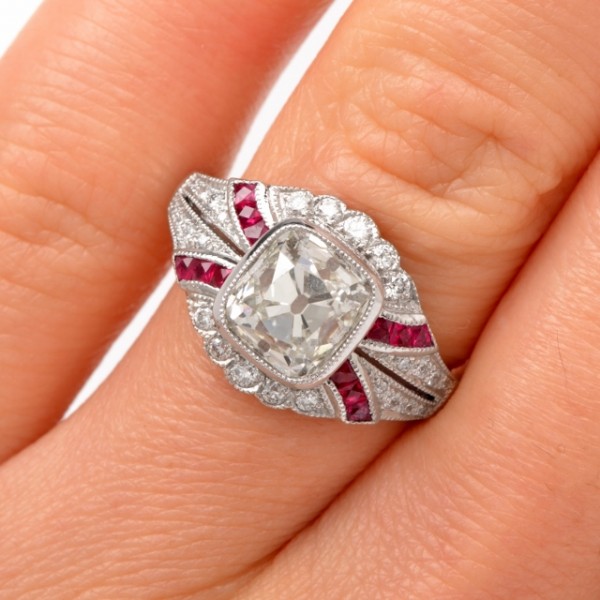 Engagement rings are more than pieces of jewelry. They embody a couple's relationship and their love and commitment to one another.. They also entail a set of "rules" for their right usage. The questions addressed to us  with respect to estate or vintage engagement rings are numerous, hence the following enlightening points which we hope will be of guidance regarding engagement rings in  general.
Rules for buying engagement rings
Once upon a time, tradition required  the groom to spend between  one and three months of his salary on the engagement ring… That tradition, however, has disappeared through the passage of time. The personal decision and emphasis on the importance of the event per se seems to have replaced the value of the ring as the most important criterion.
Also, diamonds in a traditional gold or silver setting are no longer a preference., as young  couples are now experimenting with other gemstones like emeralds, sapphires and rubies, and metals like platinum and titanium have been in traduced to the world of jewelry..
Rules for wearing engagement rings
Most couples consider  the engagement as not "official" until the woman is wearing constantly the engagement ring.. On the other hand, a wedding band is a sufficient acknowledgement of the marriage for other couples. If you are recently engaged and are soon to be married, it's probably a good idea to know how to wear both the engagement ring and the wedding band. Wearing them in the right fashion will let others know of your marital status!
What to do after a break-up?
No one really wants to talk about it, but questions regarding engagement rules after a break-up arise more often than one thinks. . In reality, you might be surprised to learn what an engagement ring means in a court of law. Getting married is like entering into a contract, and  every state has a different law on who gets to keep the ring!
However, in  cases where  the couples decide to leave the law out of their jewelry decisions, the general rule is, that the man should have the ring returned to  him if the bride-to-be has broken up the engagement, but she may keep the ring if the man has been the cause of break-up.