Published July 7, 2021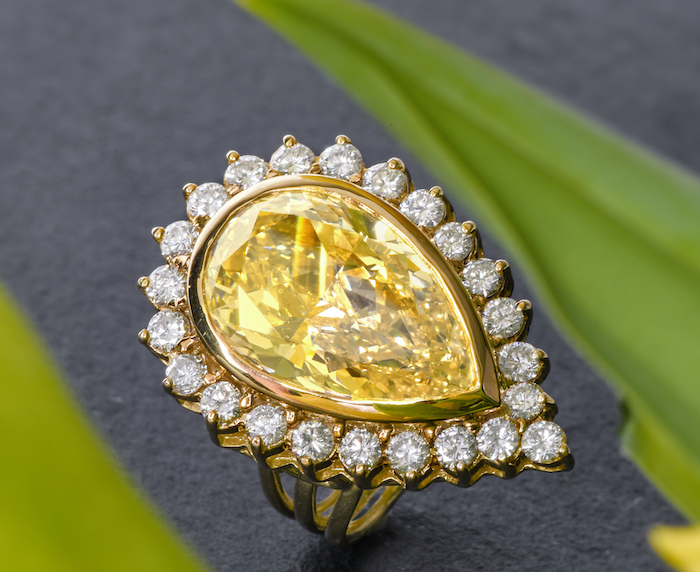 Thousands of couples are getting engaged this year, despite restrictions surrounding the pandemic – so, we thought you would like to see some of the most beautiful celebrity engagement rings from the past few years. 
We all love to follow the A-listers, their movies, red carpet appearances, their relationships, weddings, and sometimes, their break-ups. Their choice in rings may inspire you to think beyond the simple solitaire – or not.  In any case, it is fun to see what those famous fingers are – or were – wearing!  
Kate Middleton & Prince William 
The most famous engagement ring, perhaps of all time, is the giant blue sapphire and diamond engagement ring given to Kate Middleton by Prince William. It is a 12-carat oval sapphire surrounded by 14 diamonds – and it was worn by the late Princess Diana in 1981 when she became engaged to Prince Charles. 
Have you seen Dover's no heat, Burma sapphire and diamond cluster ring? It is a cushion cut stunner surrounded by 16 round cut and 30 marquise cut diamonds in platinum with an 18k gold setting.
Meghan Markle & Prince Harry
When Prince Harry proposed to Meghan Markle, he gave her a 3-carat cushion cut center diamond from Botswana surrounded by two round diamonds originally owned by Princess Diana. The ring was later re-set in a thin yellow gold band set with micro- pavé diamonds. 
While nothing matches the provenance of Meghan's ring, our collection of diamond engagement rings may have you re-thinking your design options.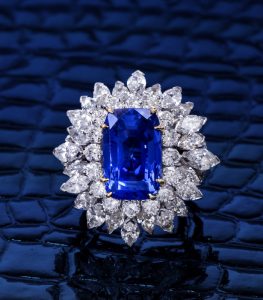 Jennifer Lopez & Alex Rodriguez 
Although they have since broken up, the staggering 15-20 carat emerald cut diamond given to J Lo in March 2019 by baseball player A Rod was reportedly worth at least $1million. 
Amal Alamuddin & George Clooney  
When he proposed, George Clooney gave Amal Alamuddin a 7-carat emerald-cut diamond with side baguettes, thought to be worth about $750,000. 
Dover's 10.21 emerald cut diamond is flanked by 4 blue baguette sapphires in a filigree platinum setting.
Cardi B & Offset
Despite the on again, off again, then on again relationship between Cardi B. and rapper Offset, she is still wearing the enormous pear-shaped diamond engagement ring in a halo setting surrounded by two smaller tapering diamonds.
If you like the look of pear-shape diamond, we have two at different price points.
Katy Perry & Orlando Bloom 
Katy Perry and actor Orlando Bloom got engaged on Valentine's Day 2019. He popped the question with a unique flower-shaped ring.  The center stone is either a ruby or a pink diamond and it is surrounded by a white diamond halo of eight smaller stones. It is shaped like a daisy – which is the name of their daughter, incidentally.
Though we do not carry an exact copy, Dover has curated a fabulous collection of Burma Red Ruby rings  and vintage ruby rings for your consideration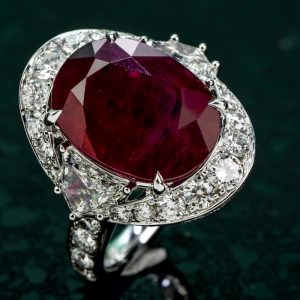 Jennifer Lawrence & Cooke Maroney
Art dealer Cooke Maroney proposed to Jennifer Lawrence in early 2019 with a 4-5 carat rectangular shaped diamond set on a classic, plain gold band. 
Dover carries several, rectangular, emerald cut engagement rings, which may steer you away from the simple round solitaire.
We hope this has given you new inspiration for your own engagement ring design. What shape do you like? What color? What precious metal? Setting? Dover carries a wide variety of choices at different price points. 
If you are about to get engaged and are shopping for that special ring, we wish you love, happiness and our heartfelt congratulations!