Published February 25, 2021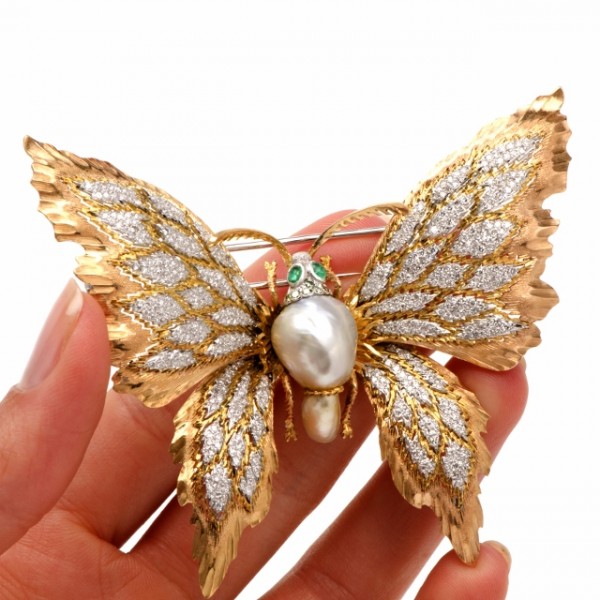 "The rarest things in the world, next to a spirit of discernment, are diamondsand pearls." ― Jean de la Bruyere.
<"If I gave you diamonds and pearls…" – Prince.
If there is a gemstone that can temper down the potential flashiness of a diamond it is the pearl.  Similarly, if there is a gemstone that can punch up the look of a classic pearl – it is the diamond. They work in unison as the ideal combination, and together they become something far more sumptuous than if each gemstone is worn on its own.
Diamonds and Pearls Working Together
Diamonds and pearlscomplement each other in an extraordinary way. Pearls are generally thought of as a traditional, safe choice in jewelry. Think – your mother's or grandmother's pearl necklace handed down to you as an heirloom, or the earrings you were given as a bridesmaid's gift when your best friend got married. Admittedly, pearl jewelry has been given a designer 'dusting off' recently on the world's runways, so it is not quite as simple as it once was. A single strand of pearls is still a classic staple in many women's jewelry wardrobes, however.
On the other hand, the ordinary pearl can take on a completely new persona when paired with diamonds. Diamonds and pearls support each other perfectly from an appearance standpoint. Round, milky, smooth and lustrous, the pearl becomes a glamourous statement piece when accompanied by the sharper- edged, more geometric, dazzling look of a diamond. Pearls mute the harder, flashiness of diamonds; diamonds take away the old-fashioned look of pearls.
What to consider for pearl & diamond combinations
Proportion
If you are petite and small, it is better not to choose large, overly elaborate diamond and pearl jewelry. It will tend to wear you – rather than the other way round. These tear-drop shaped earrings are a good choice for the smaller woman. They will light up your face, without overpowering you.
Similarly, this art deco diamond and pearl pin features emerald, marquise and round faceted diamonds with six cultured pearls. It is understated, yet elegant. Perfect to wear with a little black cocktail dress.
If you are tall and bigger boned, we advise you not to treat yourself to an overly delicate, seed pearl necklace because it will make you look even bigger and taller.  Better to take advantage of your gorgeous size by making a big impression with our dramatic Buccellati diamond and pearl choker necklace. It consists of lustrous silvery blue gray cultured pearls, silk-strung in two and three strands, intersected by four highly ornate gold and diamond profiles in a stylized crown shape, depicting tapering rows of diamonds.
It comes with matching earrings to make the big statement complete.
Skin-tone
Diamonds and pearls look good on most skin tones, however if you have fair skin choose white, rose, and cream-colored stones for your jewelry. Dover carries many pieces that will look good if you are light skinned, with fair or light brown hair. Here is a good example; it is a pair of diamond and pearl dangle drop earrings, set in platinum and in a leaf design.
Have darker or tanned skin?  Try golden, black or grey pearls. These golden South Sea Pearl earrings will flatter olive and duskier skin tones, yet the accompanying diamonds will give you an eye-catching sparkle.
Whatever your style – Hollywood red carpet, pop star, classic glamour or businesswoman elegant – diamonds and pearls bring out the best in each other, and in you. Edgy, yet chic. Traditional with flair. A dynamic partnership that is more than the sum of its parts.
At Dover Jewelry & Diamonds we cater to all styles and tastes in diamond and pearl jewelry, at a variety of price points. We think you will find exactly what you are looking for.