Published June 8, 2023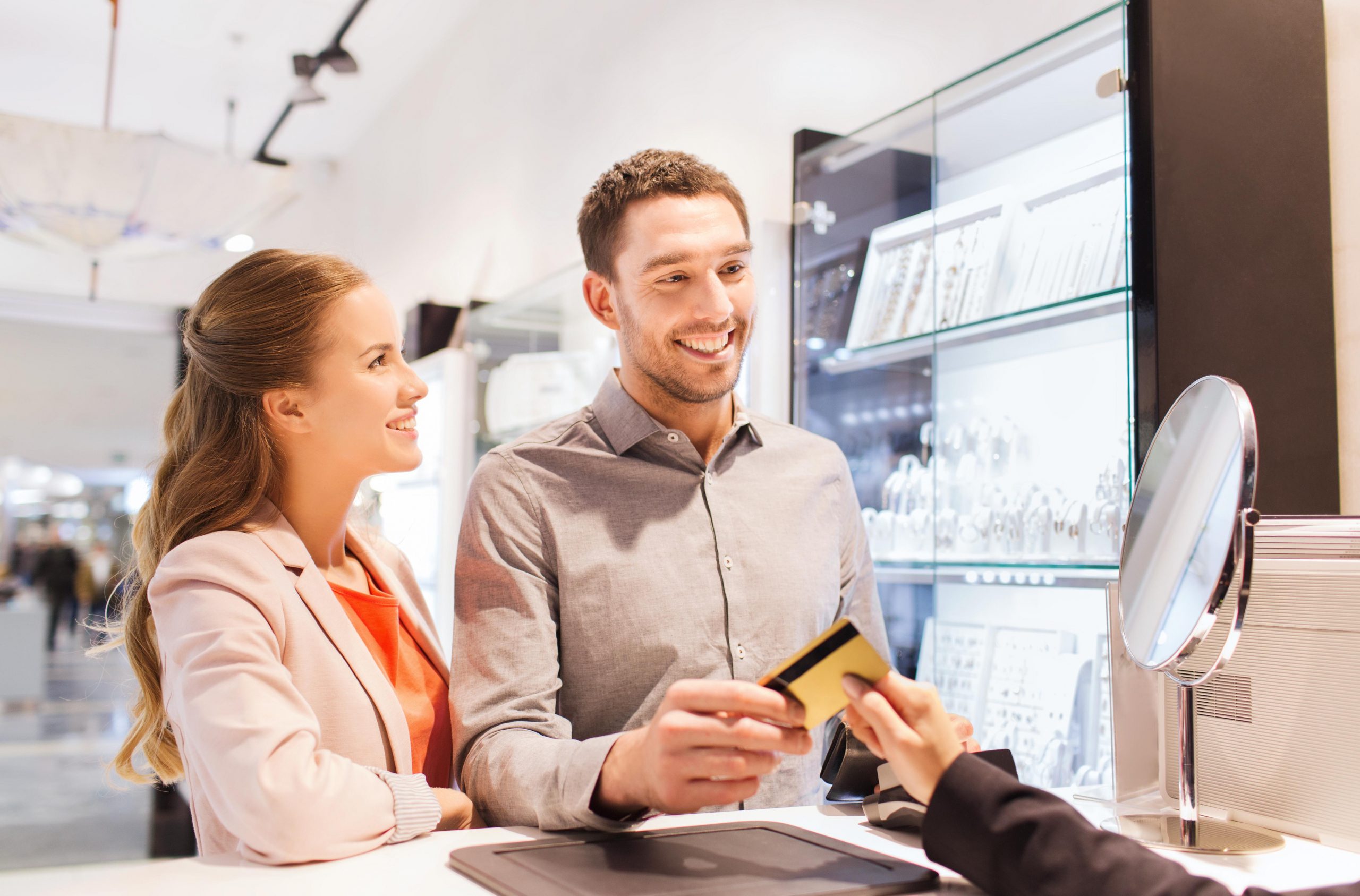 Financing Your Engagement Ring
Need help with Diamond engagement ring financing? Our guide will help walk you through the different options we offer, so you can make the best decision for your financial situation and budget.
Budget
The first thing to decide is what your budget should be.
How much should you spend?
Is this a surprise engagement – or does your fiancée know about it?
Are you paying for it yourself or are you both chipping in?
If you are paying for it yourself, you may have heard the often-quoted rule about spending the equivalent of one, two or even three-months salary, suggesting how much you are "supposed" to set aside. This was introduced as a clever marketing ploy to encourage diamond sales many years ago. We can happily say that you should feel free to totally ignore it! There are no set rules, of course. Your budget should be what you feel comfortable with – whether it is less than $10,000 or more than $100,000.
If you are the practical type, however, and feel you need more help, you'll find several engagement ring calculators online which calculate how much to spend based on your income, lifestyle and debt-to-asset ratio. This makes a lot of sense, though some may consider it an unromantic way to begin your life together. We suggest you approach the purchase of an engagement ring the same way you would any high-ticket item, with careful research – though tempered with the undeniable romance of the situation.
You may also want to weigh in on the cost of the wedding and honeymoon if you are helping to cover these costs – and you will need to take your partner's expectations into consideration. Do you think she is expecting a huge "rock" or a smaller, less ostentatious ring? Ask her friends and family, in secret, if you are not sure about her ring preferences.
Go window shopping together at your local high street jeweler and see what catches her eye. Once you have established a ring style, and have considered the carat weight, color, and clarity parameters, it will make it easier for you to come up with an overall workable budget.
Explore financing options:
If you don't have enough cash on hand to purchase the ring outright, there are various Diamond ring payment plans and options available:
Credit cards: You can use a credit card to make the purchase and pay it off over time. Be mindful of the interest rates and any associated fees. Look for credit cards with low-interest rates or promotional offers, such as zero percent APR for a certain period.
Jewelry store financing for engagement rings: Many jewelry retailers offer their own financing plans, allowing you to make monthly payments. Before opting for this option, carefully review the terms and conditions, including interest rates and repayment terms.
Dover Jewelry offers a couple of easily affordable financing options which can go a long way to helping you choose the ring of your dreams. You will be surprised at how far your budget can take you! Our unique collection of diamond engagement rings is offered at all price points, and with affordable financing options to help you make the best choice. Let's show you how easy it is to purchase the ring of your dreams.
Affirm Payment.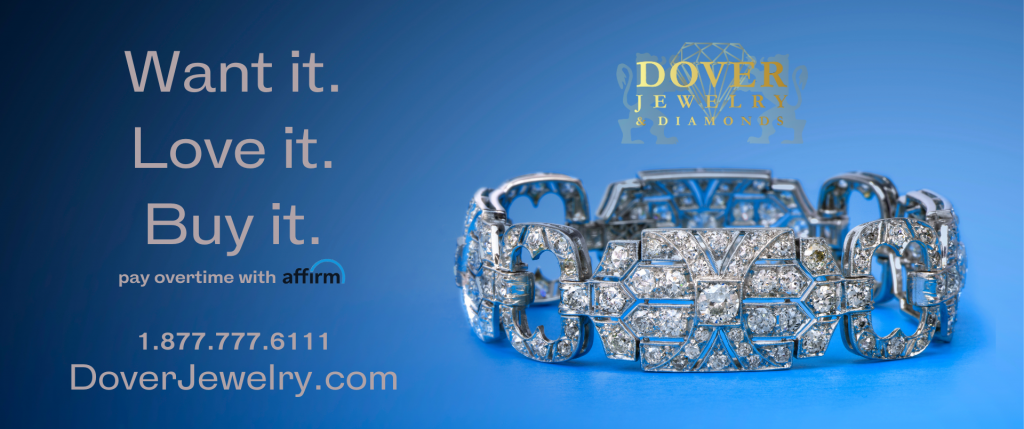 You can also pay via Affirm, a financing option that is a point-of-sale installment loan. Depending on your credit history and eligibility, your interest rate can be as low as 0%. You can choose your specific payment option, for example up to three payments, six payments or twelve payments, so it is a very flexible payback system. Choose monthly payments with no hidden fees or a plan with four interest-free payments every two weeks. If you are charged a percentage interest, you can pay off your loan early with no pre-payment penalty.

To qualify with Affirm you must set up an account. They will ask you to supply your name, email, phone number and last four digits of your Social Security number. Affirm will perform a 'soft' credit check but it will not harm your credit score. Affirm's data is encrypted, so that all security safeguards are maintained. Affirm also guarantees that your personal information is never sold to a third party. Simply buy your engagement ring through Dover and choose the Affirm payment option at checkout to complete your purchase.   (Payment options are offered by Affirm and are subject to an eligibility check. Options depend on your purchase amount, and a down payment may be required.  CA residents: Loans by Affirm Loan Services, LLC are made or arranged pursuant to a California Finance Lender license).
Dover also offers its own (in-house),  Interest-Free Layaway Plan allowing you to select your perfect engagement ring, own it now, ask her to marry you, then pay for it over time. Dover Jewelry's 60-day Layaway Plan requires an initial payment of 30% of the total price at the time of purchase, followed by two subsequent installments at 30-day intervals.  Simply contact one of our Concierge Specialists at 1.877.777.6111 for more details. It's that easy.
Jewelry Insurance

Consider insurance: Once you've purchased the engagement ring, consider getting it insured. Engagement ring insurance can protect your investment from loss, theft, or damage. Shop around for insurance providers that offer coverage specifically for jewelry.
Remember, while financing can provide more flexibility in purchasing your dream engagement ring, it's essential to be mindful of your financial situation and avoid taking on excessive debt. Plan your finances wisely and choose a financing option that aligns with your budget and long-term financial goals.
Engagement Ring Choices
Choosing the right ring can be a daunting task, but we've made it easy for you.
We carry diamond engagement rings which range at the highest end in the hundreds of thousands of dollars down to more modest rings in the lowest of thousands – and everything in between.
Modern Diamond Engagement Ring
Classic diamond engagement rings
Let us take the stress out of engagement ring shopping by showing you some of the most exquisite 'ready-made' diamond rings you'll ever see. You won't need to go through the hassle of choosing a diamond, then a setting, then a precious metal, not knowing how it will look like put together. Don't make a mistake. Our contemporary, estate, vintage and antique rings are all carefully chosen for their beauty, durability and collectability, so you can purchase an engagement ring with heirloom quality and longevity.
Not only is our collection unique, it is also offered to you with easy and flexible payment plans which can be as low as ZERO percent.
Getting engaged doesn't get much easier than this.