Published March 9, 2021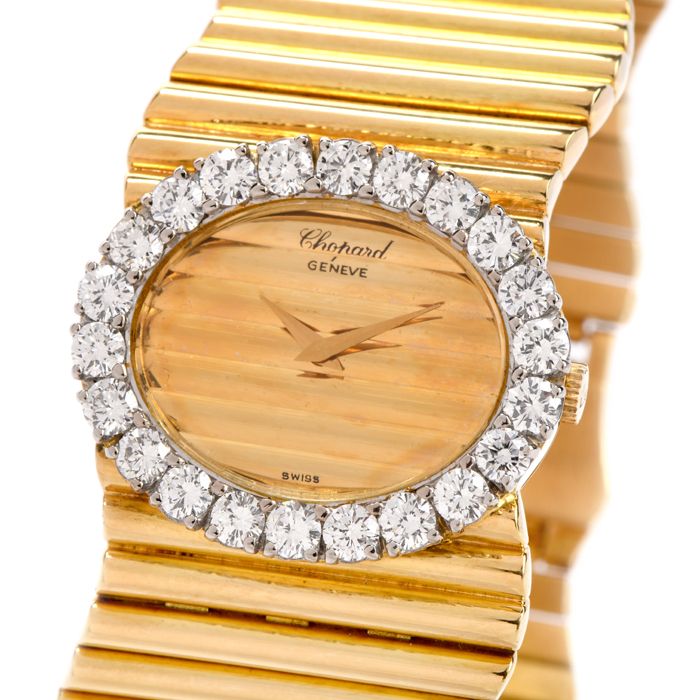 Timepieces through the Centuries 
Unless you are a connoisseur of watch history, you may not have been aware that it was women who first started wearing wristwatches. Back in the 16th century, watches worn on the wrist were considered only for women and were predominantly worn as items of jewelry, admired more for their beauty and artistry than for their functionality, whilst men wore pocket watches only. 
The first women's strap watch was made by Abraham-Louis Breguet for the Queen of Naples in 1810. Manufacturers such as Vacheron Constantin started producing lavishly jeweled bracelet watches for women in the 19th century, followed by Patek Philippe's superb wristwatch for a Hungarian Princess in 1869. 
Since then, women's watches have been made by all the world's major manufacturers, in what has increasingly become a collaboration between jewelers, haute joaillerie and horology. Women's watches are becoming as aesthetically beautiful and highly functional on the inside as they are beautiful on the outside.  
What is Vintage? What is Estate? What is Antique?
Some experts argue that vintage includes anything up to the 1960's, others say a watch should be at least 25 to 30 years old. As a compromise, up to the 1970's is largely accepted. Being old is not an indication of how much a watch is worth, of course.  There are many more factors involved. It has to have quality construction, reliability, good looks and timeless appeal, plus on a more basic level, the number and quality of its gemstones it contains can play a role. An estate watch is one that has been previously owned and usually acquired from an estate. Antique watches or jewelry are more than 100 years old. 
Provenance 
As with anything that is collectible, the provenance of a vintage or estate watch plays a vital role in determining its value as a potential investment. You can ask our customer service experts to give you any supporting documentation we can supply. This paperwork will be important if you decide to sell your watch at any time in the future.
Condition 
Should a collectible watch be in original condition, complete with scratches and marks gathered over the years? Some purist collectors say yes, others prefer as pristine condition as possible, given that a watch in good condition will function and tell the time better, than one which has been damaged. At Dover Jewelry & Diamonds we guarantee the working condition of all the watches we sell. 
The Iconic Brands – Standing the Test of Time
So, which women's watch brands should you choose? There are several iconic brands whose name and prestige have stood – and continue to stand- the test of time. If you can find good examples of these, they are well worth the investment. Cartier, Rolex, Patek Philippe, Bvlgari, Buccelati, Piaget, and 'jeweler' watches from brands such as Chopard, Van Cleef and Arpels, Tiffany and Dior are important either from a historical standpoint or for their timeless artistry, sheer elegance and collectability factor. 
Dover Jewelry & Diamonds offers several iconic watch brands that merge form and function into one beautiful package:
The Rolex Ladies Datejust is neither flashy nor over-the-top pretentious. It is simply a classic. Invest in one and time is on your side.  https://www.doverjewelry.com/rolex-president-diamond-datejust-26mm-ladies-18k-gold-watch-ref-2038883.html 
Also, quietly understated yet ultra-stylish, is our Bulgari Parentisi bracelet watch which features 2.50 carats of brilliant-cut VVS1clarity diamonds 
From jeweler to the stars, Chopard, comes a Happy Diamond watch, first launched in 1976 with an innovative twist to the diamond watch theme. This one features a champagne dial, diamond bezels, diamond strap and a twin layer of sapphire crystals with 7 'floating' diamonds that spin and slide freely around the watch. Since patented, the Happy Watch has become an essential part of the DNA of Chopard.  
A Cartier watch needs no introduction. This one is a vintage diamond and gold collectible beauty at a reasonable price. It is ultra-feminine, with blast-from-the-past style and cachet. 
Vintage watches are a great way for you to create style without being overly flashy. Not only can you decide whether to make a statement or not, but you can also collect a wide range of different types of watches in which to invest. A good starting point for a watch 'wardrobe' can include a basic Rolex DateJust for everyday business wear, a Cartier or other prestigious brand diamond evening watch for black-tie social occasions – and for sheer unconventionality and lavish whimsy, see our Van Cleef and Arpels Ludo Pampille diamond watch with two cluster pendants.
Many women are also starting to wear men's sport watches for outdoor activities such as sailing. You cannot go wrong with Audemars Piguet's Royal Oak Offshore. Buy it for him, then borrow it to wear yourself. https://www.doverjewelry.com/audemars-piaget-royal-oak-offshore-chronograph-stainless-watch-no-18117-1.html
Investing in watches for women is becoming more and more important. At the end of the day, though, the most important thing to remember is that collecting vintage watches should, first and foremost, be about your personal enjoyment. At Dover Jewelry & Diamonds, we recommend you buy what you love, not what someone else likes and thinks you should buy. Yes, you need to do your due diligence; there is plenty of good information about watches available online, so you can research each particular brand's watch reference number and find out its approximate market value, but you should decide what speaks to you personally. 
What is it that you love about a watch? What causes your pulse to race?  If you can do that, you will not go far wrong.