Published June 23, 2023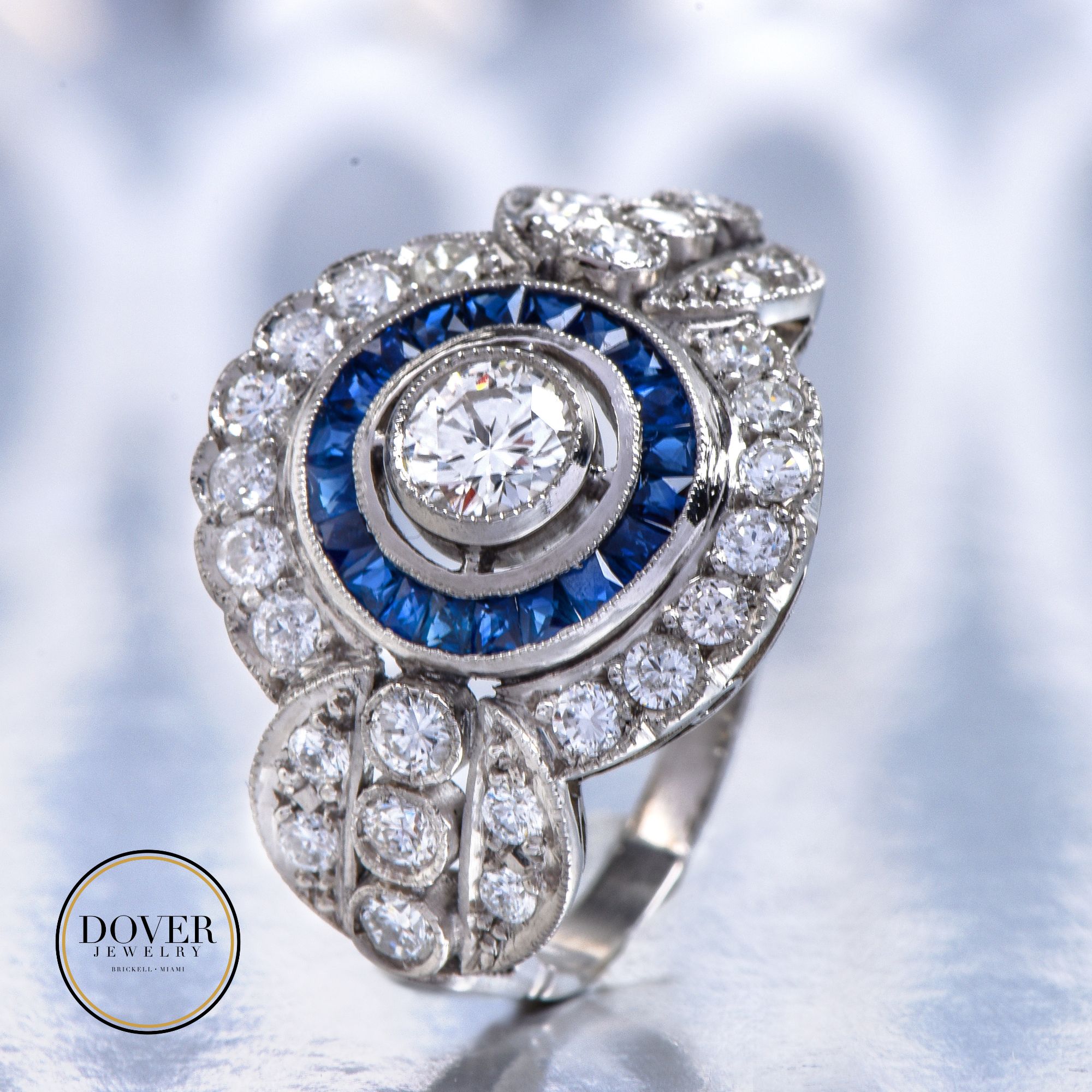 What is the best ring setting to show off a diamond?
Vintage ring settings offer a unique and romantic touch to any engagement ring. Our guide will help you choose the perfect classic ring setting vintage setting for your partner's style and taste. Click here to learn more!
There are so many things to love about vintage ring settings; the romance, the history, the rich designs and intricate details all reflect a narrative from the past. They speak to traditional forms of styling and harken back to a time when jewelry was hand-made and designed to last. Vintage settings are classically beautiful and that is one of the many reasons why the market for vintage jewelry, especially Art Deco, is especially hot right now.
The vintage engagement ring setting is highly popular with young couples, and it features meticulous design elements and intricacies that make them unique.  But, what makes an engagement ring look vintage?  These elements include milgraining and filigree techniques which give the ring a delicate and detailed look. Milgraining adds detailed borders or other designs on the ring in the form of tiny metal beads or dots and is used on the outside surfaces of rings to add a border of delicate detailing. Filigree is a form of intricate metalwork in jewelry achieved by shaping tiny wire pieces into graceful designs around the ring.
What is the difference between vintage and classic engagement rings?
What does "vintage" mean? What is a vintage-style ring setting?
"Vintage" refers to anything at least 20 years old, while "antique" refers to anything at least 100 years old. Early vintage engagement ring settings tend to have one thing in common; they featured a variety of detailed design elements and typically feature diamond cuts such as a European, mine, cabochon, step or rose cuts with intricate carved precious metal filigree engraving. Many also include halo or pavé set diamonds, which are smaller diamonds set around a larger central stone.
Classic ring settings are versatile and can be used for various gemstones, including diamonds, sapphires, emeralds, and rubies. They are popular choices for engagement rings and other special occasions because of their timeless aesthetic and ability to complement any style or taste.
Prong Setting: Prongs are metal claws or tips that hold the gemstone securely in place. The number of prongs can vary, with four or six prongs being common. This setting allows maximum light exposure to the stone, enhancing its brilliance and sparkle.
Solitaire Design: A solitaire design is a classic choice for an engagement ring or any ring that highlights a single center stone. It features a single gemstone as the focal point, typically mounted on a plain metal band.
Metal Band: Classic ring settings often have a simple metal band, which can be made of precious metals like platinum, gold (yellow, white, or rose), or silver. The band may have a smooth, polished surface or feature decorative details like engravings or filigree work.
Elevated or Cathedral Setting: The center stone in a classic ring setting is often raised above the band, creating an elegant profile. This elevation can be achieved by placing the stone on prongs or using a cathedral-style setting where the band arches upward to meet the stone.
Timeless Design: Classic ring settings are known for their enduring appeal and timeless elegance. They are usually minimalist and understated, emphasizing the beauty of the center stone rather than elaborate embellishments.
There are four main styles of vintage ring settings, each referring to a particular period in jewelry history:
Victorian Era (1837-1901): The Era of Sentiment and Symbolism
The Victorian Era, named after Queen Victoria of England, was a period of grandeur and romance. Jewelers of this era were inspired by the queen's personal love story and her affection for nature, leading to some of the most intricately designed and symbolic pieces of jewelry. Rings from this period were typically crafted in yellow or rose gold, with diamonds often featured in row, halo, and cluster settings.
Popular motifs included bows, hearts, birds, vines, leaves, arrows, and love knots, each carrying a sentimental or symbolic meaning. For instance, a ring adorned with a love knot motif symbolized eternal love and commitment. Navette or marquise shapes were also prominent, either as the main gemstone shape or in the overall design.
The Victorian Era also saw the rise of the bypass setting, where the band would split apart to cradle the gemstone. Acrostic jewelry also became popular during this era. This playful jewelry design used the first letter of each gemstone to spell out romantic words or loved ones' names, adding an extra layer of personalization and sentimentality to each piece.
Edwardian Era (1901-1910): The Age of Opulence and Elegance
Named after King Edward VII of England, the Edwardian era was characterized by delicate, lacy metalwork primarily in white gold or platinum. The jewelry of this time was heavily influenced by the revival of early 18th-century design, which emphasized intricate craftsmanship and elaborate decoration.
Edwardian Antique rings often featured Old European, old mine cuts, and rose cut diamonds. As diamond cutting techniques improved, rounder shapes and sharper faceting became possible, giving Edwardian-era diamonds a unique blend of old-world charm and burgeoning modernity.
The Edwardian era also saw the introduction of colored gemstones into jewelry designs. The rings of this era were highly decorative, featuring detailed filigree, scrolling ribbons and vines, milgrain edging, and pavé diamonds. The Edwardian era, known for its high society and grandeur, was reflected in the elaborate and delicate designs of its jewelry.
Art Deco Era (1919-1939): The Era of Geometric Elegance
Marking a stark departure from the romantic styles of the Victorian and Edwardian eras, the Art Deco era was all about streamlined, bold geometric shapes. Influenced by the industrial revolution and the advent of the machine age, Art Deco designs showcased sharp angles, linear symmetry, and stepped forms.
Art Deco jewelry was characterized by its geometric precision, often featuring step-cut and emerald-cut diamonds contrasted against bolder colored gemstones such as rubies, sapphires, and emeralds. The era was marked by a sense of excitement and optimism, and this was reflected in the vibrant colors and bold designs of its jewelry.
Retro Era (1940-1960): The Era of Glamour and Simplicity
The Retro era, also known as the Mid-Century era, was a time when glamour and boldness were celebrated. This era saw the rise of the solitaire diamond engagement ring, a trend popularized by DeBeers' highly successful "A Diamond is Forever" marketing campaign in the 1940s.
Retro-era rings featured simpler settings, often showcasing single center stones or diamonds with baguette side stones. The illusion head setting, which used metal prongs to make the stone appear more prominent, also became popular during this period.
Yellow and rose gold made a comeback in this era, and many rings featured a two-tone design with both white and yellow gold.
Which ring setting is right for you?
The best place to start is by asking yourself – or your family and friends – if your intended likes nature-inspired designs or geometric patterns.
Would she prefer an elaborate setting with lots of diamonds or a simple solitaire?
Vintage ring settings tend to be bold, detailed and unique, whereas many modern rings can look plain and generic. It's no wonder, then, that engaged couples are looking for something different that expresses their personalities to a greater degree – and that they are opting to choose a vintage ring.
If she cares about details and loves the romantic looks of the past, then a vintage setting is for her.
The Engagement Ring team at Dover Jewelry Miami Brickell specializes in Antique, Vintage, and Estate engagement rings with the largest selection of Vintage Jewelry in Miami. Contact Dover and learn more about these timeless pieces of History.